Preparing for an Advanced Placement Exam? McGraw-Hill Makes Digital Test Prep Resources Available for Free in Response to COVID-19 Crisis
In response to the COVID-19 Crisis, McGraw-Hill makes digital test prep resources available for free.
---
Tags: Education Affordability, Press Release, Higher Education, Announcement, Product Update
The 5 Steps to a 5 Prep Courses Can Be Accessed Across 14 Subjects Through June 30, 2020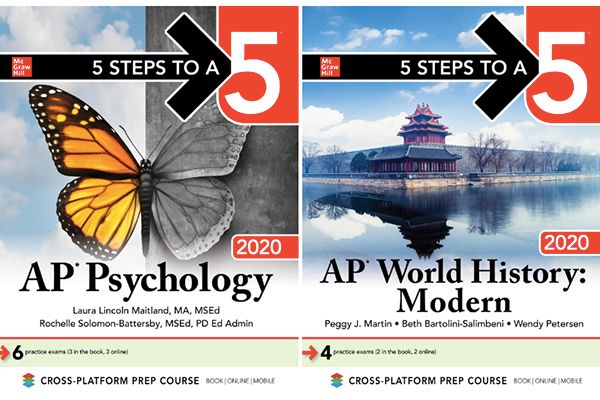 NEW YORK, April 14, 2020 – McGraw-Hill, a leading learning science company, today announced free digital access to its 5 Steps to a 5 Advanced Placement test preparation guides for educators, students and parents navigating the challenge of school closures due to the COVID-19 pandemic. The online Cross-Platform Prep Courses will be available for 90 days for students who log in to get access prior to June 30, 2020.
"During this unprecedented time of disruption, we want to do everything we can to support educators, students and parents during the shift to online learning," said Scott Grillo, President of McGraw-Hill Professional. "By offering free access to our innovative 5 Steps to a 5 Cross-Platform Prep Course across multiple AP subjects, we hope it will be a valuable resource to supplement virtual classroom instruction for AP courses."
For more information, including access codes and instructions on redeeming the codes, please visit: https://learn.mheducation.com/ap-teacher-resources.html.
The Cross-Platform Prep Course provides students with study and practice content that is fully customizable. Students can create a personalized study plan based on their test dates and set daily goals to stay on track, while integrated lessons, practice questions, exams, flashcards and games provide important review of key topics and practice to build test-taking confidence. Since the 2020 AP exams are being shortened and focus is shifting toward free-response and document-based questions, students and teachers can navigate the content to find resources that are most relevant to this year's exams.
The prep resources are available across 14 AP subjects: Biology, Calculus AB, Chemistry, English Language, English Literature, Human Geography, Macroeconomics, Microeconomics, Physics 1, Psychology, Statistics, U.S. Government & Politics, U.S. History, and World History: Modern.
Providing free digital access to 5 Steps to a 5 resources is one of a number of ways McGraw-Hill has responded to help educators, students and parents with online learning during the COVID-19 pandemic. For more information on getting support from McGraw-Hill, visit: https://www.mheducation.com/ideas/announcements/mcgraw-hill-supporting-schools-and-learners-covid19.html
McGraw Hill
McGraw Hill is a leading global education company that partners with millions of educators, learners and professionals around the world. Recognizing their diverse needs, we build trusted content, flexible tools and powerful digital platforms to help them achieve success on their own terms. Through our commitment to equity, accessibility and inclusion, we foster a culture of belonging that respects and reflects the diversity of the communities, learners and educators we serve. McGraw Hill has over 40 offices across North America, Asia, Australia, Europe, the Middle East and South America, and makes its learning solutions for PreK–12, higher education, professionals and others available in more than 80 languages. Visit us at mheducation.com or find us on Facebook, Instagram, LinkedIn, or Twitter.