Help Set the Agenda for SXSW EDU 2019
Published August 9, 2018
---
Community voting for the SXSW EDU 2019 Panel Picker ends August 30th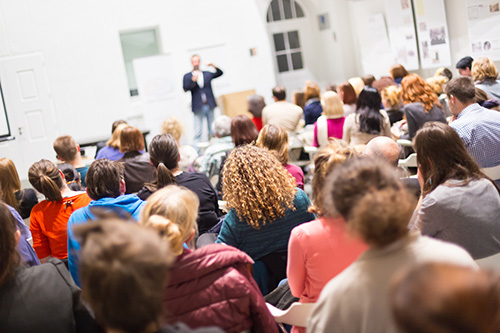 The time has once again come to help set the agenda for one of the year's most exciting education events! Next March, the 2019 SXSW EDU Conference & Festival will bring together thousands of educators, students, and industry insiders for a week of intense professional learning, networking, and inspiration.
The annual Panel Picker process uses community voting to help make sure that each year's lineup at SXSW EDU includes the topics that attendees want to hear about most. This year we've submitted six Panel Picker proposals to explore some of the biggest ideas and trends in education and learning science today.
Learn about our Panel Picker proposals below, and remember to cast your votes by August 30, 2018. We hope to see you next year in Austin!
Providing effective and research-based social emotional learning (SEL) is critical for early childhood education. This panel will offer insights and practical advice from leading researchers on delivering culturally responsive SEL to engage and empower early learners.
Speakers:
Christine Gouveia , Vice President, Applied Learning Sciences, McGraw-Hill
Akimi Gibson, Vice President, Sesame Workshop
Tracy Spinrad, Professor, Author, Arizona State University
Roberto Rivera, Chief Empowerment Officer, 7 Mindsets
Details & Voting >
How can we use data to prove learning technology really works and avoid the pitfalls of randomized controlled trials? In this session, a data scientist shares new ideas for how we can structure efficacy research. Can we democratize efficacy by making it an intrinsic part of tech design?
Speaker:
Shirin Mojarad, Lead Data Scientist, McGraw-Hill
Details & Voting >
In today's complex and fast-changing environment, English Learners (ELs) face increasing challenges in adapting to U.S. classrooms, and educators face a number of hurdles in teaching them. This panel explores various frameworks for empowering EL students and their families, particularly those who have undergone trauma as a result of migration or conflict, as well as effective strategies to incorporate social and emotional learning to better address the needs of these students.
Speakers:
Maria Campanario, National Strategic Partnerships Manager, McGraw-Hill
Laura Lukens, ELL Program Coordinator/Education Consultant, North Kansas City Schools/LGI Consulting
Diane August, Managing Researcher, American Institutes for Research
Details & Voting >
The average student loan debt after college today stands at $34,000 versus $20,000 just a decade ago. How are college leaders thinking about affordability to prepare students for success after school? An open discussion of proven ways and new ideas to address the college cost crisis.
Speakers:
Blll Okun, President, McGraw-Hill Higher Education
Phillip Anaya, Digital and OER Coordinator, Alamo Colleges District
Details & Voting >
From people being left or right-'brained' to having defined learning styles, there are countless questions and ideas about the mind works. In this session, a learning scientist discusses the research behind five common neuromyths in education and explains how they may actually detract from learning.
Speaker:
Christine Gouveia, Vice President of Applied Learning Sciences, McGraw-Hill
Details & Voting >
Learning science research continues to redefine what we know about people learn, but which findings are the most valuable for today's educators? In this moderated panel, three learning scientists share insights that all educators can apply in their own learning or classroom instruction.
Speakers:
Robert Feldman, Senior Advisor to the Chancellor , University of Massachusetts Amherst
Ryan Baker, Associate Professor, University of Pennsylvania
Jennifer Kotler, Vice President, Content Research and Evaluation, Sesame Workshop
Tanya Joosten, Co-Director, National Research Center for Distance Education and Technological Advancements; Director, Digital Learning Research and Development, Academic Affairs, University of Wisconsin-Milwaukee
Details & Voting >