Behind the Cube: Accessibility at McGraw Hill
Published May 14, 2021
---
In May, we celebrate Global Accessibility Awareness Day to encourage important conversations about digital access and inclusion. In this month's Behind the Cube, meet some of our Global Accessibility team and learn what accessibility means to them.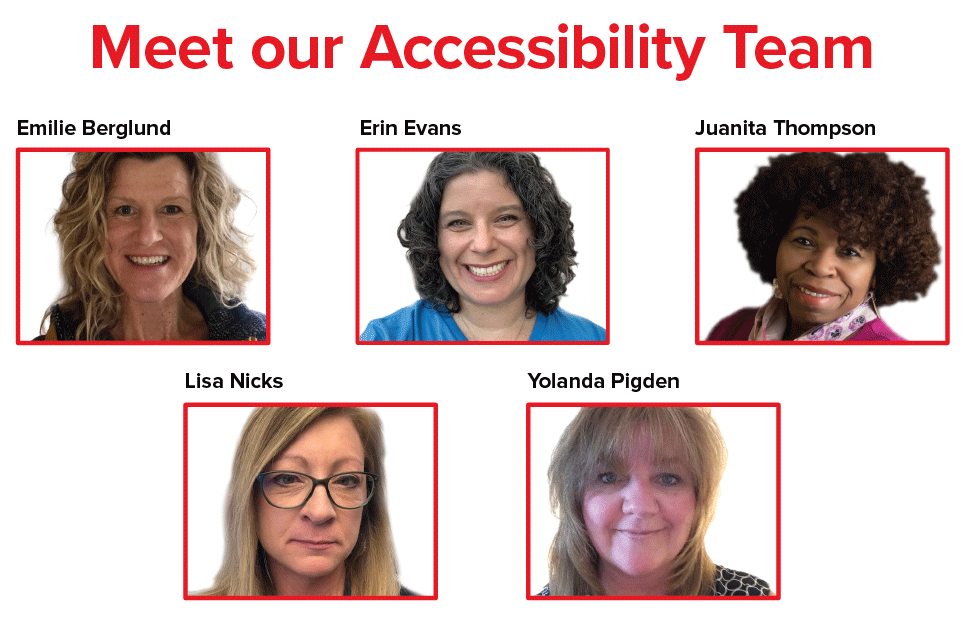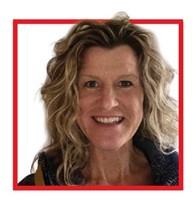 Meet Emilie Berglund
Director of Accessibility Implementation
Digital Platform Group (DPG)
Questions and Answers:
Tell us a bit about you and your role at McGraw Hill.

Before I came to McGraw Hill in 2007, I was a faculty member in developmental mathematics. My heart is in teaching, seeing the "aha moment" in peoples' eyes, and watching their confidence grow. This is true for accessibility, too.

I now lead accessibility implementation for McGraw Hill software. My focus is on platforms, products, and tools, like Connect and SmartBook. I love the collaboration, problem-solving and adaptability required in my role.

I live in St. Paul, MN with my husband, Mikael, sons, Leif and Lars, and dog, Loki. I'm a nature lover and a fan of pushing myself physically, whether cycling, skiing, or other outdoor adventures. I bake a lot, including all the bread my family eats, and like to make things "from scratch", like kombucha, yogurt, and ice cream. Bar soap is coming next!

What is a project you are currently working on?

I have been working with the DPG User Experience group for several months, providing training on accessibility topics and facilitating weekly Q&A sessions. I feel such satisfaction and gratitude when I am in a meeting listening to team members engage in an accessibility discussion without me driving it. That is impact!

To me, accessibility is supporting everyone – understanding that each person is one part of the greater whole, and no one part is more valuable than the other. At McGraw Hill, we have a unique opportunity and privilege to demonstrate this, removing barriers to entry in teaching and learning.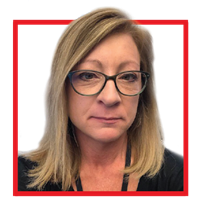 Meet Lisa Nicks
Sr Manager of Accessibility
Higher Education
Questions and Answers:
Tell us a bit about you and your role at McGraw Hill.

I have held various roles during my nearly 30 years at McGraw Hill, but none have impacted me as much as my current role in accessibility. For the past nine years, I have been supporting and partnering with disability service offices and institutions across the U.S. I truly believe in the mission of accessibility and have been working to get us closer to that goal with diligence and commitment. I am CPACC certified (Certified Professional in Accessibility Core Competencies) by the International Association of Accessibility Professionals and have completed additional course work in inclusive design and communication skills in working with people with disabilities.

How did you get interested in accessibility?

I was a teacher prior to my career in publishing. Helping students succeed has always been my passion. In 2012, the company posted a position that intrigued me: Accessibility Consultant within the Higher Education team. With prior teaching and coaching experience, as well as my experience within the organization, I knew this was my calling. I took the position and immediately began to dig in. I engaged with external accessibility groups and began learning about accessibility best practices, WCAG and legislation. Accessibility to me means equal opportunity, equal access, and inclusion.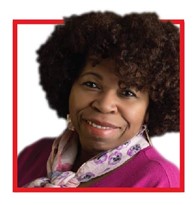 Meet Juanita Thompson
Director of Digital Production and Accessibility
Global Professional
Questions and Answers:
Tell us a bit about you and your role at McGraw Hill.

I manage a team of Media Specialists responsible for publishing all online content for the Global Professional Group's Access Medicine sites. I am also responsible for bringing our content into compliance with the WCAG standards and developing the roadmap to get us there. I have worked in the publishing industry for over 30 years, and have watched the industry transform from Exacto knives, film flats, and proportion wheels to Content Management Systems and online-only content with an emphasis on WCAG 2.1 compliance.

I am the proud mother of Isaiah, a Juilliard graduate of Jazz with a BM and MM, and stepmom to Kenny who has blessed me with two wonderful granddaughters: Katelyn and Lailah. I'm an empty nester living in New Jersey—not missing the daily commute to NYC—but I do miss the in-person connections and interactivity. I recently became the owner of the cutest little Bichon Frise pup named Maestro (because, yes, he is currently conducting every note in my life).

How did you get interested in accessibility and what does accessibility mean to you?

My son is a musician and after a performance, I came across a story where the venue had been sued because they did not provide access to the performance for someone who was hearing impaired. I immediately went to the WCAG site to delve in and to learn more. I became an advocate and sought financial investment to back the efforts that I knew would be needed to make a plan for our group to move forward.

For me, accessibility means equality; that we have a goal to create a level playing field where everyone has access to our world class content. It is an intentional, directed effort that is recognized as a critical ongoing need. I'm proud to work for a company that understands that.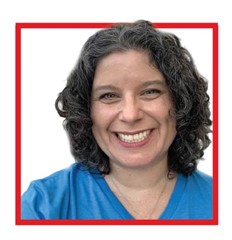 Meet Erin Evans
Product Manager, Accessibility
School Group
Questions and Answers:
Tell us a bit about you and your role at McGraw Hill.

I have worked with McGraw Hill School for the majority of my professional career. I have been a member of the Academic Design (Editorial), Bids & Contracts, Digital Authoring, and Learning Experience Design departments. My current role includes the organization, facilitation, communication, and support of McGraw Hill's commitment to creating inclusive, universally designed, and accessible learning experiences for all learners.

When I leave my home office/guest room, I spend most of my free time with my husband and son. I love the beach and am lucky enough to live near it, so I go as often as I can! I have a passion for linguistics, and I have basic communication skills in American Sign Language and Spanish. I also just enrolled in a course to learn Braille.

Tell us about the projects you work on in your role.

I work on multiple projects across our School group to ensure our customer-facing products and platforms support web accessibility. We follow specific guidelines to ensure our products are designed and developed so that people with disabilities can use them. We have many fun and complex elements in our programs, like interactive maps and videos. Learning how to make those accessible and improving the experience for all users is one of the most rewarding parts of my job.

To me, accessibility means equality. It's solving a problem—or not creating a problem in the first place—to help others. We have best-in-class content and curricula. How do we ensure everyone can successfully access and use it?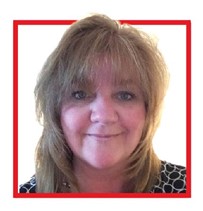 Meet Yolanda Pigden
Production Director
McGraw Hill Canada
Questions and Answers:
Tell us a bit about you and your role at McGraw Hill.

I have been working at McGraw Hill for close to 31 years now. I have seen publishing change and evolve dramatically over the years. Throughout my journey, I have held several different positions, interacting with some wonderful mentors along the way. Being a person who is very passionate about problem solving and loves a challenge, leading the Accessibility team was a natural fit for me. I have been the Senior Accessibility lead here for over 8 years now. Currently I oversee a great team that manages various activities, such as: budget creation, vendor management, project management, accessibility compliance, and more.

I will be married to my teenage sweetheart for 32 years this year. We have two lovely children. My oldest is 22 and has just completed her degree in Criminology and Justice at Ontario Tech University and aspires to be a police officer. My youngest is 19 and just finished his Heavy Equipment Operator certification and is now working full time in his field.

How did you get interested in accessibility and what does accessibility mean to you?

In Ontario, accessibility has been law since 2014 through the Accessibility for Ontarians Disability Act (AODA). A McGraw Hill team was formed to understand this law, how it affected our workflows, the impact to our customers, and what we needed to do to ensure compliancy. As you can imagine, it is very complicated.

For me, accessibility means that a customer's experience should be inclusive from the first time they use our product. They should not experience any barriers to learning. It is crucial for me to advocate and teach all team members about accessibility. In working with the Accessibility offices and people with disabilities, I can see the work we have done has helped to make McGraw Hill products inclusive, and it makes me very proud to work for McGraw Hill.
Are you interested in joining the McGraw Hill team?
Related Links: