Behind the Cube: Ron Ron Lin, Lead Software Engineer
Published July 20, 2020
---
At McGraw Hill, helping students learn, grow, and unlock their full potential is a team effort. Whether we work in product development, marketing, sales, engineering or elsewhere in the company, each of us play a crucial role.
In our "Behind the Cube" series, we introduce an employee who embodies our mission, passion and values. For this month's Behind the Cube, meet Ron Ron Lin, a Lead Software Engineer from Irvine, California.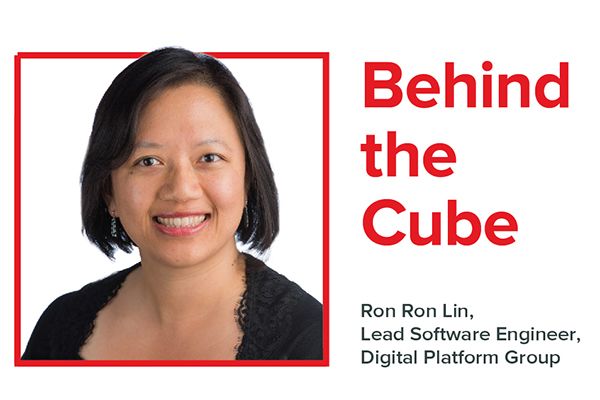 Time working at McGraw Hill: 17 years
Division/Department: ALEKS
Based in/Location: Irvine, CA
Questions and Answers:
How has working at McGraw Hill helped you in your career trajectory as a lead software engineer?

I joined the company just a year or so out of college, so truthfully, my entire career trajectory has happened at McGraw Hill – starting at ALEKS, which is a learning science-based digital learning platform for math and chemistry that McGraw Hill acquired in 2013. My first job was coding math content. I later moved toward supporting the platform for content maintenance, and now I head a team managing content metadata. I've been tremendously blessed that McGraw Hill gave me those opportunities to grow and advance professionally. What I appreciate most is getting to see product development cycles from beginning to end. It's both humbling and inspiring to see how many people are involved and how much dedication is poured out to deliver a product we're proud of to our customers.

What does a typical day at work look like for you?

A typical day is writing code, usually to fix issues or to make improvements to our interface. I mostly work on the ALEKS content management system, so our primary users are actually fellow employees. A normal day could involve fixing a bug for the translation team, adding a new tracking feature for the content team or improving display issues for the quality assurance team.

What can you tell us about the technology that you use to develop software?

I'm a full stack developer so I get to work on the front and back end. For the front end interface, I use Javascript, HTML and CSS to set up things like buttons or menus for users to interact with. On the back end, it's Javascript and SQL to maintain the databases that store all the information and content that gets created.

What are some of your favorite hobbies or activities?

I enjoy traveling. I've been lucky to visit and see some incredible places in the world. I like hiking and that's given me a good excuse to both travel and hike in some of the lovely national parks across the United States. I also enjoy swing dancing. Sadly, I can't do much of that lately due to the pandemic we're living through, but hopefully someday soon.

What would you tell a potential candidate about McGraw Hill to convince them to apply for a job?

McGraw Hill has a lot of fantastic products that you can play a role in developing and delivering to the wider world. It's really heartwarming to read feedback from students who have overcome learning struggles thanks to work you've contributed to. It's very rewarding to feel you make a difference. Beyond just the work itself, McGraw Hill is also staffed with some really smart and dedicated people. It's a pleasure to get to work with and be counted among such a talented group.
Are you curious about career opportunities at McGraw Hill?
Related Links: