Behind the Cube: Jhade Pilgrim, Academic Designer
Published December 8, 2020
---
At McGraw Hill, helping students learn, grow, and unlock their full potential is a team effort. Whether we work in product development, marketing, sales, engineering or elsewhere in the company, each of us makes an impact.
In our "Behind the Cube" series, we introduce employees who embody our mission, passion and values. For this month's edition, meet Jhade Pilgrim, Academic Designer in our PreK-12 division.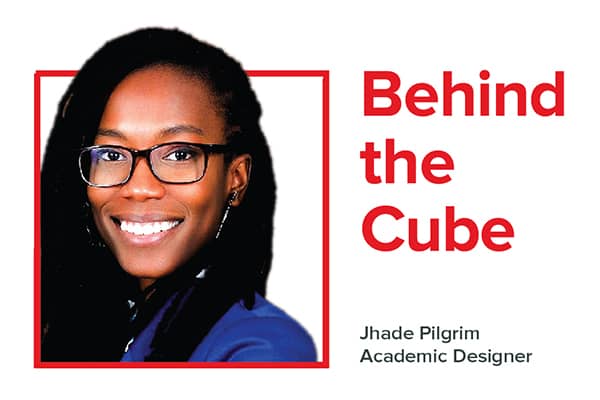 Time working at McGraw Hill: 3 years
Division/Department: PreK-12
Based in/Location: New York
Questions and Answers:
Tell us a bit about you and your role at McGraw Hill.

Before joining McGraw Hill, I spent five years as an English teacher in South Korea. It was an amazing experience, and I had the opportunity to work with a local publisher to develop a series of language development textbooks.

I knew that I would pursue a career in educational publishing in the US, and upon my return, I joined the McGraw Hill School Group as a K-6 Reading Academic Designer. Editing K-6 English Language Arts (ELA) content is at the core of what I do, but the great thing about my role is that it constantly shifts and evolves to meet the unique challenges of each day.

What does a typical workday look like for you, and how has your work changed due to COVID-19?

We've been working remotely since mid-March, and surprisingly, my current workday doesn't look too different from my pre-COVID workday. The main difference is that I check in with my colleagues on Teams instead of stopping by their desks.

Our work is mainly project-based, and my day varies as we progress through the phases of a project. In early stages, we meet often with other departments to plan the scope and direction of a project, be it the customization of an existing reading product for a state adoption or the development of an entirely new reading program. Once production has started, academic designers edit manuscript and InCopy files and work with vendors and other McGraw Hill teams to finalize program components. In latter phases, as we prepare to take a product to market, we work on documentation to help demonstrate how our programs meet state or school district requirements.

What are some of your favorite hobbies or activities outside of work?

Outside of work, I enjoy spending time with my dog and learning new instruments. I'm trying to master the flute, much to my neighbors' chagrin. I'm a big fan of tabletop games, and I can't wait for my first post-COVID game night!

How did your experience as a teacher help you in your current role at McGraw Hill?

As a former teacher, I have experience as an end user of the types of products we produce. As I work on product development, I keep that experience top of mind. I can ask myself, "What additional support would help teachers meet this learning objective?" or "Do I see students being receptive to this component or lesson?" Part of our job as academic designers is to focus on minute details on a page, but it's immensely helpful to take a step back and consider the potential impact our components have on the classroom.

What would you tell a potential candidate about working at McGraw Hill to encourage them to apply?

At McGraw Hill, you'll have the chance to work with and learn from some of the most knowledgeable and experienced professionals in the industry. The company's senior leadership is communicative, transparent, and responsive to the needs of employees. You'll feel heard and like you truly matter.
Are you curious about career opportunities at McGraw Hill?
Related Links: