Behind the Cube: Anant Jain, Sr. Recruiter
Published January 14, 2022
---
At McGraw Hill, helping students learn, grow, and unlock their full potential is a team effort. Whether we work in customer service, marketing, sales, engineering or elsewhere in the company, we all have a unique path that helps us make an impact at McGraw Hill.
In this month's Behind the Cube, meet Anant Jain, a Sr. Recruiter on our Talent Acquisition team. Anant makes a big impact at McGraw Hill by finding and hiring top tech talent.
Learn more about Anant in this Q&A.
Meet Anant Jain
Sr Recruiter
Culture & Talent
Noida, India
Time at McGraw Hill: 3.5 years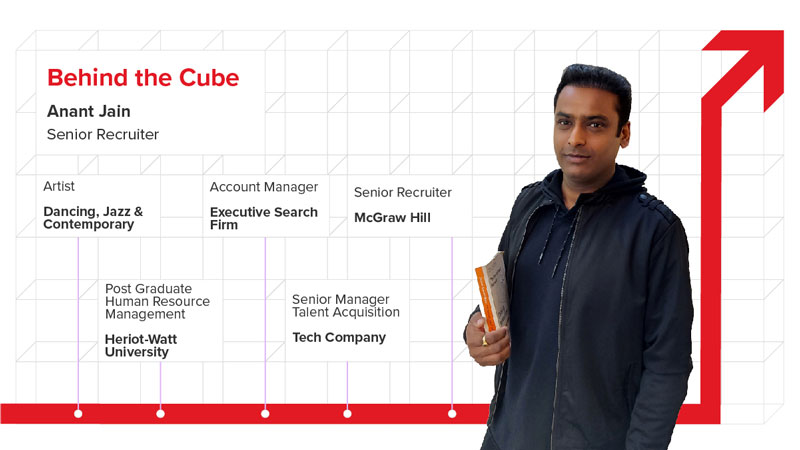 Questions and Answers:
Tell us a bit about you, your role at McGraw Hill, and the types of jobs you hire for.

I have lived in New Delhi, India, for almost all my life. I never imagined that my connection with any employer could be as empathetic as it is here.

My role here is quite mission driven. I am on a quest to build a workforce that is curious, compassionate to customer problems, and possesses a drive for equality and growth. I acquire talent for US-based technology roles, while leading India's hiring initiatives.

The major positions I hire for are Sr. Software Engineers, Full Stack Developers, UX Designers, UX Researchers, Data Scientists, Data Engineers, Technical Product Managers, Program Managers, Cloud Developers, Site Reliability Engineers, and various publishing roles that are related to content development and curriculum design.

What led you to McGraw Hill and how have your past experiences helped you in your current role?

Before joining McGraw Hill, my 9 years of recruiting experience was in volume hiring, and I was in search of an organization where my work could have a bigger impact. My analytical and leadership skills that I gained in my previous roles helped me manage the recruitment activities for US & India markets. Today, I lead the Talent Acquisition function for India with two direct reports and strategically manage the global tech hiring.

What does a typical workday look like for you?

I enjoy a fresh breeze every day! I meet new people from different corners of the world, and we knowingly or unknowingly get connected for good. Finding a suitable talent for my employer and offering a desired job to my candidates is a rejuvenating process for me. Watching the business thrive due to the talent I recommend makes me proud to do my work. Similarly, helping candidates land their dream jobs is a pat on my back.

What are some of your favorite hobbies or activities outside of work?

I live with an entrepreneurial mindset. I am intrigued by the changing business environment, disruptions in marketplaces and evolving opportunities. I love traveling, practicing yoga, listening to audio books (mostly business), attending & participating in webinars, spending time with old friends, and celebrating small occasions with my family and waiting for the big ones. On the weekends, I try cooking and practice some old dancing routines. I have also picked up interest in gardening and built a terrace garden recently.

What advice would you give a job seeker looking to find a career at McGraw Hill?

A career at McGraw Hill is more than a 9 to 5 job. We are developing meaningful learning solutions for our customers. I think that is the real purpose of a business—to develop products that can help customers overcome their challenges. You will get a sense of achievement by working with McGraw Hill. It is a #GreatPlacetoWork!