McGraw Hill
Textbook Support
---
From printed textbooks to ebooks, we've got you covered.
Welcome to your total McGraw Hill textbook support. We have step-by-step resources from syllabus guides to how-to videos to set you up for success.
Using a McGraw Hill eBook
Using a McGraw Hill eBook for your course and don't know where to start? You've come to the right place for support.
---
See if your McGraw Hill eBook title is available.
Download:
McGraw Hill eBook Syllabus Guide
---
Copy. Paste. Progress. The syllabus guide makes it easy to let your student know how to purchase, register, access and use your class text materials in a mobile, digital format.
How-To Videos and Resources
---
Not confident your students will read the syllabus? Here's a set of materials that'll help clear up any pesky questions—you can post it in your learning management system or provide it to your students on the first day of class.
McGraw Hill eBook Purchase and Registration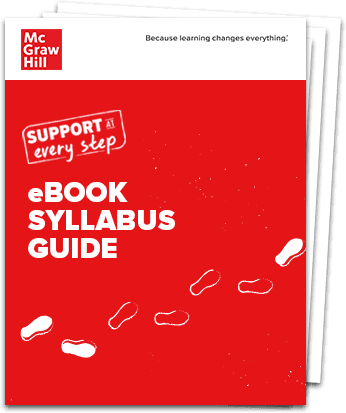 ReadAnywhere App—for McGraw Hill eBook and SmartBook 2.0
Give your students the tools to study anytime and anywhere with the free ReadAnywhere app. Students (and you!) can access the full eBook on a smartphone or tablet, either on or offline. Download from the App Store or Google Play.
---
Familiarize yourself with the RaadAnywhere app and see what your students will get.
Instructor Resources for your Selected Text
Need to access the instructor resources for your course? We've got your back. Check here to see if your resources are accessed via Connect or the Online Learning Center.
---
How-To Videos and Resources
---
Accessing Instructor Resources via Connect
Ready, Set, Prep! Student Success is at Your Fingertips.
---
Get all of the best student success resources in one easy spot, whether you need to send an email nudge to a student or want students to think more about test-taking strategies.
Student Success Resources Kit
Email Templates
Goal Assignment
Time management
Posttest Reflection
Posttest Do-Over Assignment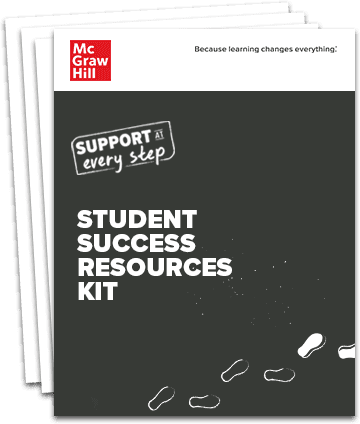 Course Prep Shouldn't Be Overwhelming
Whether it's setting up training sessions for faculty and tutors, LMS integration, or reviewing your course, we're here for you.
---