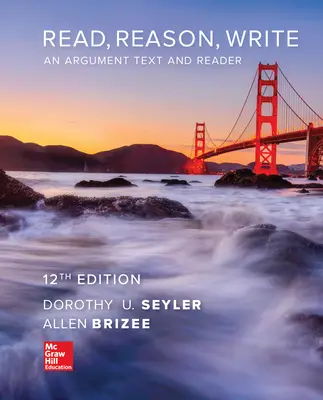 Read, Reason, Write
12th Edition
By Dorothy Seyler
ISBN10: 1259916278
ISBN13: 9781259916274
Copyright:
2019
Product Details

+
• Unites instruction in critical reading, analysis of argument, and research strategies.
• Provides a rich collection of contemporary and classic readings to enable practice of these skills and new ideas and insights for readers.
• Shows students how reading, argumentative, research, and analytic skills are interrelated and how these skills combine to develop each student's critical-thinking ability.
Program Details
SECTION 1 CRITICAL READING AND ANALYSIS
Chapter 1 Writers and Their Sources
Chapter 2 Responding Critically to Sources
SECTION 2 THE WORLD OF ARGUMENT
Chapter 3 Understanding the Basics of Argument
Chapter 4 Writing Effective Arguments
Chapter 5 Reading, Analyzing, and Using Visuals and Statistics in Argument
Chapter 6 Learning More about Argument: Induction, Deduction, Analogy, and Logical Fallacies
SECTION 3 STUDYING SOME ARGUMENTS BY GENRE
Chapter 7 Definition Arguments
Chapter 8 Evaluation Arguments
Chapter 9 The Position Paper: Claims of Values
Chapter 10 Arguments about Cause
Chapter 11 Presenting Proposals: The Problem/Solution Argument
SECTION 4 THE RESEARCHED AND FORMALLY DOCUMENTED ARGUMENT
Chapter 12 Locating, Evaluating, and Preparing to Use Sources
Chapter 13 Writing the Researched Essay
Chapter 14 Formal Documentation: MLA Style, APA Style
SECTION 5 A COLLECTION OF READINGS
Chapter 15 The Media: Image and Reality
Chapter 16 The Internet and Social Media: Their Impact on Our Lives
Chapter 17 Marriage and Gender Issues: The Debates Continue
Chapter 18 American Education: Ongoing Issues and Concerns
Chapter 19 The Environment: How Do We Sustain It?
Chapter 20 Laws and Rights: Gun Control and Immigration Debates
Chapter 21 America: Past, Present, Future
Appendix Understanding Literature