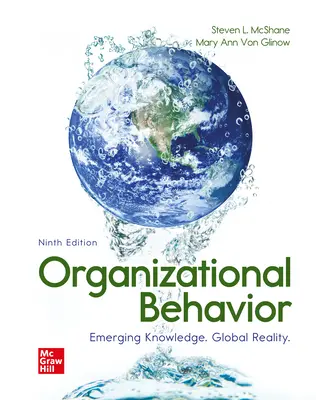 Organizational Behavior: Emerging Knowledge. Global Reality
9th Edition
By Steven McShane and Mary Von Glinow
ISBN10: 1260799557
ISBN13: 9781260799552
Copyright:
2021
Product Details

+
• Improve student learning outcomes using Connect, our easy-to-use homework and learning management solution that embeds learning science and award-winning adaptive tools to improve student results.
• Strong International/Global orientation and links OB concepts and theories with reality that OB is not just for Managers; Relevant to Everyone.
• Rich resources for active learning and critical thinking to engage students.



Program Details
1. INTRODUCTION
Chapter 1 Introduction to the Field of Organizational Behavior
2. INDIVIDUAL BEHAVIOR AND PROCESSES
Chapter 2 Individual Differences: Personality and Values
Chapter 3 Perceiving Ourselves and Others in Organizations
Chapter 4 Workplace Emotions, Attitudes, and Stress
Chapter 5 Foundations of Employee Motivation
Chapter 6 Applied Performance Practices
Chapter 7 Decision Making and Creativity
3. TEAM PROCESSES
Chapter 8 Team Dynamics
Chapter 9 Communicating in Teams and Organizations
Chapter 10 Power and Influence in the Workplace
Chapter 11 Conflict and Negotiation in the Workplace
Chapter 12 Leadership in Organizational Settings
4. ORGANIZATIONAL PROCESSES
Chapter 13 Designing Organizational Structures
Chapter 14 Organizational Culture
Chapter 15 Organizational Change
ADDITIONAL CASES
Case 1 Arctic Mining Consultants
Case 2 Going to the X-Stream
Case 3 Keeping Suzanne Chalmers
Case 4 The Regency Grand Hotel
Case 5 Simmons Laboratories
Case 6 Tamarak Industries
Case 7 The Outstanding Faculty Award
Case 8 The Shipping Industry Accounting Team
Case 9 Verberg Kansen N.V.
Case 10 World Food's Office Renovation
Appendix A: Theory Building