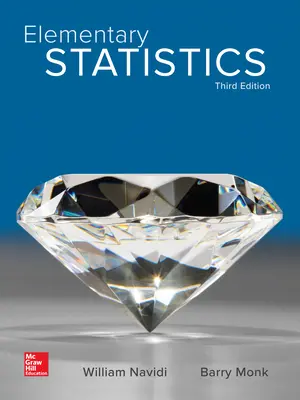 Elementary Statistics
3rd Edition
By William Navidi and Barry Monk
ISBN10: 1259969452
ISBN13: 9781259969454
Copyright:
2019
Product Details

+
• Offers a strong balance of conceptual and procedural methodology for introductory statistics.
• Centers around three themes: clarity, quality, and accuracy.
• Features author-developed videos, supplements, and digital content to create a seamless transition from digital content to text.
• Incorporates calculators, Minitab, and Excel screenshots.
• Includes ALEKS, ALEKS Prep, SmartBook, ConnectMath, MegaStat, and ReadAnywhere
Program Details
1 Basic Ideas
2 Graphical Summaries of Data
3 Numerical Summaries of Data
4 Summarizing Bivariate Data
5 Probability
6 Discrete Probability Distributions
7 The Normal Distribution
8 Confidence Intervals
9 Hypothesis Testing
10 Two-Sample Confidence Intervals
11 Two-Sample Hypothesis Tests
12 Tests with Qualitative Data
13 Inference in Linear Models
14 Analysis of Variance
15 Nonparametric Statistics
Appendix A: Tables
Appendix B: TI-84 PLUS Stat Wizards