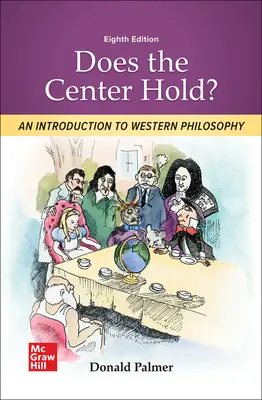 Does the Center Hold? An Introduction to Western Philosophy
8th Edition
By Donald Palmer
ISBN10: 1260253198
ISBN13: 9781260253191
Copyright:
2021
Product Details

+
This new edition of Does the Center Hold? An Introduction to Western Philosophy continues to use the conversational approach to the foundational concepts in philosophy. Readers will examine the work of both classical and modern (mostly) western philosophers through witty text and humorous illustrations. Along with a fun and engaging writing the author uses small questions about life to tackle the broad philosophical inquiry making the content more relatable to the student.
Program Details
Does the Center Hold?: An Introduction to Western Philosophy, 8e

CHAPTER 1: What Are We Doing in This Class?
CHAPTER 2: Truth Is Beauty; Beauty is Truth
CHAPTER 3: What You See is What You Get
CHAPTER 4: Who's on First; What's on Second?
CHAPTER 5: Mount Olympus, Mount Moriah, and Other Godly Places
CHAPTER 6: The Largest Airline in the Free World
CHAPTER 7: That Shalt Become Perfected
CHAPTER 8: Different Strokes for Different Folks
CHAPTER 9: Let Them Eat Cake
CHAPTER 10: But Is It Art?