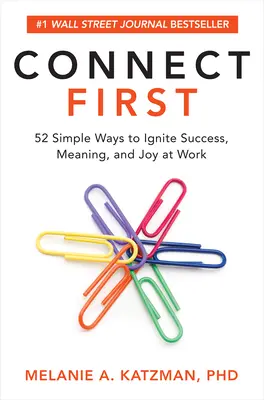 Connect First: 52 Simple Ways to Ignite Success, Meaning, and Joy at Work
,
1st Edition
ISBN10: 1260457834 | ISBN13: 9781260457834
Purchase Options:
* The estimated amount of time this product will be on the market is based on a number of factors, including faculty input to instructional design and the prior revision cycle and updates to academic research-which typically results in a revision cycle ranging from every two to four years for this product. Pricing subject to change at any time.
Additional Product Information:
#1 WALL STREET JOURNAL BESTSELLER • USA TODAY BESTSELLER A renowned business psychologist, advisor, and consultant to the world's leading companies reveals the key to greater success, meaning, and joy at work Technology has enabled us to be more interconnected today than ever before. So why do so many of us feel isolated and undervalued at work? Why does it feel like something is missing? It doesn't have to be this way. In these rapidly changing, challenging times, how do we—YOU—develop the intuition, self-awareness, and interpersonal agility required to prosper? Here's what we've lost track of: organizations are run by people, and people run on emotions. Strong relationships are the bedrock of lasting success, meaning, and joy at work. In this life-changing guide, Dr. Melanie Katzman shows you an impactful approach to connect first as fellow humans, then as coworkers and colleagues, to forge the deep bonds that make a significant difference. Learn how to: • Establish respect and make others feel valued • Engage all of your senses to create a truly inclusive culture • Become popular and be the person everyone wants to work with • Grow loyalty by making it about them—your coworkers • Resolve conflicts by remaining curious and open with others • Fight fear (and prepare for the future) by stepping outside your comfort zone and experimenting with new ideas • Have a big impact by leveraging your platform, living your values, and leading the change Dr. Katzman presents 52 actions you can take immediately to create a deeply rewarding work life by connecting to yourself, your organization, and the world at large. These are the same powerful techniques she has used with leaders and employees at the world's top companies to enhance productivity and foster fulfillment and joy at work—the hallmarks of true success.
PREFACE

PART I
ESTABLISH RESPECT

1 SMILE
Activate Immediate Connection

2 SAY "PLEASE"
It Implies Freedom to Comply (or Not)

3 SAY "THANK YOU"
The People You Neglect Can Undermine Your Success

4 CALL PEOPLE BY THEIR NAMES
Ignite Attention and Recognize Individuality

5 OFFER PRAISE
Pride Is Rocket Fuel

6 GOT IT? THEN SAY SO!
Help Coworkers Manage Their Time

7 PROVIDE FEEDBACK
It Benefits Everyone

PART II
ENGAGE ALL OF YOUR SENSES

8 SEE EVERYBODY
Those on the Margins Often Have Greater Perspective

9 LISTEN TO INSPIRE
Deepen the Conversation by Responding Without Words

10 SILENCE
Be Quiet Together

11 TOUCH
It Transforms an Interaction

12 EAT TOGETHER
Food Is Bait for Conversation and Creates Connection

PART III
BECOME POPULAR

13 BE PRESENT
Showing Up Is Just the Start

14 SHARE INFORMATION
News Is a Virtual Valium

15 BE A MAGNET
Become the Person People Want to Be With

16 KNOW HOW TO ENTER
First Impressions Stick

17 TELL STORIES
Connect by Hacking Your Colleagues' Right Brains

18 DON'T JUST DO SOMETHING, SIT THERE!
Luxuriate in Not Having an Immediate Solution

19 CHALLENGE NEGATIVE THINKING
Stop Noise Pollution

20 HAVE A POINT OF VIEW
Cultivate an Informed Perspective

21 YOU DON'T ALWAYS HAVE TO BE RIGHT
Trust Me on This, I'm Not Wrong

PART IV
GROW LOYALTY

22 ENSURE ROLE CLARITY
Provide the Context and Permission

23 CONNECT JOBS TO THE LARGER MISSION
There's Always a Why

24 OFFER THE GIFT OF TIME
We All Have Too Much to Do

25 KNOW WHEN YOU ARE DONE
Clear Goals Enable You to Declare "Finished"

26 THERE'S PLENTY FOR EVERYONE!
Assume an Abundance—Not Scarcity—Mentality

27 BANK SOCIAL COLLATERAL
Give Now to Succeed in the Future

28 STROKE THEIR NARCISSISM
All Egos Need a Little Love

29 CREATE RITUALS
Celebrate Success and Grow from Mistakes

30 GENERATE JOY AND LAUGHTER
Energize Your Workplace

PART V
RESOLVE CONFLICT

31 STAND IN SOMEONE ELSE'S SHOES
Experience Their Point of View

32 DECODE YOUR COLLEAGUES' EMOTIONAL CLUES
They're the Key to Connection and Success

33 APOLOGIZE
Don't Justify or Explain Why

34 ACCEPT THAT YOU WON'T BE UNDERSTOOD
Sometimes the System Isn't Ready for Your Ideas

35 NEGOTIATE A PSYCHOLOGICAL CONTRACT
Mutually Commit to Extreme Honesty

36 ADVOCATE FOR YOURSELF
The Discomfort Will Be Worth It

37 NAME THE ELEPHANT
It's Taking Up Way Too Much Room

38 BE A SIMPLIFIER, NOT A COMPLICATOR
Make Precision Execution Seem Easy

PART VI
FIGHT FEAR

39 STEP OUTSIDE YOUR COMFORT ZONE
Being a Little Terrified Is Good for You

40 INVITE OTHERS IN
Take the First Step

41 BE A GRACIOUS HOST
Tackling the Hard Stuff Is Easier When
Everyone Is Comfortable

42 BE A PERSON FIRST!
Help Strangers Feel Less Strange

43 FOCUS ON FACILITATION
Boost the Quality of Conversations by Attending to Details

44 BUILD A BRIDGE
Connect Through Nonwork Interests and Experiences

45 CREATE THE GROUP YOU WANT TO BE PART OF
There's Energy and Power in Numbers

46 BE PRACTICALLY OPTIMISTIC
Instill Hope

PART VII
HAVE A BIG IMPACT

47 EXPLORE THE UNKNOWN
The Future Depends on It

48 HONOR HISTORY
Let the Past Propel You Forward

49 EMBRACE AGING AT WORK
60 Is the New 30

50 LEVERAGE YOUR PLATFORM
Make a Difference

51 CHALLENGE THE STATUS QUO
Unleash Intergenerational Energy

52 DREAM AUDACIOUSLY
Move Beyond Success to Significance

ACKNOWLEDGMENTS

REFERENCES

INDEX

Your text has great instructor tools, like presentation slides, instructor manuals, test banks and more. Follow the steps below to access your instructor resources or watch the step-by-step video.
Steps to access instructor resources:
To get started, visit connect.mheducation.com to sign in. (If you do not have an account, request one from your McGraw Hill rep. To find your rep, visit Find Your Rep)
Then, under "Find a Title," search by title, author, or subject
Select your desired title, and create a course. (You do not have to create assignments, just a course instance)
Go to your Connect course homepage
In the top navigation, select library to access the title's instructor resources