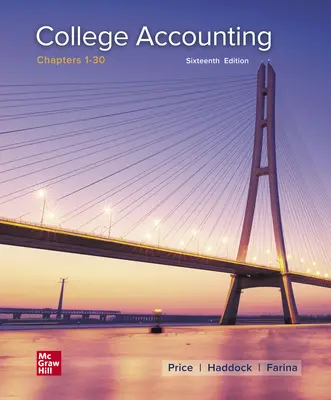 College Accounting Chapters 1-30
16th Edition
By John Price and M. David Haddock and Michael Farina
ISBN10: 1260247902
ISBN13: 9781260247909
Copyright:
2021
Product Details

+
Appropriate for All Students: Readable, contains many opportunities for practice, and makes accounting relevant for all.
Special Journal Coverage: Designed for instructors who teach the course covering special journals.
Connect: A highly reliable, easy-to-use homework and learning management solution that embeds learning science and award-winning adaptive tools to improve student results.
Program Details
Ch. 1 Accounting: The Language of Business
Ch. 2 Analyzing Business Transactions
Ch. 3 Analyzing Business Transactions Using T Accounts
Ch. 4 The General Journal and the General Ledger
Ch. 5 Adjustments and the Worksheet
Ch. 6 Closing Entries and the Postclosing Trial Balance
Ch. 7 Accounting for Sales and Accounts Receivable
Ch. 8 Accounting for Purchases and Accounts Payable
Ch. 9 Cash Receipts, Cash Payments, and Banking Procedures
Ch. 10 Payroll Computations, Records, and Payment
Ch. 11 Payroll Taxes, Deposits, and Reports
Ch. 12 Accruals, Deferrals, and the Worksheet
Ch. 13 Financial Statements and Closing Procedure
Ch. 14 Accounting Principles and Reporting Standards
Ch. 15 Accounts Receivable and Uncollectible Accounts
Ch. 16 Notes Payable and Notes Receivable
Ch. 17 Merchandise Inventory
Ch. 18 Property, Plant, and Equipment
Ch. 19 Accounting for Partnerships
Ch. 20 Corporations: Formation and Capital Stock Transactions
Ch. 21 Corporate Earnings and Capital Transactions
Ch. 22 Long-Term Bonds
Ch. 23 Financial Statement Analysis
Ch. 24 The Statement of Cash Flows
Ch. 25 Departmentalized Profit and Cost Centers
Ch. 26 Accounting for Manufacturing Activities
Ch. 27 Job Order Cost Accounting
Ch. 28 Process Cost Accounting
Ch. 29 Controlling Manufacturing Costs: Standard Costs
Ch. 30 Cost-Revenue Analysis for Decision Making