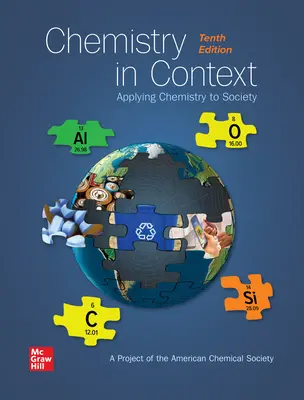 Chemistry in Context
10th Edition
By American Chemical Society
ISBN10: 1260240843
ISBN13: 9781260240849
Copyright:
2021
Product Details

+
Goal of this successful, issues-based textbook is toestablish chemical principles on a need-to-know basis for non-science majors,enabling them to learn chemistry in the context of their own lives andsignificant issues facing science.
Connect: A highly reliable, easy-to-use homework andlearning management solution.
The non-traditional approach reflects today's technologicalissues and chemistry principles. 
Program Details
1 Portable Electronics: The Periodic Table in the Palm of Your Hand
2 The Air We Breathe
3 Radiation from the Sun
4 Climate Change
5 Energy from Combustion
6 Energy from Alternative Sources
7 Energy Storage
8 Water Everywhere: A Most Precious Resource
9 The World of Polymers and Plastics
10 Brewing and Chewing
11 Nutrition
12 Health and Medicine
13 Genes and Life
14 Who Killed Dr. Thompson? A Forensic Mystery
Appendixes
Appendix 1: Measure for Measure - Conversion Factors and Constants
Appendix 2: The Power of Exponents
Appendix 3: Clearing the Logjam
Appendix 4: Answers to Your Turn Questions Not Answered in the Text
Appendix 5: Answers to Selected End-of-Chapter Questions