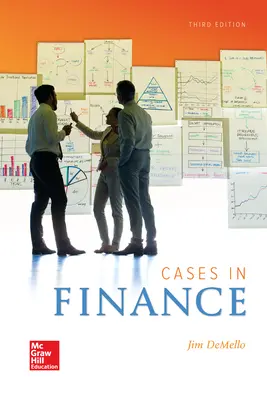 Cases in Finance
3rd Edition
By Jim DeMello
ISBN10: 1259330478
ISBN13: 9781259330476
Copyright:
2018
Product Details

+
- This is a book of hypothetical cases written to give students real examples of key finance concepts.
- Each case is 3-4 pages in length, and concludes with questions and problems that walk students through calculations and critical analysis of the case to help them make business decisions.
Read more +
---
Instructors: choose ebook for fast access or receive a print copy.
---
Program Details
1 Financial Statements, Cash Flows and Taxes: Ultra Cable Corporation
2 Analyzing Financial Statements: Are We Getting Too Big For Our Boots?
3 DuPont Analysis: Playing the Numbers Game!
4 Financial Forecasting: Growing Pains
5 Financial Analysis and Forecasting: There's More to Us Than Meets the Eye!
6 Time Value of Money: Lottery Winnings – Looks Can Be Deceptive!
7 Retirement Planning: It's Better Late than Never!
8 Loan Amortization: Paying Off That Dream House
9 Bond Analysis and Valuation: Corporate Bonds–They Are More Complex than You Think
10 Valuation of Common Stock: What Are We Really Worth?
11 Estimating Cash Flow - New Project Analysis: The Lawn Robot: Is It Really Worth It?
12 Capital Budgeting: Too Hot To Handle!
13 Real Options and Capital Budgeting: I Wish I Had a Crystal Ball
14 Divisional Costs of Capital: We Are Not All Alike!
15 Marginal Cost of Capital and Capital Budgeting: Where Do We Draw The Line?
16 Economic Value Added (EVA): EVA – Does It Really Work?
17 Evaluating Project Risk: It's Better to Be Safe Than Sorry!
18 Debt versus Equity Financing: Look Before You Leverage!
19 Bankruptcy and Reorganization: Is It Worth More Dead or Alive?
20 Dividend Policy: Is It Much Ado About Nothing?
21 Cash Budgeting: The Elusive Cash Balance
22 International Capital Budgeting: Will It Be Worthwhile to Venture?
23 Hedging with Derivatives: When in Doubt, Hedge!
24 Valuing Corporate Acquisitions: Made for Each Other
25 Lease Versus Buy Analysis: Why Buy It When You Can Lease It?