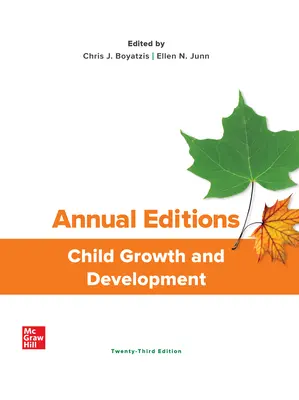 Annual Editions: Child Growth and Development
23rd Edition
By Chris Boyatzis and Ellen Junn
ISBN10: 1259910903
ISBN13: 9781259910906
Copyright:
2020
---
Instructors: choose ebook for fast access or receive a print copy.
---
Program Details
UNIT: Prenatal Development, Birth, and Child Cognition, Language, Learning, and Education


Chemical Threats, Stacy Lu, Monitor on Psychology, 2015
The list of chemicals found in common household products that can harm children's development seems to be getting longer by the day. This article describes how different chemicals can disturb brain development and hormone processes leading to developmental impairments in cognitive, physical, and social domains.


"Possibly the Worst Approach," Melinda Wenner Moyer, Slate, 2015
To protect children's immature immune systems, American parents have actually made them more vulnerable. New evidence indicates that infants and young children should be exposed to small amounts of foods to which the children may be oversensitive in an attempt to build immunity, an idea known as "immunotherapy."


Kindergartners Get Little Time to Play. Why Does It Matter? Christopher Brown, The Conversation, 2016
Forty years ago legendary early childhood educator Jimmy Hymes called it the dribble down disease, the practice of pushing down the curriculum from first grade to kindergarten. It's not that the curriculum is more academic than it was in the past, it is the removal of opportunities to freely explore, create, and test out hypothesis that are causing great concern. Children need ample time to engage in activities that foster the academics.


How Ending Behavior Rewards Helped One School Focus on Student Motivation and Character, Linda Flanagan, Mindshift, 2017
Schools have long used gold stars and other extrinsic rewards to nudge children to desired behavior. But research evidence indicates that such rewards reduce intrinsic motivation and creativity and lead children to focus on short-term gains. This article describes how a school has replaced traditional rewards with more private and personal feedback.


Time to Play: Recognizing the Benefits of Recess, Catherine Ramstetter and Robert Murray, American Educator, 2017
According to research by the CDC only 54 percent of educators are prohibited from using recess as a privilege to be earned based on appropriate behavior leaving children in other classrooms to be denied the opportunity to engage in free play due to their lack of work completion or behavior. The American Academy of Pediatrics recommends at least 60 minutes of active play each day. That is most often obtained during recess time. Many believe recess is a waste of time that could be better used in direct instruction.


Good Thinking! Fostering Children's Reasoning and Problem Solving, Jessica Vick Whittaker, Young Children, 2014
As early as preschool children's critical thinking skills can be cultivated. Rather than assuming only older children are capable of such competencies, preschool environments can help children develop reasoning, critical thinking, and problem-solving skills.


The Determinants of Strategic Thinking in Preschool Children, Isabelle Brocas and Juan D. Carrillo, PLoS ONE, 2018
Within limits, preschool children can think strategically. This article explores methods that psychologists use to study the cognitive skills of preschool children, and the strengths and limitations of the methods used.


Quality 101: Identifying the Core Components of a High-quality Early Childhood Program, Simon Workman and Rebecca Ullrich, Center for American Progress, 2017
Choosing childcare is one of the most complicated tasks parents face. Understanding the components of high-quality care and navigating the many types of programs available require knowledge of how children best learn and the qualities necessary in these who care for and educate young children.


What Homeschooling Actually Looks Like, Sarah Rivera, Noodle.com, 2015
More than 2 million American children—about 3 percent of school-age children—are homeschooled. This article explores the many reasons parents have for homeschooling their children, the wide variations in state requirements for homeschooling, and the challenges of finding educational materials and balancing role of parent and teacher.


Why the Danes Encourage Their Kids to Swing Axes, Play with Fire, and Ride Bikes in Traffic, Jenny Anderson, Quartz, 2018
In Denmark, children have a profoundly different kind of childhood than in the United States, as they are given much more independence and trust to develop their own skills, even if they learn through hard knocks. The country's social welfare system of family, parent, and child support provides the background for such freedoms.


UNIT: Social and Emotional Development


Early Sympathy and Social Acceptance Predict the Development of Sharing in Children, Tina Malti, et al., PLoS ONE, 2012
This article discusses "other-regarding" preferences defined as the willingness to take the welfare of others into consideration. According to the authors, the developmental elements of "other-regarding" preferences helps to understand "the roots of fairness, caring, and cooperation in human social interaction." The authors look at how sympathy develops in childhood, as well as the sex differences in the sympathetic behavior.


Friend or Foe? Early Social Evaluation of Human Interactions, Marine Buon, et al., PLoS ONE, 2014
The ability to discern between helpful and non-helpful acts in young children, and even infants, is a social skill studied by scientists using different methods. This article examines recent developmental studies indicating that infants and young children are able to evaluate some actions as positive or negative, and express preferences.


Is Your Child an Orchid or a Dandelion? Unlocking the Science of Sensitive Kids, Dave Davies, WHYY, 2019
Some children are unflappable and calm in different environments—like dandelions that adapt just about anywhere—but other children are extremely sensitive and reactive and need particular environments—like delicate orchids. This research explores how these very different temperaments seem to have very different stress response systems in their brains.


Are Outdoor Preschools the Wave of the Future? Shanti Hodges, REI Co-Op Journal, 2019
Outdoor preschools share many goals with traditional preschools but achieve those goals by giving children extensive time outdoors. These opportunities to engage nature directly are an important antidote to the increasing "digitization" and interiorization of children's lives.


In Britain's Playgrounds, 'Bringing in Risk' to Build Resilience, Ellen Barry, The New York Times, 2018
Playgrounds are common in many cultures around the world, and they provide opportunities for children to grow in many ways. However, the litigious legal backdrop of some countries makes for playgrounds that may be too safe to help children push their own limits. This article describes how Britain thinks such precautions have gone too far.


The Upside of Vulnerability, Elitsa Dermendzhiyska, Medium.com, 2018
Due to differences in their biological makeup, children have "differential susceptibility" to the same environments. Young children with "difficult" temperaments may be most influenced by both good and bad early experiences, and certain genetic profiles are linked to particular outcomes. How should we design children's environments to optimize development for children with different makeups?


Maximizing Children's Resilience, Kirsten Weir, Monitor on Psychology, 2017
To overcome difficult odds, children seem to benefit in particular from supportive relationships with adults. This article describes programs that help parents be optimally supportive and emotionally attuned to their children, thereby fostering their resilience.


UNIT: Parenting and Family Issues


Psychological Biases Play a Part in Vaccination Decisions, Tania Lombrozo, NPR.com, 2015
Some parents choose, quite emphatically, not to give their young children the typical vaccinations to protect against many diseases. Lombrozo explores some psychological biases that lead parents to do so, including the naturalness bias—not wanting to interfere with nature, the omission bias—parents would feel if their child died due to a vaccine than if their child died due to not receiving it, and anticipated regret—feeling especially responsible if their decision to vaccinate hurt their child.


The Relentlessness of Modern Parenting, Claire Cain Miller, The New York Times, 2018
It seems natural to believe that parental involvement in their children's lives is a good thing, a crucial factor in their development. But is it possible to have too much of a good thing? At what point is the intensity of modern parenting too much for parents, and might it even undermine children's development?


The Collapse of Parenting: Why It's Time for Parents to Grow Up, Cathy Gulli, Maclean's, 2016
Parents today feel tremendous pressure to do right by their kids. But it seems that in efforts to be more child-centered and democratic, many parents have gone too far in sharing authority and decision-making with their children that had contributed to a "culture of disrespect" of parents' authority. There are negative consequences of this imbalance, expressed in children's ample power in deciding what they eat, for example.


'Intensive' Parenting Is Now the Norm in America, Joe Pinsker, The Atlantic, 2019
Many middle- and upper-middle-class parents engage in a form of parenting that can only be called intensive. Such parents devote extensive resources of time and energy and money into their children's upbringing, reflecting their socioeconomic privilege and, perhaps, perpetuating socioeconomic differences between children.


Spanking Is Ineffective and Harmful to Children, Pediatricians' Group Says, Christina Caron, The New York Times, 2018
After its latest comprehensive review of the research, the American Academy of Pediatrics has issued their strongest statement ever against the use of corporal punishment. There are many constituencies involved in the matter of spanking children, from parents to pediatricians to school administrators and legislators.


Responding to Defiance in the Moment, Education Digest, 2017
This article explores eight underlying reasons for non-compliance among children and includes techniques to de-escalate defiant situations and promote co-operation. It also discusses the importance of reflection and evaluation.


UNIT: Cultural and Societal Influences


The Gay History of America's Classic Children's Books, Jesse Green, The New York Times, 2019
The article offers a perspective on many wonderful children's books, from "Frog and Toad" to the works of Maurice Sendak, that which suggests there are themes of "queer compassion" running through these works, with close friendships that are nonsexualized.


The Problem with Separate Toys for Boys and Girls, Rebecca Hains, Boston Globe Magazine, 2015
Walk into a toy store and you can't miss it—the pink aisle and the blue aisle. Pink toys, blue toys. Disney princesses and Zack the Lego Maniac. Contemporary toy manufacturers—led by Disney and Lego, the world's top two toy companies—are creating a gendered separation in toys perhaps to a greater degree than ever before. Unhealthy consequences could include young children artificially exaggerating differences between girls and boys as well as boys and girls having different kinds of play experiences due to highly gendered toys.


Boys and Girls on the Playground: Sex Differences in Social Development Are Not Stable across Early Childhood, Stéphanie Barbu, Guénaël Cabanes, and Gaïd Le Maner-Idrissi, PLoS ONE, 2011
From biological to social sciences, the hot topic of sex differences continues to trigger scientific focus. The existence of sex differences has been debated for decades and may still be the most striking paradoxes of gender studies today. This article discusses the debate and discrepancies between the studies that continue to feed the debate—especially those marked in childhood.


Do Girls See Themselves as Less Smart than Boys? Study Says Yes, Lois M. Collins, Deseret News, 2017
By the time many girls enter first grade they see themselves as less capable of intellectual tasks and jobs that may keep girls from entering the STEM and other fields. This article is based on a study published in the journal Science. It is important adults share with children that both sexes are smart and have the ability to tackle all problems that come their way.


Inequality at School, Kirsten Weir, Monitor on Psychology, 2016
Teachers seem to have biases toward children based on their races that create different learning environments for White and Black children, offering different teaching styles and disciplinary responses to children based on skin color. Interventions are discussed to help children recognize and overcome their prejudices.


Nearly Half of Children Have Damaging Childhood Experiences. Here's How to Help Your Child, Deseret News, 2018
A national study has found that 45% of US children have suffered from an adverse childhood experience—violence, divorce, parental mental health or substance abuse problems. The rate is higher for Black and Hispanic children than for White and Asian children. Close relationships with adults may help buffer children against the impact of such adversities.


Worry Over Kids' Excessive Smartphone Use Is More Justified than Ever Before, Jean Twenge, The Conversation, 2018
Many youths seem addicted to electronic media, and it is negatively affecting them in various ways, starting with their sleep.


Young Trans Children Know Who They Are, Ed Yong, The Atlantic, 2019
There is tremendous attention on the growing numbers of children who do not identify with their biological sex. This article describes cutting-edge research by psychologists who are understanding the children who transition from one sex to another.


When Your Child Is a Psychopath, Barbara Bradley Hagerty, The Atlantic, 2017
The diagnosis of psychopathy is reserved for adults, but there is a constellation of personality and behavioral traits in childhood that may be an early form of psychopathic behavior. This "callous and unemotional" constellation of traits appears in children who are immune to guilt and indifferent to punishment and capable of violent and even cruel behavior.


A Court Put a 9-Year-Old in Shackles for Stealing Chewing Gum—an Outrage That Happens Every Single Day, Bryan Schatz, Mother Jones, 2015
Juvenile justice practices and policies have become much more punitive in recent decades, with young children receiving harsh treatments for relatively innocuous offenses. In many states, school-age children can be put in shackles—a heavy metal apparatus with handcuffs, a belly chain, and leg irons. Evidence shows that harsh treatment hurts children psychologically, and the American Bar Association has resolved to put an end to this excessive practice.


85 Million Children Work in Dangerous Conditions: Are Governments Fulfilling Their Promise to Prevent This? Jody Heymann, Aleta Sprague, and Nicolas de Guzman Chorny, Huffington Post, 2014
There are 168 million children laborers around the world, many in very dangerous jobs in mines and quarries. The United Nation's Convention on the Rights of the Child called for nations worldwide to protect children from such work, but to date roughly half of the countries that ratified the treaty have failed to pass child labor laws.


Unlocking Emily's World, Chris Berdik, Bostonia Magazine, 2015
For children with autism, about 30 percent never learn to speak and remain nonverbal. Recent research—described through a fascinating case study of Emily, a 13-year-old girl—explores the brain regions and processes that may play a role in helping nonverbal autistic children become more communicative.