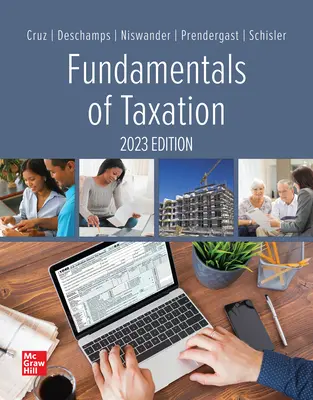 Fundamentals of Taxation 2023 Edition
16th Edition
By Ana Cruz and Michael Deschamps and Frederick Niswander and Debra Prendergast and Dan Schisler
ISBN10: 1264217943
ISBN13: 9781264217946
Copyright:
2023
Product Details

+
Follows the Form: Organized to follow the IRS tax forms, enabling students to understand tax law logic and obtain client information.

Surgent Enrolled Agent Review: Partnership with Surgent Review provides 6-month free access to Part 1 of the Enrolled Agent exam review material to students.

Connect includes a wealth of practice, assessment, and career-readiness tools to help students through this course and set them up for a successful career!

Read more +
Program Details
Chapter 1 - Introduction to Taxation, the Income Tax Formula, and Form 1040
Chapter 2 - Expanded Tax Formula, Form 1040, and Basic Concepts
Chapter 3 - Gross Income: Inclusions and Exclusions
Chapter 4 - Adjustments for Adjusted Gross Income
Chapter 5 - Itemized Deductions
Chapter 6 - Self-Employed Business Income (Line 3 of Schedule 1 and Schedule C)
Chapter 7 - Capital Gains and Other Sales of Property (Schedule D and Form 4797)
Chapter 8 - Rental Property, Royalties, and Income from Flow- Through Entities (Line 5, Schedule 1, and Schedule E)
Chapter 9 - Tax Credits (Form 1040, Lines 19, 20, 27 through 29, and 31, Schedule 3, Lines 1 through 14)
Chapter 10 - Payroll Taxes
Chapter 11 - Retirement and Other Tax-Deferred Plans and Annuities
Chapter 12 - Special Property Transactions
Chapter 13 - At-Risk/Passive Activity Loss Rules and the Individual Alternative Minimum Tax
Chapter 14 - Partnership Taxation
Chapter 15 - Corporate Taxation