Connect Releases
Want the details on what's new and improved in Connect? Review the release notes below!
July 2022
SmartBook® 2.0 Instructor Assignment Report
---
The SmartBook 2.0 Instructor Assignment Report has been updated to improve the user experience and accessibility. The new report layout has a landing page with class-level details. The instructor can then navigate to pages with specific student-level details.
The new instructor reports still provide the same four tiles as the current reports:
Assignment Progress
Completion Time
Learner's Metacognition
Challenging Concepts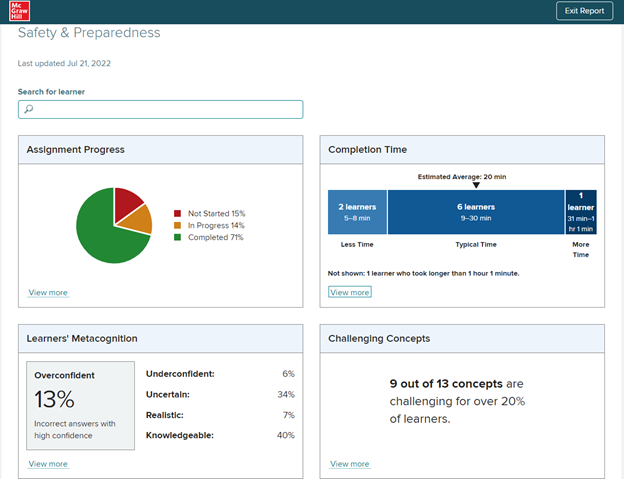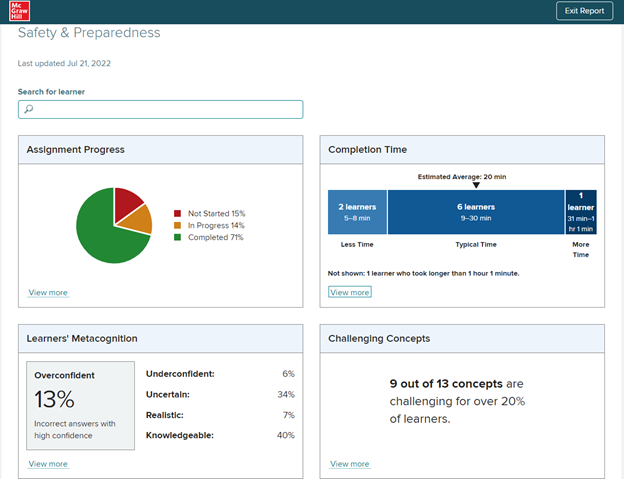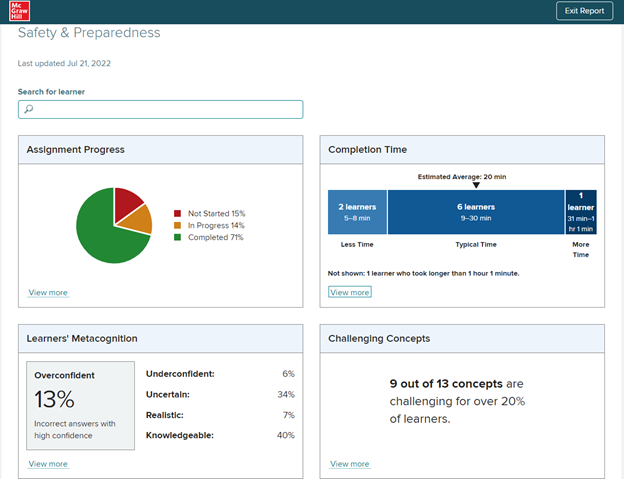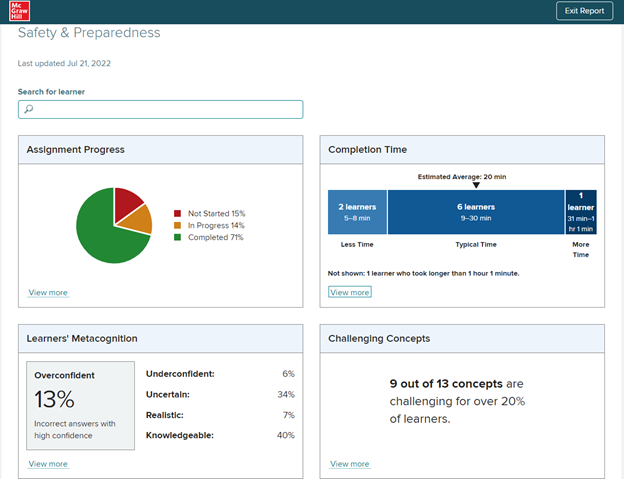 Instructors can view a class summary report immediately and drill down to a page for each individual learner.
Mheducation.com Cart and Checkout
---
A new cart and checkout user experience are now live on mheducation.com for increased accessibility. Students are now able to access a more modern, streamlined user experience with fewer pages. Payment information can be saved and has been updated to include PayPal, with more payment options added later this year.
This new user interface has been updated for accessibility with improved mobile and tablet responsiveness.
Question Bank Updates
---
Instructors are now able to add up to 2,000 points for an individual question or assignment in the Question Bank. Previously, an assignment point-maximum was 1,000 points, while individual questions were a maximum of 100 points.

The source location of each Question Bank assignment question is now presented at the bottom of the "organize assignment" page. This will assist with new course setup and the transition from edition to edition.
Writing Assignment enhancement: Peer Review
---
Instructors now have the option to assign a peer review milestone in manually scored assignments with a draft. Functionality includes the ability to set the number of peer reviews completed, automatic assigning after the draft due date, and anonymous peer commenting.

Progress can be easily viewed using the "Peer Review Summary" option. If instructors want to review peer comments in detail, they expand the inline comment menu for responses to guiding questions. For a more cursory review, instructors have the option to see an individual student's activity at a glance before giving a score and providing feedback.
LearnSmart Technology sunset
---
With the sunset of original LearnSmart assignments being complete in May 2022, any remaining assignments will generate an error message: "Alert! This assignment type is no longer supported. Please contact your instructor." Instructors can assign SmartBook 2.0 or Adaptive Learning Assignments to replace LearnSmart. Please contact a McGraw Hill representative for assistance.
Anatomy & Physiology Revealed ®(APR) enhanced reporting
---
Updated APR Assignment reporting now includes detailed data on score, time spent, clicks, student engagement, quiz results, and item analysis for quiz questions.
Proctorio Gradebook access for co-instructor(s)
---
Co-instructor(s) are now able to access the Proctorio Gradebook for proctored assignments to view students' recordings and report details.
Instructor and Student My Account pages
---
My Account pages for both students and instructors have been updated to a new streamlined design in both Connect standalone and Learning Management Systems for consistency.
Student Renewal link
---
After a student's Connect license expires, when logging directly into Connect, they will be directed to renew the license in a more user-friendly experience with clear next steps for renewal.
LTI Advantage
---
Instructors now have the ability to relink assignments in a Connect shared section without having to redeploy to the LMS.

LMS users that have a master/child Connect course model can now enable a one-click seamless connection to Connect via our Auto Copy/Pair (ACP) process. ACP automatically creates the user account, shares and pairs the Connect master section, and relinks the assignments with the LMS.

LTI Advantage will now support Connect without an eBook for McGraw Hill International accounts and provide those students with the option to purchase an eBook.
McGraw Hill continuously strives to provide the best user experience. Here is a summary of improvements made in the May 2022 Connect Release.
New! Connect Instructor Experience
---
Beginning May 6, 2022, McGraw Hill Connect will have a new instructor experience available for select pages. This opt-in update will feature a streamlined interface, better organization, time-saving enhancements, and improved accessibility. Within a section, instructors will have the option to turn on the new experience with the toggle at the top of the page. Once the toggle is turned on, all sections will have the new experience. Users have the freedom to toggle back and forth between the classic and new experience as needed. (Note: the My Courses page will remain in classic view for now.)
Below is a summary of improvements to the instructor experience:
At-a-glance insight into section performance—putting course analytics at the forefront. Information is displayed with accessibility features.
Section Performance showcases assignment averages and other analytics.
Assignment tiles surface information with fewer clicks to allow instructors to see student progress and important information quickly.
Assignment tab maximizes screen space by having a separate Assignments page. Instructors can quickly and easily:

• See student progress and LMS assignment deployment status (for all major LMSs that leverage deep integration). Additional information will display if you hover over the student progress numbers to see student insights.
• See points and due dates.
• See important information about each assignment without clicking in.

The ability to toggle to Spanish is now added.
Manage Users: Ability to add instructors
---
Additional functionality to add multiple instructors to sections.* Within the new instructor experience, instructors will click on "Manage Users" from the section dashboard. (Note: if your Connect section is paired with an LMS, other instructors launching over from the LMS section will automatically be added to the Connect section as co-instructors.)
*Some specific situations are not currently supported.
Connect Login page redesign
---
To further promote consistency across McGraw Hill pages, the User Login page has been redesigned. Note: if there is anything that is missing in the user's profile, the user will be prompted to complete the profile.
Writing Assignment enhancements
---
Instructors now have the option of allowing and accepting late submissions in Writing Assignment. While you will still select a due date, you can then also select if you would like to accept late submissions and the date to which the assignment will be kept open (the "Late Submission Date"). Submissions will be marked as late to both you and the student.
Updated Policy Setting for Assignment Results Report
---
The Assignment Results Report has a setting called "exclude attempts submitted after the due date," which hides any scores from attempts submitted late. This policy was enabled by default, so when instructors ran their reports without noticing this setting, they received a limited view of student submissions. The default for this setting has been changed to disabled.
Virtual Lab enhancements
---
New! Instructors can add a custom note for Virtual Lab assignments that displays in the lab for students.
Application-Based Activities (ABA) enhancements
---
Instructors can access a new link to all ABA-Level reports within the Connect reports. These provide more in-depth data on class and individual student performance in the assignments.
Adaptive Learning Assignment (ALA) updates
---
ALAs were released in World Language courses where LearnSmart was replaced with our next-generation adaptive technology.
Instructors can now preview a sample ALA probe before they select content to assign.
A new ALA Reports link has been added to the assignment activity page so instructors can easily access ALA-specific reports for more in-depth data on class and individual student performance in the assignments.
eBook updates
---
The navigation bar in the eBook will now stay at the top of the page as students and instructors are scrolling through the text. Previously, the user had to scroll up to make the navigation options appear again, now it will remain visible.
SmartBook ® 2.0 enhancements
---
Read Speaker functionality is now available for instructors and students, so the pages can be read aloud to the user. We've also enabled a full screen viewing button for videos that are included as a resource.
Instructors can now preview sample probes in the SmartBook 2.0 Concepts Performance report. It will only show one of the available questions per concept.
The adaptive functionality was improved, allowing learning objectives to be assigned across multiple chapters in a title.
Question Bank updates
---
For content that contains foreign languages, the special character palette has been repositioned so it's fully visible to users while they're working in Connect.
Virtual Labs enhancements
---
New class-level assignment reporting is now available for Virtual Labs.
Writing Assignment updates
---
Manage dates and extensions is now available for instructors to use in Writing Assignments.
2022 Connect courses include manually-scored prompts and rubrics instructors can easily assign and the program will also provide basic automated writing feedback on things like focus, organization, and style/mechanics to students under the Tools section.
Share functionality is now fully enabled in Writing Assignment for instructors to use. This includes being able to share writing assignments in a course, section, or individual assignments, as well as being able to share to a colleague or to self for another Connect course.
Manually-scored prompts and rubrics will be available in all C2022 Connect courses and some C2021 Connect courses with Writing Assignment. Ask your McGraw Hill Learning Technology Representative for more details.
Connect Sunset notice
---
McGraw Hill is sunsetting some older titles in Connect this year. You may see a notice in Connect if your title has been designated as Going Out of Print or Out of Print. If you do, please contact your McGraw Hill Learning Technology Representative immediately for more information.