McGraw Hill Business Program: Certifications & Credentials
Helping students achieve professional certification and credentialing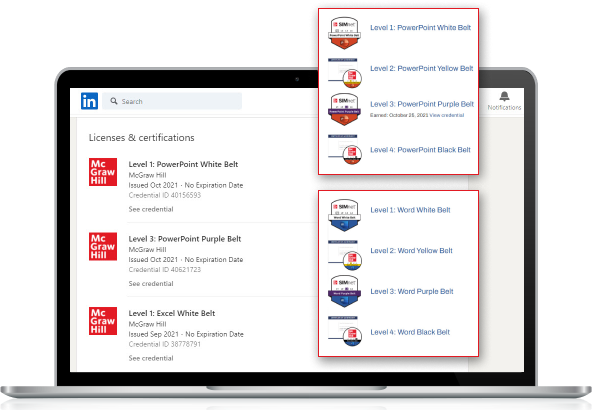 Digital Badging Credentials for SIMnet
SIMnet is an easy-to-use, powerful online training and assessment solution for learning Microsoft Office within the computing curriculum. SIMnet's built-in digital credentialing system is a great way for students to build confidence and provide tangible, substantiated proficiency of their learned skills to future prospective employers. White, Yellow, Purple, and Black belt credentials are achievable in Excel, Access, Power Point, and Word.
Learn more
SIMnet issues over 200,000 credentials each year!
Demonstrable ways to showcase proficiency to future employers
McGraw Hill products are often aligned to industry-specific certification standards such as:


Certified Public Accountant (CPA) Certification for Accounting through a partnership with UWorld Roger CPA
Microsoft Office Specialist (MOS) Certification in McGraw Hill SIMnet®
Chartered Financial Analyst (CFA) Certification through a partnership with Kaplan Schweser
Enrolled Agent Exam for Tax Professionals through a partnership with Surgent
SHRM Certification in Human Resources
To give students a leg up when they are ready to take these important exams, McGraw Hill either partners with third parties that provide past exam questions or access to their prep materials, or closely aligns and tags content based on the standards set by the certifying bodies.