McGraw Hill Business Program: Analytics
Developing analytics-savvy graduates
Analytics is a required skill for all business majors for today's businesses, and our goal is to create the tools that will enable students to develop a baseline of analytical thinking and hands-on practice with analytics tools before they enter the workforce.
Analytics across the curriculum
In strategic areas across the Business curriculum, McGraw Hill has integrated analytics tools into the courseware to give students relevant exposure and practice with analytics.

Dedicated analytics content and assignable material is available in:


Business Analytics
Business Statistics
Finance
Marketing
Management Information Systems
Operations Management
Supply Chain Management
Hands-on data analytics tools provide students with real-world practice with this important skillset by utilizing a variety of software used in industry, including but not limited to:


Statistical Software Tools (R, Excel add-ons)
Programming Tools (Python, SQLite)
Data Visualization Tools (Tableau, Power BI)
Data Cleaning and Preparation Tools (Alteryx, Tableau Prep)
Marketing Tools (Google Analytics, RapidMiner)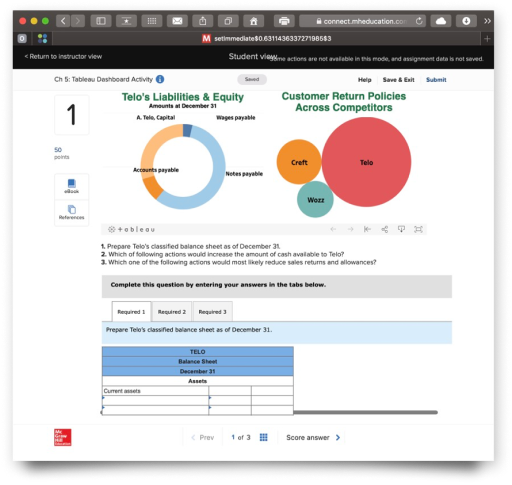 Tableau Dashboard Activities
Tableau Dashboard Activities enable students to explore live Tableau dashboards directly integrated into McGraw Hill Connect® through interactive filters and menus as well as auto-graded, calculation- and analysis-based questions. Students can check their understanding and apply what they are learning within the framework of analytics and critical thinking.
Available in:
Accounting
Business Statistics
Finance
Applying Tableau &
Applying Power BI
Applying Tableau and Power BI activities teach students to drive better business decisions by analyzing data for insights. Students create their own reports and dashboards, harnessing data to tell a compelling business story. Students then must answer critical-thinking and calculation questions, requiring manipulation and interpretation of data sets.
Available in: Accounting
For more information about the entire suite of analytics offers in Accounting, click here.
R software
McGraw Hill Business Analytics content provides opportunities for students to practice analytics activities within R in an easy-to-use format delivered through Connect. The content focuses on the basic R functions and libraries to conduct statistical analysis, with an emphasis on statistical thinking and communication, and provides the commands necessary for students to easily get exposure to this important business tool.
Available in: Business Analytics
Dedicated Analytics offers
For dedicated Analytics courses, McGraw Hill offers a range of analytics-focused products such as: