2018 Social and Emotional
Learning Report
We surveyed 1,100+ educators, administrators, and parents about the professional development, resources, and support for social and emotional learning (SEL) in PreK-12 classrooms.
Access Full Survey Results
Get the full survey report!
Highlights and key findings from this survey include:
Nearly two-thirds of educators surveyed said their school is in the process of implementing a school-wide strategic SEL plan.
Three-quarters of teachers surveyed say they are teaching SEL in their classroom, and 74% of teachers say they are devoting more time to teaching SEL today compared to five years ago.
Nearly two-thirds of teachers surveyed said they need more time to teach SEL skills.
Only 64% of teachers currently teaching SEL felt they were only "somewhat prepared" to teach SEL, and only 22% felt they were "very prepared."
Over half of the teachers (51%) said that the level of professional development offered on SEL at their school is not sufficient.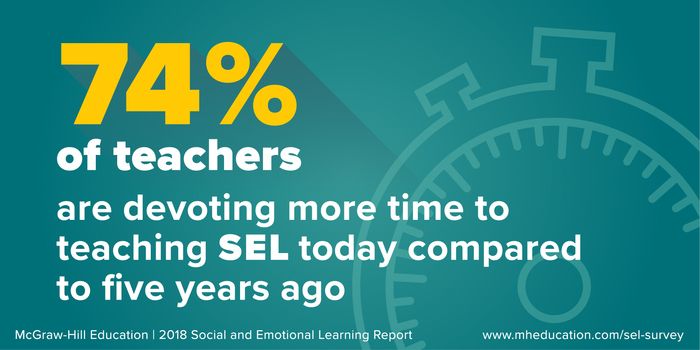 View Full Results of Survey
McGraw Hill may use your contact information to provide you with materials that we believe are of interest. You may choose to opt-out of receiving additional materials at any time by contacting our customer service, sending an email to McGraw Hill's local privacy official, or selecting "unsubscribe" at the bottom of any email you receive from us.