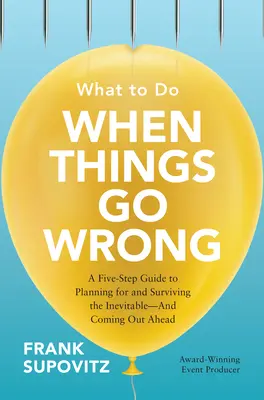 What to Do When Things Go Wrong: A Five-Step Guide to Planning for and Surviving the Inevitable—And Coming Out Ahead
1st Edition
By Frank Supovitz
ISBN10: 126044158X
ISBN13: 9781260441581
Copyright:
2019
Product Details

+
From the man who made the Super Bowl go off without a hitch—almost – a proven five-step program for handling any crisis situation with skill and confidence.
Read more +
---
Instructors: choose ebook for fast access or receive a print copy.
---
Program Details
ACKNOWLEDGEMENTS
FOREWORD
1 CAN THIS DAY GET ANY WORSE?
STEP ONE IMAGINE
2 DEFINING DISASTER
3 ANYTHING THAT CAN GO WRONG
4 IT'S A MATTER OF TIME
5 LIVING IN THE LAND OF THE LIKELY
STEP TWO PREPARE
6 THE "BCD's" OF CONTINGENCY PLANNING
7 HOPE IS NOT A STRATEGY
8 PREPARE FOR ANYTHING
9 COMMUNICATE OR DIE
10 COMMAND AND COLLABORATE
11 BUILDING A SUPER TEAM
STEP THREE EXECUTE
12 MANAGING THE INVERTED PYRAMID
13 BUILDING AN EMPOWERMENT CULTURE
14 LEADING A COMMUNITY OF PROBLEM SOLVERS
15 EVERYTHING AFFECTS EVERYTHING ELSE
16 REAL- TIME MANAGEMENT
17 TWO- MINUTE DRILL
STEP FOUR RESPOND
18 CONFRONTING THE "OOPS–DAMN" MOMENTS
19 THE CRISIS WITHIN, THE CRISIS WITHOUT
20 RIGHT HAS LEFT THE BUILDING
21 MANAGING RECOVERY
22 MANAGING THE MESSAGE
STEP FIVE EVALUATE
23 BREATHE. DEBRIEF. REPEAT.
CONCLUSION: A BULLET DODGED. FOR NOW.
REFERENCES
INDEX