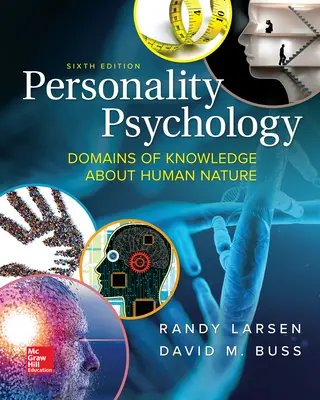 Personality Psychology: Domains of Knowledge About Human Nature
6th Edition
By Randy Larsen and David Buss
ISBN10: 1259870499
ISBN13: 9781259870491
Copyright:
2018
Product Details

+
* Connect: A highly reliable, easy-to-use homework and learning management solution that embeds learning science and award-winning adaptive tools to improve student results.
* Major findings, both classical and contemporary, are presented in the context of six key domains—Dispositional, Biological, Intrapsychic, Cognitive/Experimental, Social and Cultural, and Adjustment.
* Provides a foundation for the analysis and understanding of human personality.
Program Details
Introduction
Chapter 1: Introduction to Personality Psychology
Chapter 2: Personality Assessment, Measurement, and Research Design
Part 1 The Dispositional Domain
Chapter 3: Traits and Trait Taxonomies
Chapter 4: Theoretical and Measurement Issues in Trait Psychology
Chapter 5: Personality Dispositions over Time: Stability, Coherence, and Change
Part 2 The Biological Domain
Chapter 6: Genetics and Personality
Chapter 7 Physiological Approaches to Personality
Chapter 8: Evolutionary Perspectives on Personality
Part 3 The Intrapsychic Domain
Chapter 9: Psychoanalytic Approaches to Personality
Chapter 10: Psychoanalytic Approaches: Contemporary Issues
Chapter 11: Motives and Personality
Part 4 The Cognitive/Experiential Domain
Chapter 12: Cognitive Topics in Personality
Chapter 13: Emotion and Personality
Chapter 14: Approaches to the Self
Part 5 The Social and Cultural Domain
Chapter 15: Personality and Social Interaction
Chapter 16: Sex, Gender, and Personality
Chapter 17: Culture and Personality
Part 6 The Adjustment Domain
Chapter 18: Stress, Coping, Adjustment, and Health
Chapter 19: Disorders of Personality
Chapter 20: Summary and Future Directions
Conclusion