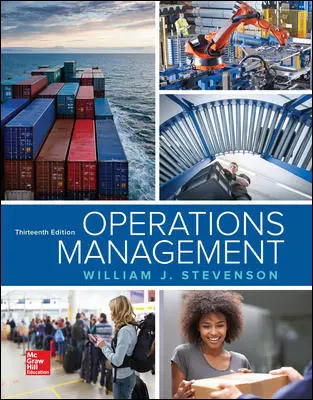 Operations Management
13th Edition
By William J Stevenson
ISBN10: 1259667472
ISBN13: 9781259667473
Copyright:
2018
Product Details

+
- Stevenson's Operations Management features integrated, up-to-date coverage of current topics and industry trends, while preserving the core concepts that have made the text the market leader in this course for over a decade.
- Through detailed examples and solved problems, short cases and readings on current issues facing businesses, and auto-gradable end of chapter problems and application-oriented assignments available in Connect Operations Management, students learn by doing, and the Thirteenth Edition continues to offer more support for 'doing Operations' than any other.
- Connect: A highly reliable, easy-to-use homework and learning management solution that embeds learning science and award-winning adaptive tools to improve student results.
Program Details
1. Introduction to Operations Management
2. Competitiveness, Strategy, and Productivity
3. Forecasting
4. Product and Service Design
SUPPLEMENT TO CHAPTER 4: Reliability
5. Strategic Capacity Planning for Products and Services
SUPPLEMENT TO CHAPTER 5: Decision Theory
6. Process Selection and Facility Layout
7. Work Design and Measurement
SUPPLEMENT TO CHAPTER 7: Learning Curves
8. Location Planning and Analysis
9. Management of Quality
10. Quality Control
11. Aggregate Planning and Master Scheduling
12. MRP and ERP
13. Inventory Management
14. JIT and Lean Operations
SUPPLEMENT TO CHAPTER 14: Maintenance
15. Supply Chain Management
16. Scheduling
17. Project Management
18. Management of Waiting Lines
19. Linear Programming
1. Appendix A: Answers to Selected Problems
2. Appendix B: Tables
3. Appendix C: Working with the Normal Distribution
4. Photo Credits
5. Company Index
6. Subject Index