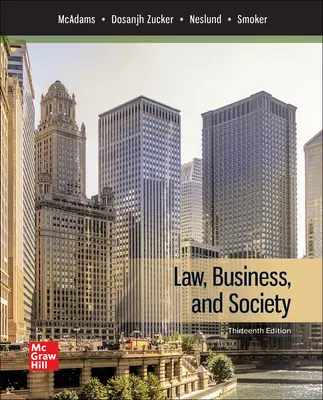 Law, Business and Society
13th Edition
By Tony McAdams and Kiren Dosanjh Zucker and Kristofer Neslund
ISBN10: 1260247791
ISBN13: 9781260247794
Copyright:
2022
Product Details

+
Interdisciplinary Approach: Elements of law, economy, international business, ethics, social responsibility, & management help students build a logical understanding of the regulatory process.
Analytical Thinking: Contemporary, legal, & ethical conflicts emerging from today's news and research provoke students to think deeply about the law.   
Connect: Online homework solution that embeds learning science & adaptive tools to improve student results.
Program Details
UNIT ONE Business and Society
1 Capitalism and the Role of Government
2 Business Ethics
3 The Corporation and Public Policy: Expanding Responsibilities
UNIT TWO Introduction to Law
4 The American Legal System
5 Constitutional Law and the Bill of Rights
6 Contracts
7 Business Torts and Product Liability
UNIT THREE Trade Regulation and Antitrust
8 Government Regulation of Business
9 Business Organizations and Securities Regulation
10 Antitrust Law—Restraints of Trade
11 Antitrust Law—Monopolies and Mergers
UNIT FOUR Employer–Employee Relations
12 Employment Law I: Employee Rights
13 Employment Law II: Discrimination
14 Employment Law III: Labor–Management Relations
UNIT FIVE Selected Topics in Government–Business Relations
15 Consumer Protection
16 International Ethics and Law
17 Environmental Protection
18 Internet Law and Ethics
APPENDIX A The Constitution of the United States of America
APPENDIX B Uniform Commercial Code 2000 Official Text, Article 2