Greenlight learning with McGraw Hill GO.
Choose your LMS for a self-guided tour.
Welcome to GO.
McGraw Hill GO is an easy-to-use and quick to set up eBook+ that lives within your LMS. GO makes it easier to keep up with progress and direct attention where it matters.
Quick integration
with your LMS
Its quick and easy setup, centralized location, instructor resources, and auto-graded questions make GO your go-to learning platform.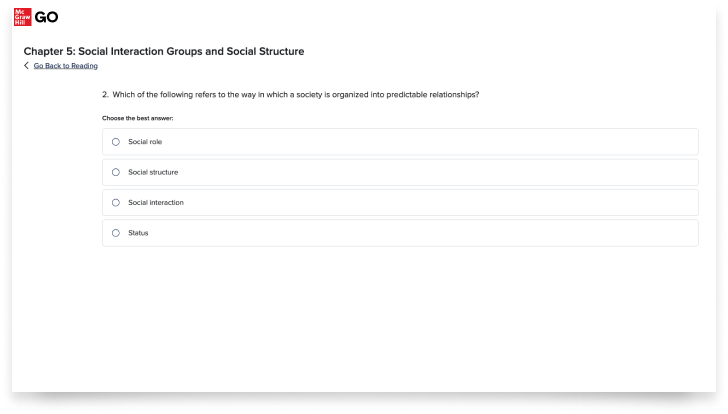 Guardrails for
student success
Assignable readings and chapter questions make students accountable, direct them through key chapter concepts, and enable them to demonstrate their understanding of the material.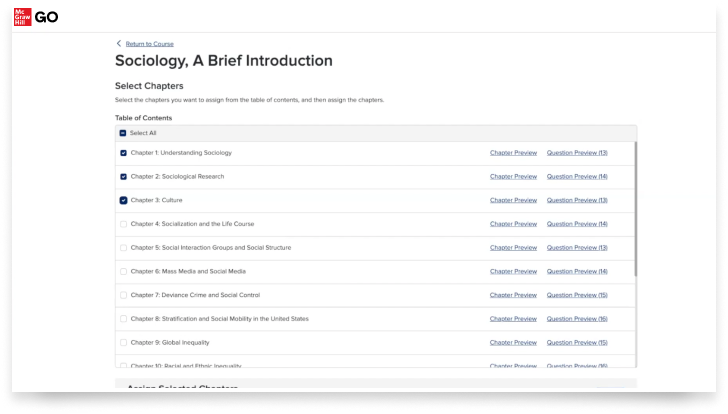 Best-in-class
course content
GO delivers trusted, easily leveraged digital content to you and your students, enabling you to teach your best course.
Find Your Fit
See if McGraw Hill GO is available for your course and whether it is the right tool to fit your needs.
Use of the Canvas name and/or logo is subject to Instructure's Canvas brand guidelines located here. Instructure reserves the right to revoke this consent at any time at its sole discretion.
The word Moodle and associated Moodle logos are trademarks or registered trademarks of Moodle Pty Ltd or its related affiliates.