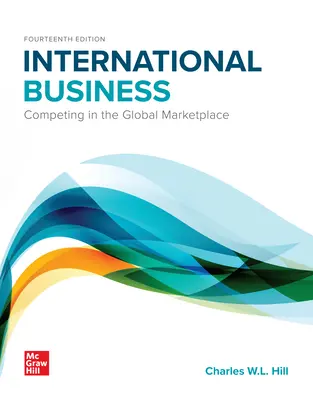 International Business: Competing in the Global Marketplace
14th Edition
By Charles Hill
ISBN10: 1260387542
ISBN13: 9781260387544
Copyright:
2023
Product Details

+
This market-leading choice for International Business is ideal for undergraduates or graduates.
• Relevant, practical, and integrated.
• Includes deeper coverage on: The Global Capital Market, The Organization of an International Business, and Accounting and International Finance in IB.

• Improve student learning outcomes using Connect.
Read more +
Program Details
Part One: Introduction and Overview
Chapter 1: Globalization

Part Two: National Differences
Chapter 2: National Differences in Political, Economic, and Legal Systems
Chapter 3: National Differences in Economic Development
Chapter 4: Differences in Culture
Chapter 5: Ethics, Corporate Social Responsibility, and Sustainability

Part Three: The Global Trade and Investment Environment
Chapter 6: International Trade Theory
Chapter 7: Government Policy and International Trade
Chapter 8: Foreign Direct Investment
Chapter 9: Regional Economic Integration

Part Four: The Global Monetary System
Chapter 10: The Foreign Exchange Market
Chapter 11: The International Monetary System
Chapter 12: The Global Capital Market

Part Five: The Strategy and Structure of International Business
Chapter 13: The Strategy of International Business
Chapter 14: The Organization of International Business
Chapter 15: Entering Developed and Emerging Markets

Part Six: International Business Functions
Chapter 16: Exporting, Importing, and Countertrade
Chapter 17: Global Production and Supply Chain Management
Chapter 18: Global Marketing and Business Analytics
Chapter 19: Global Human Resource Management
Chapter 20: Accounting and Finance in International Business

Part Seven: Integrative Cases
How the iPhone Is Made: Apple's Global Production System
Kenya: An African Lion
Poland: Eastern Europe's Economic Miracle