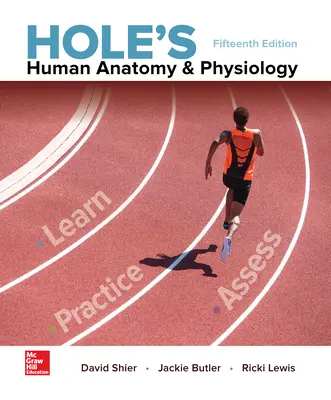 Hole's Human Anatomy & Physiology
15th Edition
By David Shier and Jackie Butler and Ricki Lewis
ISBN10: 1259864561
ISBN13: 9781259864568
Copyright:
2019
Product Details

+
• What's Covered: Hole's Human Anatomy & Physiology covers fundamentals of A&P, assuming no prior scientific knowledge.
• Teaching Approach: Core themes are distilled into key concepts and underlying mechanisms. "Understanding Words" builds a solid A&P vocabulary.
• What Makes This Product Unique: Learn, Practice, Assess framework gives students consistent support.
• Digital Tools Available
Program Details
1 Introduction to Human Anatomy and Physiology 2 Chemical Basis of Life 3 Cells 4 Cellular Metabolism 5 Tissues 6 Integumentary System 7 Skeletal System 8 Joints of the Skeletal System 9 Muscular System 10 Nervous System I: Basic Structure and Function 11 Nervous System II: Divisions of the Nervous System 12 Nervous System III: Senses 13 Endocrine System 14 Blood 15 Cardiovascular System 16 Lymphatic System and Immunity 17 Digestive System 18 Nutrition and Metabolism 19 Respiratory System 20 Urinary System 21 Water, Electrolyte, and Acid-Base Balance 22 Reproductive Systems 23 Pregnancy, Growth, and Development 24 Genetics and Genomics