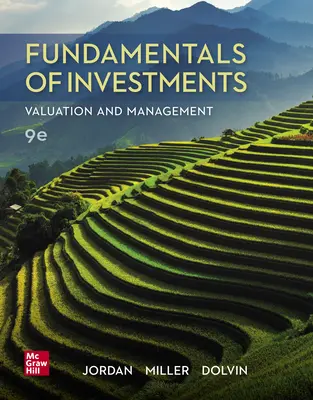 Fundamentals of Investments: Valuation and Management
9th Edition
By Bradford Jordan and Thomas Miller and Steve Dolvin
ISBN10: 1260013979
ISBN13: 9781260013979
Copyright:
2021
Product Details

+
Introductory text focused on students as investment managers by giving them information to act on instead of concentrating on theories and research without the proper context.
Offers strong, consistent pedagogy, including a balanced, unified treatment of the main types of financial investments as mirrored in the investment world. Topics organized to be easy to apply and supported with hands-on activities.
Provide mapping between the textbook and CFA curriculum.
Program Details
PART ONE: Introduction
Ch. 1 A Brief History of Risk and Return
Ch. 2 The Investment Process
Ch. 3 Overview of Security Tips
Ch. 4 Mutual Funds and Other Investment Companies

PART TWO: Stock Markets
Ch. 5 The Stock Market
Ch. 6 Common Stock Valuation
Ch. 7 Stock Price Behavior and Market Efficiency
Ch. 8 Behavioral Finance and the Psychology of Investing

PART THREE: Interest Rates and Bond Valuation
Ch. 9 Interest Rates
Ch. 10 Bond Prices and Yields

PART FOUR: Portfolio Management
Ch. 11 Diversification and Risky Asset Allocation
Ch. 12 Return, Risk, and the Security Market Line
Ch. 13 Performance Evaluation and Risk Management

PART FIVE: Futures and Options
Ch. 14 Futures Contracts
Ch. 15 Stock Options
Ch. 16 Option Valuation

PART SIX: Topics in Investments
Ch. 17 Alternative Investments
Ch. 18 Corporate and Government Bonds
Ch. 19 Projecting Cash Flow and Earnings
Ch. 20 Global Economic Activity and Industry Analysis

ONLINE CHAPTER
Ch. 21 Mortgage-Backed Securities

APPENDICES
A Answers to Test Your Investment Quotient Questions
B Answers to Selected Questions and Problems
C Key Equations