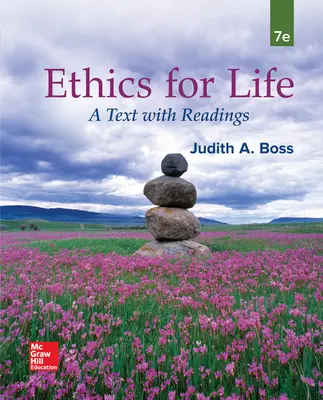 Ethics For Life
7th Edition
By Judith Boss
ISBN10: 1259914275
ISBN13: 9781259914270
Copyright:
2019
Product Details

+
Both scholarly and practical, Ethics For Life, 7e provides a clear, well-organized overview of theoretical ethics. With a contemporary tone and framework, it aims to significantly improve students' ability to make real-life moral decisions. Multicultural coverage and attention to college students' moral development help readers relate the material to their own experience and their own moral growth.
Program Details
Boss: Ethics For Life, 7e
CHAPTER 1: Ethics: An Overview
CHAPTER 2: Moral Reasoning
CHAPTER 3: Conscience and Moral Development
CHAPTER 4: Ethical Subjectivism: Morality Is Just a Matter of Personal Feeling
CHAPTER 5: Divine Command Theory and Civil Religion
CHAPTER 6: Cultural Relativism: Is Morality Dependent on Culture?
CHAPTER 7: Ethical Egoism: Morality Is Acting in Our Best Self-Interest
CHAPTER 8: Utilitarianism: The Greatest Happiness Principle
CHAPTER 9: Natural Law Theory: Morality is Part of Rational Nature
CHAPTER 10: Deontology: The Ethics of Duty
CHAPTER 11: Rights Ethics
CHAPTER 12: Virtue Ethics and the Good Life