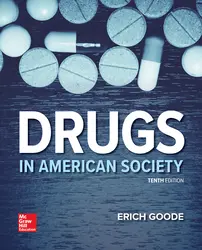 Drugs in American Society
10th Edition
Product Details

+
Drugs in American Society is a sociological introduction to the use of psychoactive substances in the United States that takes a big-picture look at patterns of drug consumption in America while also focusing on the effects that drugs have on the lives of users. Significantly streamlined and reorganized, this tenth edition presents the most current research, data, and statistics on drug use and discusses the latest trends involving drugs.
Program Details
TABLE OF CONTENTS
Preface and Acknowledgments
CHAPTER 1 AN INTRODUCTION TO DRUG USE
CHAPTER 2 A HISTORY OF DRUG USE
CHAPTER 3 A HISTORY OF THE WAR ON DRUGS
CHAPTER 4 WHY DO PEOPLE USE DRUGS?
CHAPTER 5 DRUGS IN THE MEDIA
CHAPTER 6 ALCOHOL AND TOBACCO
CHAPTER 7 MARIJUANA, LSD, CLUB DRUGS
CHAPTER 8 COCAINE AND THE AMPHETAMINES
CHAPTER 9 HEROIN AND THE OPIATES
CHAPTER 10 DRUG TRAFFICKING
CHAPTER 11 DRUGS AND CRIME
CHAPTER 12 DRUG LAW, DRUG TREATMENT
CHAPTER 13 LEGALIZATION, DECRIMINALIZATION, AND HARM REDUCTION
What Is to Be Done?
Summary
REFERENCES