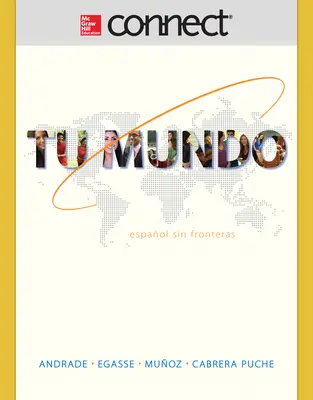 Connect with LearnSmart Achieve (with WBLM) Introductory Spanish 720 day Online Access for Tu mundo
1st Edition
By McGraw Hill
ISBN10: 0078037107
ISBN13: 9780078037108
Copyright:
2014
Product Details

+
Students dive in to intensive communicative practice, building confidence in their ability to interact in a meaningful way in Spanish with access to video chat, interactive online scenarios, and an adaptive diagnostic program. In addition, students can create their own sense of community, resulting in a unique individual experience that will evolve organically with each student, sparking their natural curiosity about their world.
Read more +
---
Instructors: choose ebook for fast access or receive a print copy.
---
Program Details
Tu mundo 1e Contents
Capítulo 1 ¡A conversar!
Comunícate
Los nombres de los compañeros de clase
La ropa los colores y los números 0-49
La descripción de las personas\
Hablando de los hispanos: Los hispanos en el mundo
Los saludos
Actividad integral: Mi mejor amigo/a y yo
Exprésate
Escríbelo tú: ¿Cómo eres?
Cuéntanos: Tu ropa favorita
Entérate
Mundopedia: Los nombres en el mundo hispano
Conexión cultural: La presencia vital de los hispanos
Videoteca
¡Así somos!: Los nuevos amigos
Mi país: Los Estados Unidos
Infórmate
1.1 Subject Pronouns and the Verb ser
1.2 Gender and Number of Nouns
1.3 Adjective-Noun Agreement
1.4. Negation
Capítulo 2 Amigos y compañeros (Paraguay)
Comunícate
Los cumpleaños y la edad
Las cosas en el salón de clase y los mandatos
El cuerpo humano
Hablando de las nacionalidades: El árabe y los idiomas indígenas
Actividad integral: Una reunión del club Exprésate Escríbelo tú: Amigos hispanos Cuéntanos: ¡Describe a tus padres! Entérate Mundopedia: El arpa paraguaya Voces paraguayas Conexión cultural: Paraguay, corazón de América Videoteca ¡Así somos!: ¡Buenos días profesor! Mi país: Paraguay Infórmate 2.1 Expressing Age: the verb Tener 2.2 Expressing location: the verb estar 2.3 Placement of Adjectives 2.4 Origin: ser de Capítulo 3 Las actividades y el tiempo libre (Argentina y Uruguay) Comunícate Las actividades favoritas La hora Las actividades diarias El tiempo y las estaciones Hablando del tiempo: Las estaciones del año en el mundo Actividad integral: Amigos sin fronteras Exprésate Escríbelo tú: Actividades típicas Cuéntanos: Un fin de semana perfecto Entérate Mundopedia: El cine argentino Voces argentinas y uruguayas Conexión cultural: Deportes todo el año Videoteca ¡Así somos!: Una noche de juegos Mi país: Argentina y Uruguay Infórmate 3.1 Using gustar to Express Likes and Dislikes 3.2 Telling Time: ¿Qué hora es? ¿A qué hora? 3.3 Present Tense of Regular –ar, -er, -ir Verbs 3.4 Demonstratives Capítulo 4 La familia y los amigos (Ecuador) Comunícate En familia Las preferencias y los deseos Hablando de las preferencias: Hispanos famosos y en forma Datos personales (idiomas y nacionalidades, números 100-2,000+) Los planes Actividad integral : De vacaciones en Ecuador Exprésate Escríbelo tú: Planes para el verano próximo Cuéntanos : Mi familia Entérate Mundopedia: Quito y Mitad del Mundo Voces ecuatorianas Conexión cultural: Las Galápagos, tesoro de la naturaleza Videoteca ¡Así somos!: El nuevo equipo de fútbol Mi país: Ecuador Infórmate 4.1 Possession: tener, ser de, possessive adjectives 4.2 The verbs preferir and querer + Infinitive 4.3 Question Formation 4.4 Making Plans: pensar, tener ganas de and ir a with Activities and Places Capítulo 5 La rutina diaria (El Salvador, Honduras, Nicaragua) Comunícate La rutina Las tres comidas Los días feriados Hablando de los días feriados: El Día de los Muertos Los estados físicos y anímicos Actividad integral: Los días especiales de Xiomara Exprésate Escríbelo tú: Tu presentación para el club Cuéntanos: Mi día feriado favorito Entérate Mundopedia: ¡Grandes fiestas! Voces salvadoreñas, nicaragüenses y hondureñas Conexión cultural: Círculo de amigas Videoteca ¡Así somos!: ¡Música maestro! Mi país: Salvador, Honduras y Nicaragua Infórmate 5.1 Present Tense of Reflexive Verbs 5.2 Verbs with Stem-Vowel Changes (ie, ue) in the Present Tense 5.3 Impersonal Direct Object Pronouns: lo, la, los, las 5.4 Irregular Verbs   Capítulo 6 Las carreras y los oficios (Chile) Comunícate Las materias Hablando de la educación: El importante trabajo de los voluntarios Las actividades en la clase Las habilidades El empleo Actividad integral: La profesión ideal Exprésate Escríbelo tú: Tu empleo Cuéntanos: Un día típico en tus clases favoritas Entérate Mundopedia: La escritora chilena Isabel Allende Voces chilenas Conexión cultural: Las peñas chilenas Videoteca ¡Así somos!: Un disfraz para Halloween Mi país: Chile Infórmate 6.1 Indirect Object Pronouns 6.2 Present Progressive 6.3 Saber and poder + Infinitive 6.4 Obligations: tener que, deber, necesitar; hay que, es necesario + Infinitive Capítulo 7 Los lugares y la residencia (Colombia y Panamá) Comunícate Los lugares en la ciudad La casa y el vecindario Hablando del vecindario y la casa: «Cuadrados y ángulos» de Alfonsina Storni Las actividades domésticas Actividades en casa y en otros lugares Actividad integral: El lugar donde vives y la casa ideal Exprésate Escríbelo tú: Eres agente de bienes raíces Cuéntanos: Tu cuarto o lugar favorito Entérate Mundopedia: El Carnaval de Barranquilla Voces colombianas y panameñas Conexión cultural: Los kuna Videoteca ¡Así somos!: Hogar, dulce hogar Mi país: Colombia y Panamá Infórmate 7.1 Knowing People, Places, and Facts: conocer and saber 7.2 Comparison of Inequality: más / menos 7.3 Comparison of Equality: tan/tanto 7.4 The Preterite Tense of Regular Verbs Capítulo 8 Hablando del pasado (México) Comunícate Mis experiencias Las experiencias con los demás Hablando del pasado: «Cuando salimos de El Salvador» de Jorge Argueta Hechos memorables Actividad integral: ¿Quién lo hizo? Exprésate Escríbelo tú: El fin de semana pasado Cuéntanos: Una noche perfecta Entérate Mundopedia: El Cinco de Mayo Voces mexicanas Conexión cultural: Las Barrancas del Cobre Videoteca ¡Así somos!: La fiesta de despedida Mi país: México Infórmate 8.1 Verbs with Irregular Preterite Forms 8.2 Stem-Changing Verbs in the Preterite 8.3 Verbs with Special Meaning in the Preterite: conoceer, poder, querer, saber, tener 8.4 Expressing ago: hacer + Time   Capítulo 9 ¡Buen provecho! (Bolivia y Perú) Comunícate La cocina del mundo hispano Hablando de la cocina hispana: Los platos andinos La nutrición La preparación de la comida En el restaurante Actividad integral: ¡Tienes un restaurante! Exprésate Escríbelo tú: Una cena ideal Cuéntanos: Las comidas que se sirven en tu casa Entérate Mundopedia: La Diablada de Oruro Voces bolivianas y peruanas Conexión cultural: El misterios de Machu Picchu Videoteca ¡Así somos!: ¡Buen provecho! Mi país: Bolivia y Perú Infórmate 9.1 Personal and Impersonal Direct Object Pronouns: lo, la, los and las 9.2 Using Negative and Affirmative Words: alguien/nadie, algo/nada 9.3 Expressing one or you: The Impersonal se 9.4 Stem-Changing Verbs: pedir and servir Capítulo 10 Los recuerdos (Cuba) Comunícate La familia y los parientes La niñez Hablando de la niñez: «Canciones de mi abuela» de Francisco X. Alarcón La adolescencia Actividad integral: Recuerdos de los días feriados Exprésate Escríbelo tú: Las actividades de tu niñez o adolescencia Cuéntanos: Actividades con la familia Entérate Mundopedia: La música de Cuba Voces cubanas Conexión cultural: La diáspora cubana Videoteca ¡Así somos!: ¡Así somos! Mi país: Cuba Infórmate 10.1 Prepositions and Pronouns 10.2 The Imperfect Tense 10.3 Talking About Past Actions in Progress: the Imperfect Progressive 10.4 Expressing Intention: ir + a, querer and pensar + Infinitive   Capítulo 11 De viaje (España) Comunícate La geografía y el clima Los medios de transporte Hablando de los medios de transporte: Biciacción En busca de sitios Los viajes Actividad integral: Mi ciudad favorita en España Exprésate Escríbelo tú: Un viaje en automóvil Cuéntanos: Una experiencia en un viaje Entérate Mundopedia: Los paradores de España Voces españolas Conexión cultural: El nuevo flamenco Videoteca ¡Así somos!: ¡Allá vamos, Los Ángeles! Mi país: España Infórmate 11.1 The Present Perfect 11.2 Destination and Time: por and para (Part 1) 11.3 Polite Commands 11.4 Using the Imperfect and the Preterite Together Capítulo 12 La salud (Venezuela) Comunícate El cuerpo humano y la salud Las enfermedades y su tratamiento Hablando de las enfermedades y su tratamiento: Los remedios caseros La atención médica Los accidentes y las emergencias Actividad integral: En el consultorio Exprésate Escríbelo tú: Un accidente Cuéntanos: Las enferemedades infantiles Entérate Mundopedia: Mérida, ciudad en la montaña Voces venezolanas Conexión cultural: Dos grandes logros de Venezuela Videoteca ¡Así somos!: No me siento bien Mi país: Venezuela Infórmate 12.1 Present Subjunctive with querer, recomendar and Other Verbs of Volition 12.2 The Subjunctive in Time Clauses 12.3 Indirect Object Pronouns with Commands and Present Subjunctive 12.4 Unplanned Occurrences: se Capítulo 13 La familia y la crianza (Puerto Rico y Rep. Dom.) Comunícate Los lazos familiares Las órdenes y los consejos y los buenos deseos Hablando de los consejos: Los refranes La crianza Actividad integral: Mensajes para la pediatra Exprésate Escríbelo tú: Un evento inolvidable Cuéntanos: Tu pariente menos favorito Entérate Mundopedia: Los festivales dominicanos Voces puertorriqueñas y dominicanas Conexión cultural: Puerto Rico: en búsqueda de identidad Videoteca ¡Así somos!: ¡Que vivan los novio! Mi país: Puerto Rico y la República Dominicana Infórmate 13.1 Describing: ser and estar 13.2 Informal Commands 13.3 More Uses of the Subjunctive 13.4 Narrating Past Experiences: The Present Perfect, Imperfect and Preterite Capítulo 14 De compras (Guatemala) Comunícate Los productos y los materiales Comprando ropa Las compras y el regateo Hablando de las compras y el regateo: Los mercados al aire libre ¿Gastar o ahorrar? Actividad integral: Ideas para ahorrar Exprésate Escríbelo tú: Vivo dentro de mis posibilidades Cuéntanos: Un regalo Entérate Mundopedia: El misterio de las ciudades mayas Voces guatemaltecas Conexión cultural: la artesanía maya Videoteca ¡Así somos!: Me gusta regatear Mi país: Guatemala Infórmate 14.1 Price, Beneficiary and Purpose: por and para 14.2 Using Indirect and Direct Object Pronouns Together 14.3 Pronoun Placement Summary 14.4 Opinions and Reactions: Indicative and Subjunctive   Capítulo 15 Nuestro provenir (Costa Rica) Comunícate Las metas personales Cuestiones sociales La tecnología El futuro del planeta Hablando del futuro del planeta: La comunidad verde de Jesús León Santos Actividad integral: La tecnología digital y nuestro planeta Exprésate Escríbelo tú: Cuestiones ambientales urgentes Cuéntanos: La cuestión social que más te preocupa Entérate Mundopedia: Los logros de Costa Rica Voces costarricenses Conexión cultural: La inmigración en Costa Rica Videoteca ¡Así somos!: Una larga siesta Mi país: Costa Rica Infórmate 15.1 The Future Tense 15.2 More Uses of the Subjunctive 15.3 The Conditional 15.4 Past Subjuntive and Summary of Uses of the Subjunctive