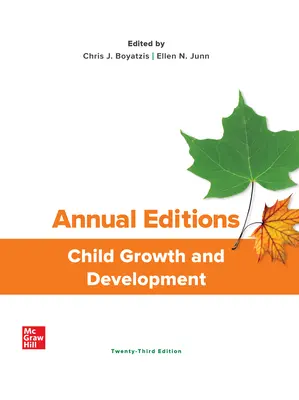 Annual Editions: Child Growth and Development
23rd Edition
By Chris Boyatzis and Ellen Junn
ISBN10: 1259910903
ISBN13: 9781259910906
Copyright: 2020
---
Instructors: choose ebook for fast access or receive a print copy.
---
Program Details
Note: This Table of Contents is Preliminary. Issues and/or selections may change or be removed pending permission clearance or other editorial factors.

UNIT 1: Prenatal Development, Birth, and Child Cognition, Language, Learning, and Education


Chemical Threats, Stacy Lu, Monitor on Psychology, 2015
The list of chemicals found in common household products that can harm children's development seems to be getting longer by the day. This article describes how different chemicals can disturb brain development and hormone processes leading to developmental impairments in cognitive, physical, and social domains.


"Possibly the Worst Approach," Melinda Wenner Moyer, Slate, 2015
In an attempt to protect children's immature immune systems, American parents have actually made them more vulnerable. New evidence indicates that infants and young children should be exposed to small amounts of foods to which the children may be oversensitive in an attempt to build immunity, an idea known as "immunotherapy."


Caring Relationships: The Heart of Early Brain Development, J. Ronald Lally and Peter Mangione, Young Children, 2017
Neuroscientific findings are described here to help us appreciate how early brain development is directly linked to early social and emotional experience with caregivers.


Perception and Play: How Children View the World, Mariko Hewer, Observer, 2017
This article describes ingenious research that places cameras on babies' heads to determine what, exactly, babies look at. The results help us understand how babies perceive the world and coordinate other senses with vision to function in their early environment.


Babies Have Logical Reasoning Before Age One, Study Finds, Carol Clark, Neuroscience News, 2015
Psychologists have long believed that logical deductions emerge late in the preschool or school years. This clever research using animal puppets demonstrates that babies are capable of drawing logical inferences as early as 10 months of age.


The Case of Brain Science and Guided Play: A Developing Story, Brenna Hassinger-Das, Kathy Hirsh-Pasek, and Roberta Michnick Golinkoff, Young Children, 2017
Play is a fun, natural, and vital element of childhood that promotes development of many essential skills. This paper presents evidence that adults who provide gentle guidance and scaffolding to children during play may help promote children's growth and learning.


How Ending Behavior Rewards Helped One School Focus on Student Motivation and Character, Linda Flanagan, Mindshift, 2017
Schools have long used gold stars and other extrinsic rewards to nudge children to desired behavior. But research evidence indicates that such rewards reduce intrinsic motivation and creativity and lead children to focus on short-term gains. This article describes how a school has replaced traditional rewards with more private and personal feedback.


How Children Learn to Read, Maria Konnikova, The New Yorker, 2015
One of children's greatest achievements is to learn how to read. This article describes recent research that examined the factors underlying that process, and the findings point to the key role of a brain area, the temporoparietal region in the left hemisphere. Growth in this area during the early elementary school years is a major factor in children's reading skill.


What Homeschooling Actually Looks Like, Sarah Rivera, Noodle.com, 2015
More than 2 million American children—about 3 percent of school-age children—are homeschooled. This article explores the many reasons parents have for homeschooling their children, the wide variations in state requirements for homeschooling, and the challenges of finding educational materials and balancing role of parent and teacher.


Why the Danes Encourage Their Kids to Swing Axes, Play with Fire, and Ride Bikes in Traffic, Jenny Anderson, Quartz, 2018
In Denmark, children have a profoundly different kind of childhood than in the United States, as they are given much more independence and trust to develop their own skills, even if they learn through hard knocks. The country's social welfare system of family, parent, and child support provides the background for such freedoms.


UNIT 2: Social and Emotional Development


How Inuit Parents Teach Kids to Control Their Anger, Michaeleen Doucleff, NPR.org, 2019
Observations of an indigenous Arctic culture highlights the importance of studying different cultures to learn how children develop socially and emotionally around the world. To help young children build self-control, Inuit adults use tactics that may seem surprising and uncommon to most Western parents.


Is Your Child an Orchid or a Dandelion? Unlocking the Science of Sensitive Kids, Dave Davies, NPR.org, 2019
Some children are unflappable and calm in different environments—like dandelions that adapt just about anywhere--but other children are extremely sensitive and reactive and need particular environments—like delicate orchids. This research explores how these very different temperaments seem to have very different stress response systems in their brains.


Teaching Emotional Intelligence in Early Childhood, Shauna Tominey et al., Young Children, 2017
Growing research shows that emotional intelligence is crucial for success in life. This article describes some ways to measure and develop it in children.


Are Outdoor Preschools the Wave of the Future? Shanti Hodges, REI Co-Op Journal, 2019
Outdoor preschools share many goals with traditional preschools but achieve those goals by giving children extensive time outdoors. These opportunities to engage nature directly are an important antidote to the increasing "digitization" and interiorization of children's lives.


Greener Childhood Associated with Happier Adulthood, Jonathan Lambert, NRP.org, 2019
A rich data set from Denmark shows that growing up surrounded by nature and green vegetation is linked to significantly lower risk for mental health problems in adulthood. This association remained even after accounting for other risk factors for mental illness, such as low socioeconomic status or a history of mental health problems in the family.


In Britain's Playgrounds, 'Bringing in Risk' to Build Resilience, Ellen Barry, New York Times, 2018
Playgrounds are common in many cultures around the world and they provide opportunities for children to grow in many ways. However, the litigious legal backdrop of some countries makes for playgrounds that may be too safe to help children push their own limits. This article describes how Britain thinks such precautions have gone too far.


The Upside of Vulnerability, Elitsa Dermendzhiyska, Medium.com, 2018
Due to differences in their biological makeup, children have "differential susceptibility" to the same environments. Young children with "difficult" temperaments may be most influenced by both good and bad early experiences, and certain genetic profiles are linked to particular outcomes. How should we design children's environments to optimize development for children with different makeups?


Maximizing Children's Resilience, Kristen Weir, Monitor on Psychology, 2017
To overcome difficult odds, children seem to benefit in particular from supportive relationships with adults. This article describes programs that help parents be optimally supportive and emotionally attuned to their children, thereby fostering their resilience.


Still Have Your Childhood Teddy? The Psychological Power of the Toys We Keep, Moya Sarner, The Guardian, 2018
Linus had his blanket, and many of us had our teddy bears. These are transitional objects, chosen by young children to create a feeling of safety and security as they move into the world apart from their mothers or first bases of security.


UNIT 3: Parenting and Family Issues


Psychological Biases Play a Part in Vaccination Decisions, Tania Lombrozo, NPR.org, 2015
Some parents choose, quite emphatically, not to give their young children the typical vaccinations to protect against many diseases. Lombrozo explores some psychological biases that lead parents to do so, including the naturalness bias—not wanting to interfere with nature, the omission bias—parents would feel if their child died due to a vaccine than if their child died due to not receiving it, and anticipated regret—feeling especially responsible if their decision to vaccinate hurt their child.


The Restlessness of Modern Parenting, Claire Cain Miller, New York Times, 2018
It seems natural to believe that parental involvement in their children's lives is a good thing, a crucial factor in their development. But is it possible to have too much of a good thing? At what point is the intensity of modern parenting too much for parents, and might it even undermine children's development?


The Collapse of Parenting: Why It's Time for Parents to Grow Up, Cathy Gulli, Maclean's, 2016
Parents today feel tremendous pressure to do right by their kids. But it seems that in efforts to be more child-centered and democratic, many parents have gone too far in sharing authority and decision-making with their children that had contributed to a "culture of disrespect" of parents' authority. There are negative consequences of this imbalance, expressed in children's ample power in deciding what they eat, for example.


The Futility of Gender-Neutral Parenting, Debra W. Soh, LA Times, 2017
There is an optimism to thinking that environment makes children what they are—we can improve or change environments for children's benefit. It's possible, though, that such belief can go too far, as in the case of some parents thinking they can raise children free of the constraints that come with gender norms. But children are biological beings as well as social ones, and their behavior reflects the influences of not just environment but their genes, brains, and hormones.


Intensive Parenting is Now the Norm in America, Joe Pinsker, The Atlantic, 2019
Many middle- and upper-middle-class parents engage in a form of parenting that can only be called intensive. Such parents devote extensive resources of time and energy and money into their children's upbringing, reflecting their socioeconomic privilege and, perhaps, perpetuating socioeconomic differences between children.


By Mollycoddling Our Children, We're Fueling Mental Illness in Teenagers, Jonathan Haidt and Pamela Paresky, The Guardian, 2019
Parents seem to be more fearful than ever about potential threats to their children and consequently overprotect them from regular doses of normal stress and challenge. The result, these authors argue, is a fragile and fearful child more prone to higher rates of anxiety and suicide.


Smartphone = Not-So-Smart Parenting? Amy Novotney, Monitor on Psychology, 2016
After many years of worrying about children's use of technology, more attention is turning to parents' use of technology and its impact on children. Some studies suggest that parent-child interaction can be disrupted by parents' cell phone use, and parents who are engaged with their phones are less attentive to children's dangerous behaviors and react more harshly to children.


"Sharenting": Can Parents Post Too Much About Their Kids Online? Jeremy Hobson, WBUR.org, 2019
Parents often post photos or anecdotes about their children on social media. Is this appropriate? When does such sharing of children's lives violate their privacy or individual rights, or simply make children feel uncomfortable?


Effective Discipline to Raise Healthy Children, Robert D. Sege and Benjamin S. Siegel, Pediatrics, 2018
This article reviews a vast body of research on corporal punishment and alternative disciplinary forms and concludes firmly that all forms of corporal punishment are not effective and put children at risk for many undesirable outcomes in behavior, mental health, and cognitive performance.


Spanking is Ineffective and Harmful to Children, Pediatricians' Group Says, Christina Caron, The New York Times, 2018
After its latest comprehensive review of the research, the American Academy of Pediatrics has issued their strongest statement ever against the use of corporal punishment. There are many constituencies involved in the matter of spanking children, from parents to pediatricians to school administrators and legislators.


UNIT 4: Cultural and Societal Influences


Why Does America Invest So Little in Its Children? Lillian Mongeau, The Atlantic, 2016
Compared to the rest of the industrialized world, the US spends relatively little on early childhood. This article describes how the US supports, or not, early childhood development by examining the availability and funding for high-quality early child-care and universal preschool as well as parental leave policies.


The Gay History of America's Classic Children's Books, Jesse Green, New York Times, 2019
The article offers a perspective on many wonderful children's books, from "Frog and Toad" to the works of Maurice Sendak, that suggests there are themes of "queer compassion" running through these works, with close friendships that are nonsexualized.


The Long Shadow: Bruce Perry on the Lingering Effects of Childhood Trauma, Jeanne Supin, The Sun, 2016
This in-depth interview with a leading scholar and practitioner captures the many forms of stress and trauma in childhood and how such experiences can shape development for decades to come.


Inequality at School, Kirsten Weir, Monitor on Psychology, 2016
Teachers seem to have biases toward children based on their races that create different learning environments for White and Black children, offering different teaching styles and disciplinary responses to children based on skin color. Interventions are discussed to help children recognize and overcome their prejudices.


Nearly Half of Children Have Damaging Childhood Experiences. Here's How to Help Your Child, Deseret News, 2018
A national study has found that 45% of US children have suffered from an adverse childhood experience—violence, divorce, parental mental health or substance abuse problems. The rate is higher for Black and Hispanic children than for White and Asian children. Close relationships with adults may help buffer children against the impact of such adversities.


Worry Over Kids' Excessive Smartphone Use is More Justified Than Ever Before, Jean Twenge, Theconversation.com, 2018
Many youths seem addicted to electronic media and it is negatively affecting them in various ways, starting with their sleep.


Young Trans Children Know Who They Are, Ed Yong, The Atlantic, 2019
There is tremendous attention on the growing numbers of children who do not identify with their biological sex. This article describes cutting-edge research by psychologists who are understanding the children who transition from one sex to another.


When Your Child Is A Psychopath, Barbara Bradley Hagerty, The Atlantic, 2017
The diagnosis of psychopathy is reserved for adults, but there is a constellation of personality and behavioral traits in childhood that may be an early form of psychopathic behavior. This "callous and unemotional" constellation of traits appears in children who are immune to guilt and indifferent to punishment and capable of violent and even cruel behavior.


'Ku Klux Klan Kiddies': The KKK's Little-Known Youth Movement, Erin Blakemore, History.com, 2019
As the racist hate group grew in numbers in the 1920s, parents turned their children into fledgling members, creating social groups such as the Junior Ku Klux Klan for teenage boys, the Tri-K-Klub for teenage girls, and the Ku Klux Kiddies for younger children.


Becoming Upended: Teaching and Learning about Race and Racism with Young Children and Their Families, Kirsten Cole and Diandra Verwayne, Young Children, 2018
This article describes the challenges of helping children, teachers, and parents understand the roles of race and racism in education while offering practical approaches, such as using literature and seizing upon teachable moments, for greater appreciation of these complex issues.


"When I'm 16, My Baby Brother Will Take Over": The Rise of the Kidfluencer, Deborah Linton, The Guardian, 2019
With social media influencing our lives in many ways, some parents have turned their children into on-line "social influencers," creating their child as a brand who have thousands or even millions of followers.