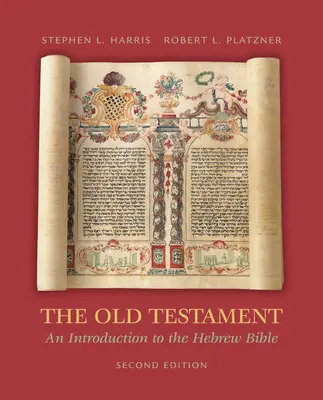 The Old Testament: An Introduction to the Hebrew Bible
2nd Edition
By Stephen Harris and Robert Platzner
ISBN10: 0072990511
ISBN13: 9780072990515
Copyright:
2008
Product Details

+
This text has two goals: to acquaint readers with the content and major themes of the biblical documents, and to introduce them to issues in biblical scholarship. Pedagogically rich and reader-friendly, this text was designed for conventional introductory courses using historical-critical methodology, and will also be useful in courses studying the Bible as literature, or as a reference text in the study of ancient religion.
Read more +
---
Instructors: choose ebook for fast access or receive a print copy.
---
Program Details
Part I: The Hebrew Bible: An Overview
1. The Hebrew Bible: A Composite Portrait of God and the Divine-Human Relationship
2. The Process of Formation: The Transmission, Canonization, and Translation of the Hebrew Bible
Part II: The Biblical World: Culture and Religion
3. The Ancient Near East: The Environment that Produced the Bible
4. The Land and Archaeology of Ancient Israel: Historical Origins of the Covenant People
5. The God of Israel: An Evolving Portrait
Part III: The Torah
6. Who Wrote the "Books of Moses"?
7. The Five Books of Torah (Divine Instruction)
8. In the Beginning: The Book of Genesis
9. Freedom and Responsibility: The Book of Exodus
10. Regulating the Divine-Human Bond: The Books of Leviticus and Numbers
11. A Mosaic Legacy: The Book of Deuteronomy
Part IV: The Prophets (Nevi'im) I
12. Introduction to the Deuteronomistic History
13. The Book of Joshua
14. YHWH's Warriors: The Book of Judges
15. The Birth of the Monarchy: The Books of 1 and 2 Samuel
16. Parallel Stories of Israel and Judah: The Books of 1 and 2 Kings
Part V: The Prophets (Nevi'im) II
17. The Nature and Function of Israelite Prophecy: Spokespersons for God
18. Prophets to the Northern Kingdom: The Books of Amos and Hosea
19. The Assyrian Crisis: Isaiah of Jerusalem, Micah, Zephaniah, and Nahum
20. The Babylonian Threat: The Books of Jeremiah, Habakkuk, and Obadiah
21. Prophets in Exile: The Book of Ezekiel and Second Isaiah
22. After the Exile: Israel's Last Prophets--Haggai, Zechariah, Third Isaiah, Joel, Malachi, and Jonah
Part VI: The Writings (Kethuvim)
23. Introduction to the Writings: Reevaluating Israel's Life with God
24. The Postexilic Readjustment: The Books of Ezra and Nehemiah
25. Worshiping at the Second Temple: Hebrew Poetry and the Book of Psalms
26. Israel's Wisdom Writers: The Books of Proverbs, Job, and Ecclesiastes
27. Four Books of the Megillot (Festival Scrolls): Ruth, Lamentations, Songs of Songs, and Esther
28. Reinterpreting Israel's History: The Books of 1 and 2 Chronicles
29. Keeping Torah in a Hostile World: The Diaspora, the Maccabean Revolt, Apocalyptism, and the Visions of Daniel
Part VII: Additions to the Hebrew Bible: The Deuterocanonical and Extracanonical Books
30. The "Second Canon": Books of the Apocrypha
31. The Pseudepigrapha: Noncanonical Writings of the Late Biblical Period
32. From the Maccabees to Jesus of Nazareth: Victory, Defeat, and teh Emergence of Postbiblical Judaism and Early Christianity
Glossary of Major Old Testament Characters, Terms, and Concepts
Selected Bibliography
Credits
Index