The Unfinished Nation (Brinkley), 8th Edition © 2016
The Unfinished Nation: A Concise History of the American People © 2016, by Alan Brinkley, fully addresses the newly enhanced AP United States History Curriculum providing students with guidance and support to master key concepts and themes, develop historical thinking skills, and succeed on the new AP U.S. History Exam.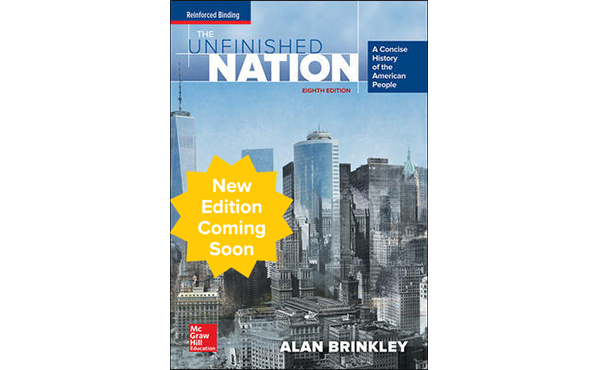 About the Program
Features:
Consider the Source primary document features in every chapter.
Debating the Past Historical Argumentation questions help students evaluate historical arguments.
Available in Connect:
AP Teacher Manual with pacing guides, practice questions, and activities.
AP test banks for all AP Exam question types.
AP test practice for every chapter
Program Components
Narrow by
Clear All Filters
Products
To learn about the specific purchase options for this program, please contact our Customer Service team at 800-338-3987
Additional Details & Resources
CHAPTER 1 The Collision of Cultures

CHAPTER 2 Transplantations and Borderlands

CHAPTER 3 Society and Culture in Provincial America

CHAPTER 4 The Empire in Transition

CHAPTER 5 The American Revolution

CHAPTER 6 The Constitution and the New Republic

CHAPTER 7 The Jeffersonian Era

CHAPTER 8 Varieties of American Nationalism

CHAPTER 9 Jacksonian America

CHAPTER 10 America's Economic Revolution

CHAPTER 11 Cotton, Slavery, and the Old South

CHAPTER 12 Antebellum Culture and Reform

CHAPTER 13 The Impending Crisis

CHAPTER 14 The Civil War

CHAPTER 15 Reconstruction and the New South

CHAPTER 16 The Conquest of the Far West

CHAPTER 17 Industrial Supremacy

CHAPTER 18 The Age of the City

CHAPTER 19 From Crisis to Empire

CHAPTER 20 The Progressives

CHAPTER 21 America and the Great War

CHAPTER 22 The New Era

CHAPTER 23 The Great Depression

CHAPTER 24 The New Deal

CHAPTER 25 The Global Crisis, 1921-1941

CHAPTER 26 America in a World at War

CHAPTER 27 The Cold War

CHAPTER 28 The Affluent Society

CHAPTER 29 The Turbulent Sixties

CHAPTER 30 The Crisis of Authority

CHAPTER 31 From "The Age of Limits" to the Age of Reagan

CHAPTER 32 The Age of Globalization