Castro, Marine Science © 2016
Adapted from the highly successful and respected Marine Biology text by Peter Castro Ph.D. and Michael Huber Ph.D., Marine Science ©2016 broadens its coverage with the addition of three new oceanography chapters to help students better understand the oceans' physical aspects.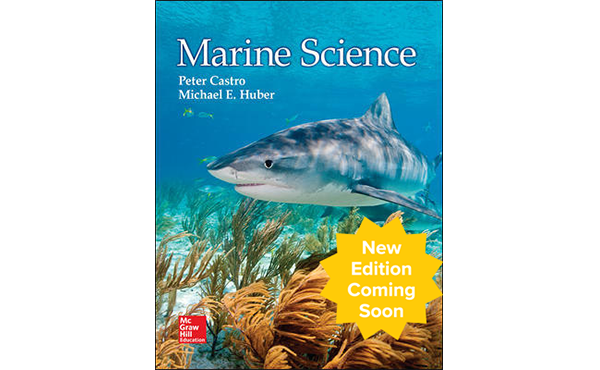 About the Program
This expanded content coupled with a stunning new design, learning system, updated features, data analysis labs, NEW lab manual, and comprehensive digital package make Marine Science the ideal fit for a high school marine science course.
This edition offers:
Connect® with SmartBook® adaptive reading experience and Inquiry Activities
Chapter Banks correlated to the Ocean Literacy Standards
NEW Marine Science Lab Manual with 34 labs that do not require ocean access and are ideal for any classroom
A robust Teacher's Manual with a detailed pacing guide, chapter summaries, Key Question & Vocabulary Activities, and Chapter Projects
A downloadable eBook available through ConnectED

Program Components
Narrow by
Clear All Filters
Products
To learn about the specific purchase options for this program, please contact our Customer Service team at 800-338-3987
We have stopped printing many old products, but we might have some stock in our warehouse.
Select legacy products are available on Create® EasyOrder.
Additional Details & Resources
UNIT ONE: THE OCEAN ENVIRONMENT
CHAPTER 1 Principles of Marine Science
CHAPTER 2 Plate Tectonics and the Structure of Ocean Basins
CHAPTER 3 Ocean Chemistry and Structure
CHAPTER 4 Waves and Tides
CHAPTER 5 Ocean and Atmospheric Circulation
UNIT TWO: THE ORGANISMS OF THE SEA
CHAPTER 6 Fundamentals of Biology
CHAPTER 7 The Microbial World
CHAPTER 8 Multicellular Primary Producers: Seaweeds and Plants
CHAPTER 9 Marine Animals Without a Backbone
CHAPTER 10 Marine Fishes
CHAPTER 11 Marine Reptiles, Birds, and Mammals
UNIT THREE: STRUCTURE AND FUNCTION OF MARINE ECOSYSTEMS
CHAPTER 12 An Introduction to Marine Ecology
CHAPTER 13 Between the Tides
CHAPTER 14 Estuaries: Where Rivers Meet the Sea
CHAPTER 15 Life on the Continental Shelf
CHAPTER 16 Coral Reefs
CHAPTER 17 Life Near the Surface
CHAPTER 18 The Ocean Depths
UNIT FOUR: HUMANS AND THE SEA
CHAPTER 19 Resources from the Sea
CHAPTER 20 The Impact of Humans on the Marine Environment