PreK–12 educators will see school pricing in their cart after logging in.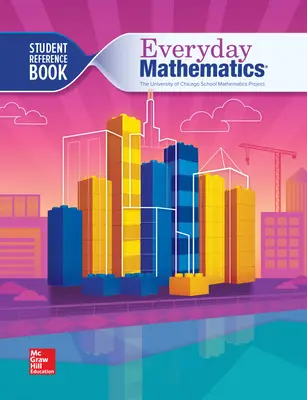 Everyday Mathematics 4, Grade 4, Student Reference Book
MHID: 0021436975 | ISBN 13: 9780021436972
Payment Options: During checkout, you can pay with a P.O. (simply enter the number), Credit Card, or PayPal.
Product Details:
This hardcover resource contains explanations of key mathematical content, with directions to the Everyday Mathematics® games.
| Title | ISBN 13 | Price |
| --- | --- | --- |
| EM4 Comprehensive Student Materials Set, Grade 4 | 9780021441990 | $64.64 |
| Everyday Mathematics 4 National Comprehensive Student Material Set, 1-Year, Grade 4 | 9780076983858 | $66.56 |
| Everyday Math 4 Comprehensive Student Materials Set, 1-Year, Grade 4 | 9780076952168 | $66.56 |
| Everyday Mathematics 4, Grade 4, Comprehensive Student Material Set, 1 Year | 9780076773046 | $66.56 |
| Indiana Everyday Mathematics 4, Grade 4, Comprehensive Student Materials Set, 1-Year | 9781266452949 | $67.84 |
| Everyday Math 4 Comprehensive Student Materials Set with Arrive Math Booster, 1-Year, Grade 4 | 9780076948901 | $76.12 |
| Everyday Math 4 Comprehensive Student Materials Set with Home Links, 1-Year, Grade 4 | 9780076971855 | $77.32 |
| EM4 Comprehensive Student Materials Set with HomeLinks, 1 Year Subscription, Grade 4 | 9780076849468 | $77.32 |
| Indiana Everyday Mathematics 4, Grade 4, Comprehensive Student Materials Set with Arrive Mathematics Booster, 1-Year | 9781266435263 | $77.56 |
| Everyday Mathematics 4 National Comprehensive Student Materials Set with HomeLinks, 1-Year, Grade 4 | 9780076985180 | $77.32 |
| Everyday Math 4 Comprehensive Student Materials Set with Redbird, 1-Year, Grade 4 | 9780076947478 | $78.52 |
| Indiana Everyday Mathematics 4, Grade 4, Comprehensive Student Materials Set with ALEKS (via my.), 1-Year | 9781265962173 | $79.96 |
| Indiana Everyday Mathematics 4, Grade 4, Comprehensive Student Materials Set with Redbird, 1-Year | 9781266461699 | $80.00 |
| Everyday Math 4, Chicago Public Schools, Comprehensive Student Materials Set, 3-years, Grade 4 | 9780076709786 | $86.28 |
| Everyday Math 4 Comprehensive Student Materials Set with Redbird and Arrive Math Booster, 1-Year, Grade 4 | 9780076949267 | $85.64 |
| Everyday Math 4 Comprehensive Student Materials Set with Home Links and Arrive Math Booster, 1-Year, Grade 4 | 9780076976676 | $86.84 |
| Indiana Everyday Mathematics 4, Grade 4, Comprehensive Student Materials Set with Redbird and Arrive Mathematics Booster, 1-Year | 9781266448126 | $87.28 |
| Everyday Math 4 Comprehensive Student Materials Set with Home Links and Redbird, 1-Year, Grade 4 | 9780076973798 | $89.20 |
| Everyday Math 4 Comprehensive Student Materials Set with Home Links, Redbird and Arrive Math Booster, 1-Year, Grade 4 | 9780076978731 | $96.40 |
| Everyday Math 4 Comprehensive Student Materials Set, 2-Years, Grade 4 | 9781264735860 | $105.68 |
| Everyday Math 4 Comprehensive Student Materials Set with Arrive Math Booster, 2-Years, Grade 4 | 9781264663699 | $117.60 |
| Everyday Math 4 Comprehensive Student Materials Set with Redbird, 2-Years, Grade 4 | 9781264741793 | $120.52 |
| Everyday Math 4 Comprehensive Student Materials Set with Home Links, 2-Years, Grade 4 | 9781264770809 | $127.44 |
| Everyday Math 4 Comprehensive Student Materials Set with Redbird and Arrive Math Booster, 2-Years, Grade 4 | 9781264669929 | $129.48 |
| Everyday Math 4 Comprehensive Student Materials Set with Home Links and Arrive Math Booster, 2-Years, Grade 4 | 9781264760251 | $139.32 |
| Everyday Math 4 Comprehensive Student Materials Set with Home Links and Redbird, 2-Years, Grade 4 | 9781264753703 | $143.48 |
| Everyday Mathematics 4 National Comprehensive Student Material Set, 3-Years, Grade 4 | 9780076983971 | $144.76 |
| Everyday Math 4 Comprehensive Student Materials Set, 3-Years, Grade 4 | 9780076816903 | $144.76 |
| EM4 Comprehensive Student Material Set, Grade 4, 3-Years | 9780021431779 | $144.76 |
| Everyday Math 4 Comprehensive Student Materials Set with Home Links, Redbird and Arrive Math Booster, 2-Years, Grade 4 | 9781264767816 | $153.64 |
| Everyday Math 4 Comprehensive Student Materials Set with Arrive Math Booster, 3-Years, Grade 4 | 9780076817870 | $159.00 |
| Everyday Math 4 Comprehensive Student Materials Set with Redbird, 3-Years, Grade 4 | 9780076817085 | $162.64 |
| Everyday Math 4, Chicago Public Schools, Comprehensive Student Materials Set, 6-years, Grade 4 | 9780076711673 | $164.32 |
| Everyday Math 4 Comprehensive Student Materials Set with Redbird and Arrive Math Booster, 3-Years, Grade 4 | 9780076818051 | $173.36 |
| Everyday Math 4 Comprehensive Student Materials Set, 4-Years, Grade 4 | 9781264797301 | $184.28 |
| Everyday Math 4 Comprehensive Student Materials Set with Arrive Math Booster, 4-Years, Grade 4 | 9781264816873 | $200.96 |
| Everyday Math 4 Nevada Comprehensive Student Materials Set with Home Links, 7-Years, Grade 4 | 9780079014597 | $200.56 |
| Everyday Math 4 Comprehensive Student Materials Set with Redbird, 4-Years, Grade 4 | 9781264803378 | $207.52 |
| Everyday Math 4 Comprehensive Student Materials Set with Redbird and Arrive Math Booster, 4-Years, Grade 4 | 9781264827220 | $222.40 |
| EM4 Comprehensive Student Material Set, Grade 4, 5-Years | 9780021429424 | $223.72 |
| Everyday Mathematics 4 National Comprehensive Student Material Set, 5-Years, Grade 4 | 9780076984084 | $223.72 |
| Everyday Math 4 Comprehensive Student Materials Set, 5-Years, Grade 4 | 9780076958405 | $223.72 |
| Everyday Math 4 Comprehensive Student Materials Set with Home Links, 4-Years, Grade 4 | 9781264642861 | $227.68 |
| Everyday Math 4 Comprehensive Student Materials Set with Arrive Math Booster, 5-Years, Grade 4 | 9780076970308 | $242.80 |
| Everyday Math 4 Comprehensive Student Materials Set with Home Links and Arrive Math Booster, 4-Years, Grade 4 | 9781264840120 | $244.32 |
| Everyday Math 4 Comprehensive Student Materials Set with Home Links and Redbird, 4-Years, Grade 4 | 9781264834914 | $252.12 |
| Everyday Math 4 Comprehensive Student Materials Set with Redbird, 5-Years, Grade 4 | 9780076953493 | $252.36 |
| Everyday Mathematics 4 National Comprehensive Student Material Set, 6-Years, Grade 4 | 9780076984169 | $263.24 |
| EM4 Comprehensive Student Material Set, Grade 4, 6-Years | 9780076671328 | $263.24 |
| Everyday Math 4 Comprehensive Student Materials Set, 6-Years, Grade 4 | 9780076951888 | $263.24 |
| Indiana Everyday Mathematics 4, Grade 4, Comprehensive Student Materials Set, 6-Years | 9781266444586 | $268.24 |
| Everyday Math 4 Comprehensive Student Materials Set with Home Links, Redbird and Arrive Math Booster, 4-Years, Grade 4 | 9781264850839 | $268.16 |
| Everyday Math 4 Comprehensive Student Materials Set with Redbird and Arrive Math Booster, 5-Years, Grade 4 | 9780076985463 | $271.40 |
| Everyday Mathematics 4 National Comprehensive Student Materials Set with HomeLinks, 5-Years, Grade 4 | 9780076985005 | $277.68 |
| Everyday Math 4 Comprehensive Student Materials Set with Home Links, 5-Years, Grade 4 | 9780076973064 | $277.68 |
| EM4 Comprehensive Student Materials Set with HomeLinks, 5 Year Subscription, Grade 4 | 9780021431823 | $277.68 |
| Everyday Math 4 Comprehensive Student Materials Set with Arrive Math Booster, 6-Years, Grade 4 | 9780076949083 | $282.28 |
| Indiana Everyday Mathematics 4, Grade 4, Comprehensive Student Materials Set with Arrive Mathematics Booster, 6-Years | 9781266467455 | $287.68 |
| Everyday Math 4 Comprehensive Student Materials Set with Redbird, 6-Years, Grade 4 | 9780076948321 | $291.84 |
| Indiana Everyday Mathematics 4, Grade 4, Comprehensive Student Materials Set with ALEKS (via my.), 6-Years | 9781265966171 | $297.04 |
| Everyday Math 4 Comprehensive Student Materials Set with Home Links and Arrive Math Booster, 5-Years, Grade 4 | 9780076976850 | $296.84 |
| Indiana Everyday Mathematics 4, Grade 4, Comprehensive Student Materials Set with Redbird, 6-Years | 9781266457722 | $297.40 |
| Everyday Math 4 Comprehensive Student Materials Set, 7-Years, Grade 4 | 9780076957590 | $300.44 |
| EM4 Comprehensive Student Material Set, Grade 4, 7-Years | 9780076686865 | $300.44 |
| Everyday Mathematics 4 National Comprehensive Student Material Set, 7-Years, Grade 4 | 9780076984237 | $300.44 |
| Everyday Math 4 Comprehensive Student Materials Set with Home Links and Redbird, 5-Years, Grade 4 | 9780076973514 | $306.32 |
| Everyday Math 4 Comprehensive Student Materials Set with Redbird and Arrive Math Booster, 6-Years, Grade 4 | 9780076949441 | $310.92 |
| Indiana Everyday Mathematics 4, Grade 4, Comprehensive Student Materials Set with Redbird and Arrive Mathematics Booster, 6-Years | 9781266441530 | $316.88 |
| Everyday Math 4 Comprehensive Student Materials Set with Arrive Math Booster, 7-Years, Grade 4 | 9780076970483 | $319.48 |
| Everyday Math 4 Comprehensive Student Materials Set with Home Links, Redbird and Arrive Math Booster, 5-Years, Grade 4 | 9780076978915 | $325.36 |
| EM4 Comprehensive Student Materials Set with HomeLinks, 6 Year Subscription, Grade 4 | 9780021418244 | $327.44 |
| Everyday Mathematics 4 National Comprehensive Student Materials Set with HomeLinks, 6-Years, Grade 4 | 9780076985227 | $327.44 |
| Everyday Math 4 Comprehensive Student Materials Set with Home Links, 6-Years, Grade 4 | 9780076973248 | $327.44 |
| Everyday Math 4 Comprehensive Student Materials Set with Redbird, 7-Years, Grade 4 | 9780076953677 | $329.00 |
| EM4 Comprehensive Student Material Set, 8 Years, Grade 4 | 9780076664030 | $339.12 |
| Everyday Mathematics 4 National Comprehensive Student Material Set, 8-Years, Grade 4 | 9780076984305 | $339.12 |
| Everyday Math 4 Comprehensive Student Materials Set, 8-Years, Grade 4 | 9781264213924 | $339.12 |
| Everyday Math 4 Comprehensive Student Materials Set with Home Links and Arrive Math Booster, 6-Years, Grade 4 | 9780076978632 | $346.48 |
| Everyday Math 4 Comprehensive Student Materials Set with Redbird and Arrive Math Booster, 7-Years, Grade 4 | 9780076985647 | $348.12 |
| Everyday Math 4 Comprehensive Student Materials Set with Home Links and Redbird, 6-Years, Grade 4 | 9780076973835 | $356.00 |
| Everyday Math 4 Comprehensive Student Materials Set with Redbird, 8-Years, Grade 4 | 9781264213993 | $371.28 |
| EM4 Comprehensive Student Materials Set with HomeLinks, 7 Year Subscription, Grade 4 | 9780021389148 | $375.44 |
| Everyday Math 4 Comprehensive Student Materials Set with Home Links, 7-Years, Grade 4 | 9780076973422 | $375.44 |
| Everyday Math 4 Comprehensive Student Materials Set with Home Links, Redbird and Arrive Math Booster, 6-Years, Grade 4 | 9780076979097 | $375.08 |
| Everyday Mathematics 4 National Comprehensive Student Materials Set with HomeLinks, 7-Years, Grade 4 | 9780076985357 | $375.44 |
| Everyday Math 4 Comprehensive Student Materials Set with Home Links and Arrive Math Booster, 7-Years, Grade 4 | 9780076974047 | $394.52 |
| Everyday Math 4 Comprehensive Student Materials Set with Home Links and Redbird, 7-Years, Grade 4 | 9780076976416 | $404.04 |
| Everyday Math 4 Comprehensive Student Materials Set with Home Links, Redbird and Arrive Math Booster, 7-Years, Grade 4 | 9780076979622 | $423.12 |
| Everyday Mathematics 4 National Comprehensive Student Materials Set with HomeLinks, 8-Years, Grade 4 | 9780076985456 | $425.08 |
| EM4 Comprehensive Student Materials Set with HomeLinks, 8 Years, Grade 4 | 9780076660742 | $425.08 |
| EM4 Indiana Print Classroom Resource Package, Grade 4 | 9780076768974 | $519.48 |
| Everyday Math 4 National Print Classroom Resource Package PPK, Grade 4 | 9780079004826 | $553.08 |
| Everyday Math 4 Print Classroom Resource Package, Grade 4 | 9780076983827 | $553.08 |
| Everyday Math 4 Print Classroom Resource Package, Grade 4 | 9780021391035 | $553.08 |
| Indiana Everyday Mathematics, Grade 4, Print Classroom Resource Package PPK | 9781264403622 | $563.60 |