Tidewater Community College | Norfolk, VA
---
Students Increase Retention of French Vocabulary and Communicate More Easily with Connect
When Connect was implemented in the introductory French courses, students showed significant improvement in the intermediate levels of 203/204 over students that didn't use Connect at the introductory levels. French students developed their comprehension and listening skills in the language by reinforcing vocabulary in different contexts. At the same time, it solidified grammar acquisition. As a result, data from the intermediate French levels showed that the number of A's where Connect was in use from the introductory levels were up by 19%, while F's decreased by 8% as compared to previous intermediate French students who did not benefit from Connect from the beginning.
The results are just as striking when it comes to basic comprehension. Since implementing Connect , Professor Laetitia Stone finds that students are able to speak and process the French language in ways they could not before using Connect .
[With Connect ] I certainly feel that my students know more at the end of Intermediate French. They are able to speak better too as they have more vocabulary.
Laetitia Stone, Instructor
Implementation
Course grade is determined by:
20% – Connect including LearnSmart and workbook lab manual
80% – Text-based assignments, cultural activities and presentations, quizzes and exams
Before Laetitia Stone adopted Connect , she used the En avant introductory French textbook. In 2015, the French language department at Tidewater Community College transitioned to Connect in its summer session at the French 101 level. It then expanded to other classes. By Fall 2015, all sessions of Introductory and Intermediate French were using Connect including Stone's Intermediate French class.
With Connect , Stone requires students to turn in all Connect assignments weekly when tests are administered at the end of each chapter. With this understanding, students are then able to self-pace their work, to meet that weekly deadline. To accomplish this, typically they complete two LearnSmart assignments every week. In addition to LearnSmart, Stone assigns the workbook/ laboratory manual, which consists of five communication questions for one assignment, five vocabulary questions with the second assignment and ten grammar questions for a third assignment. Lastly, the fourth assignment of the workbook lab manual consists of five culture-related questions. "Connect helps promote self-paced learning while it can also be tailored to the specific needs of students, and that leads to better results for the individuals and the overall class," says Stone.
Several Connect reports bring Stone the greatest benefit in identifying student performance levels and addressing their needs.
Assignment results give her a quick overview of how each student is doing as well as the performance of the class as a whole.
Time spent report, she says is "one of my favorite reports," This report, she explains provides a clear indication of who is struggling and who might be struggling with a learning disability.
The At-risk Report helps Stone identify and e-mail students or talk to them after class when results indicate they are falling behind.
In addition, the LearnSmart report of greatest value to her is the missed questions which frequently indicates the points that need to be better explained in class.
Stone is spending less time helping students with workbook/lab manual work since Connect was implemented. She finds students are more quickly mastering the content of each assignment, so she can challenge her students with more conceptually-based content, in French. Stone also found that since students began using Connect , she spends less time helping students with the lab manual because they understand the work they are doing with each assignment.
Results Achieved
Since Connect was implemented, Stone finds that students in her classes can better master the French language than students prior to Connect did. Not only do they have better retention of vocabulary, their verbal skills in French are better than those of previous students.
Some students drop the class when they realize they cannot complete all their assignments by the deadline, she says. But for those who stay, the use of Connect has changed grade distribution in classes with more high grades and few low grades. "Students are doing better with a definite increase in the numbers of A's and B's, something I did not expect or see before Connect ," she says.
In fact, when comparing Intermediate French grade results before and after Connect was implemented at the Introductory French level, the percentage of A's increased by 19%, while the number of F's decreased 8%.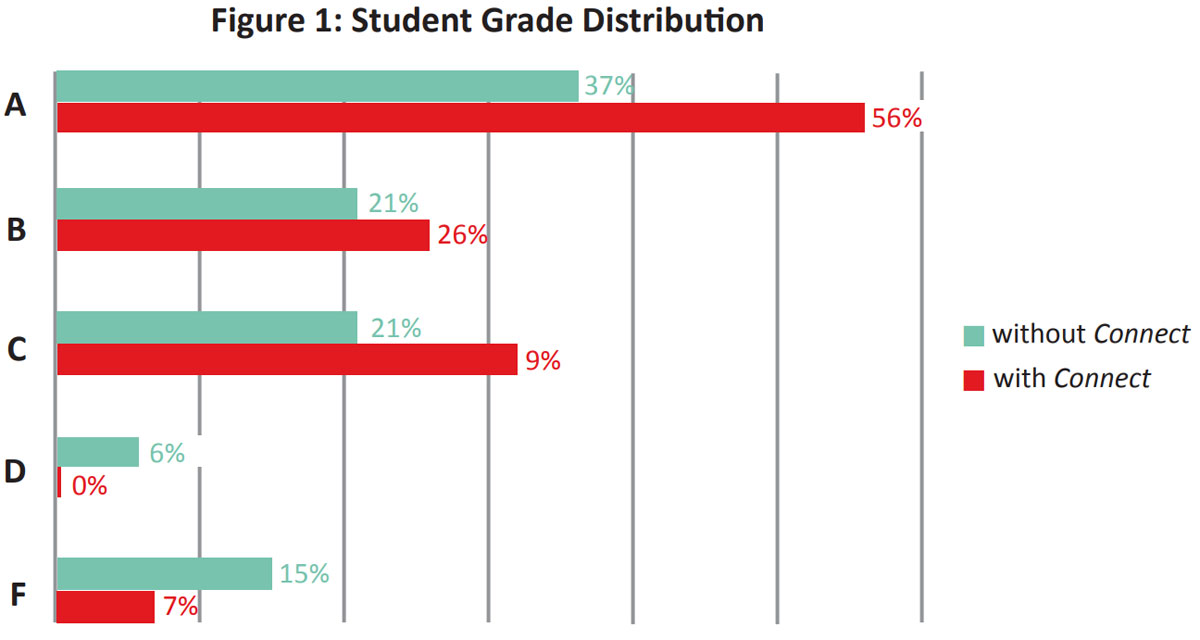 Conclusion
Because students have better mastery of vocabulary and grammar in French, Stone is able to develop more interesting conceptual topics, and encourages them to use French-based resources to aid in assignments.
Students seem at ease with Connect as a learning tool. The online tutorials are very helpful to the students and Connect really seems to help students with learning disabilities by bringing them to my attention.
---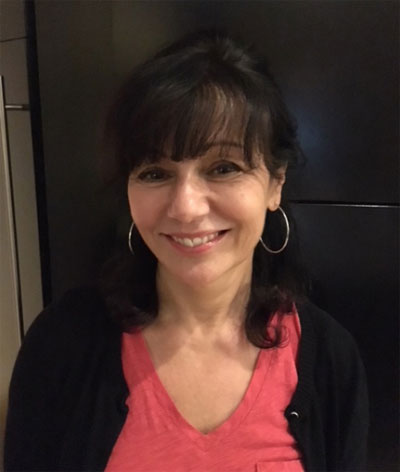 Professor Leaticia Stone has enjoyed an exciting teaching career at Tidewater Community College (TCC) as an Associate Professor of French and Spanish from 1992 to the present. Stone also serves as an adjunct instructor at Old Dominion University. Stone has taught French to NATO, SACLANT, Supreme Allied Command Atlantic for the Canadian Navy. She is the past President of the Alliance Française de Hampton Roads, Chapitre de Grasse and an active member of the World Affairs Council of Hampton Roads.
Well versed in Blackboard and the Connect platform, Stone serves as a Digital Faculty Consultant for McGraw-Hill and is currently developing assessment strategies and tools to unify and ameliorate instruction throughout the French department at TCC. Over the years, Professor Stone has enjoyed being a presenter at professional conferences organized by The Foreign Language Association of Virginia as well as the American Council on the Teaching of Foreign Languages.
Stone believes that the first two years of study are crucial in developing the foundations, which will lead students to excel in French at the higher levels. She is proud to have helped two of her students obtain the prestigious National Security Education Program Scholarship and respectively travelled to Madagascar and Morocco. Most of all, Professor Stone loves the countless young people that she has been honored to teach over the years.
Digital Product in Use: Connect® French
LMS: Blackboard
Course Name: Intermediate French 203 and 204
Course Type: Lecture and Lab
Credit Hours: Three
Program in Use: En Avant, by Bruce Anderson, second edition
Instructor Name: Laetitia Stone, Associate Professor of French
Enrollment: 5 sections; 15 students/section, 40 students/year (college total)
Case Study Terms: Case Study Terms: Spring 2014 – Spring 2015 (without Connect); Fall 2015 – Fall 2016 (with Connect)
---
Instructor's implementation goals:
Improve vocabulary competence
Identify students with learning disorders
Better challenge students to improve conversational skills in the French language
Benefits to instructor after using Connect:
Student grades of A and B are increased while D's and F's have dropped
Self-paced learning has helped raise French language skills
Better able to identify those students who are falling behind
Course Description:
French 203 and 204 continues from first year French to develop students' understanding, speaking, reading and writingskills. Classes, conducted in the French language, include oral drill and practice. Students who complete the class are expected to be able to talk about hypothetical situations using the conditional mood as well as use multiple object pronouns in conversation, express their level of interest in a topic and emotional reaction to a topic (subjunctive), seek someone's input and take leave of people, and wish them well.
Institution Profile:
Tidewater Community college, (TCC) is a two-year college with campuses in Chesapeake, Norfolk, Portsmouth and Virginia Beach, Virginia, and is one of the largest public two-year community colleges in the U.S., with an enrollment of about 47,000 students annually. The school, founded in 1968, offers vocational and transferoriented associate degrees and certificates. These include nursing school and culinary arts degrees. It also offers career programs in marine trades and logistics.