Bossier Parish Community College
---

SmartBook and Inclusive Access Improve Passing and Retention Rates: Students Read Course Materials Instead of "Googling" for an Answer
In previous semesters, some students would fall behind in the coursework immediately because they were waiting on their financial aid to purchase textbooks and/or access codes. Professor John Wagoner noted that for some students financial aid would not be available until three or four weeks later posing an issue for faculty and students to accomplish their assignments in a timely manner. "We would have to cater to the students to meet previous deadlines and students' grades would drop because they had too much catching up to do," Wagoner says. "But with Connect and Inclusive Access, students just have to do two things to begin their coursework: register for the course and pair with Connect."
Inclusive Access is a perfectly streamlined and zero-effort method for students to get their course materials on the first day without having to visit the bookstore. Since course materials are provided automatically when the students enroll in the course, faculty are less stressed in trying to figure out how to increase retention rates because students are no longer delayed by financial aid availability.
John C. Wagoner
Implementation
The course grade is determined by the following:
45% — Exams administered with Connect
30% — Connect Homework and SmartBook
16% — Quizzes / Tests administered with Connect
9% — Other Discussion Board Assignments
Before using Connect, Wagoner would have all of his assignments online (reading review quizzes, tests, discussion boards, and exams) through Canvas. While his previous textbook met the course's needs, the price was increasing each semester and that issue was reflected in his faculty review surveys. "This cost issue for the text was causing a lot of students to not even purchase the book, increasing the statistics for failing students, and was just an overall common complaint by the students in class at the beginning of the course," Wagoner says.
Managing student retention in the course and ensuring that students were reading the text by utilizing SmartBook was a main reason BPCC switched to Connect and Inclusive Access. Wagoner says, "We wanted questions that weren't just multiple choice but were questions based on images, so that students could drag and drop those visual images into their correct movements or styles. And, we wanted a streamlined process that was well designed for students to understand and not complicate students' overall study in the course."
In an average week, students read approximately two or three SmartBook chapters and take a separate review quiz worth 20-25 points. Any questions that are heavily missed would be pulled for the next test or exam. Tests and exams are worth 100 points and generally include essay questions based on certain images from the chapters. Wagoner says, "The questions that pull images for the students to recognize and differentiate from one another are the biggest champions for the students' retention."
Wagoner says he covers more material in class due to SmartBook because students review material outside of class as preparation. "We spend less time with quizzes in class, but we can cover difficult topics or items missed to `catch up' while in the class. If it's an online class, I can provide an online video or an audio file discussing certain items so that the class feels like it's a face-to-face course."
SmartBook gives faculty the advantage of knowing that students have access to the course materials and can help evaluate how well the students know the material. Students are also asked self-assessment questions, such as "How well do you know the answer to this question?"
Wagoner says that SmartBook helps faculty gauge their lecture material to know what items need to be heavily enforced during a lecture or if a certain chapter needs to be quizzed again. "We are no longer guessing what students know," he says. "We can just run reports in order to see what issues/chapters/images need to be readdressed. This ability saves time."
Wagoner pulls his student data using Assignment Results, Student Performance, Assignment Statistics, Item Analysis, and At-Risk Reports in Connect. In SmartBook, he uses Progress Overview, Student Details, Practice Quiz, Missed Questions, and Metacognitive Skills.
"These reports help you gauge the students outside of the classroom," he says. "You will know if they are grasping the material, reading it or not, and lets you know which chapters or items you need to review with the students."
Results Achieved
Wagoner says, "SmartBook has enabled the students to enforce their studying skills to pass the course and you can see the huge leap on the success rate of A and B students." The percentage of students who earned A's and B's improved by a total of 24% (Figure 1).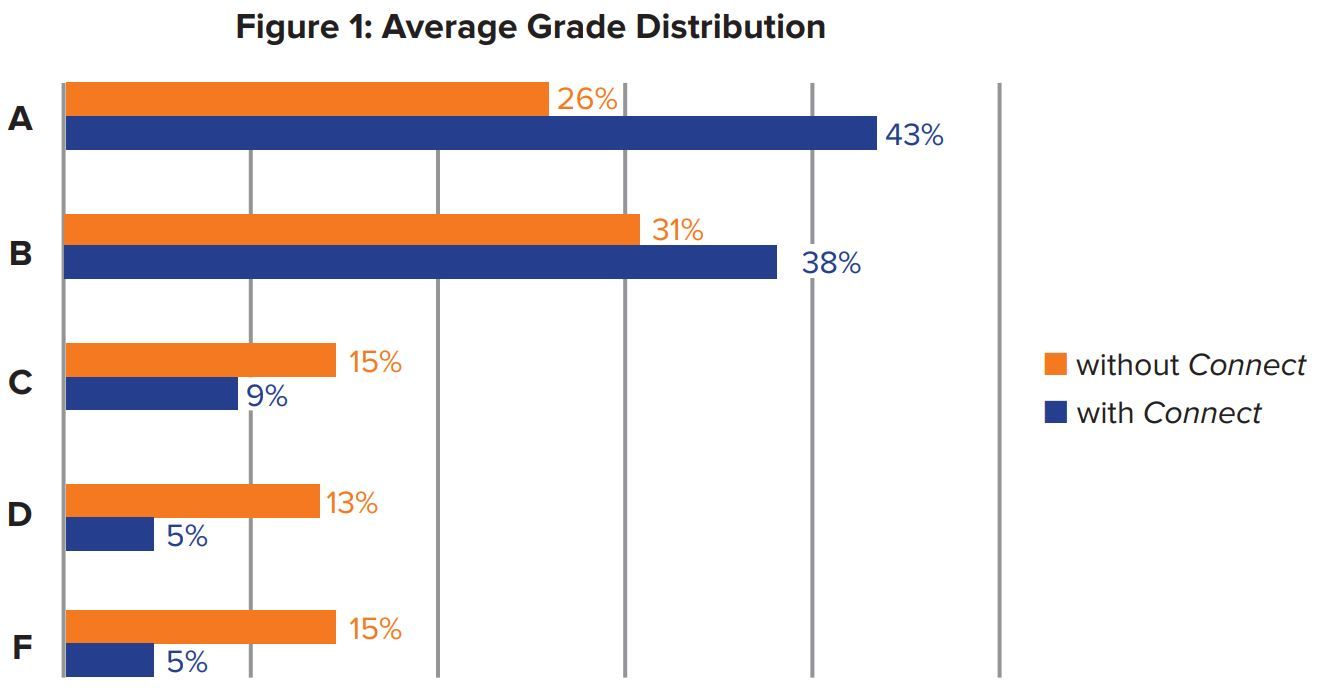 Pass rates also increased by 18% (Figure 2). "Passing rates have exceeded our expectations going above our previous benchmarks," Wagoner says. "I'm guessing that is due to the enforced purchasing of the Connect access code which includes the book that's now offered via Inclusive Access on day 1."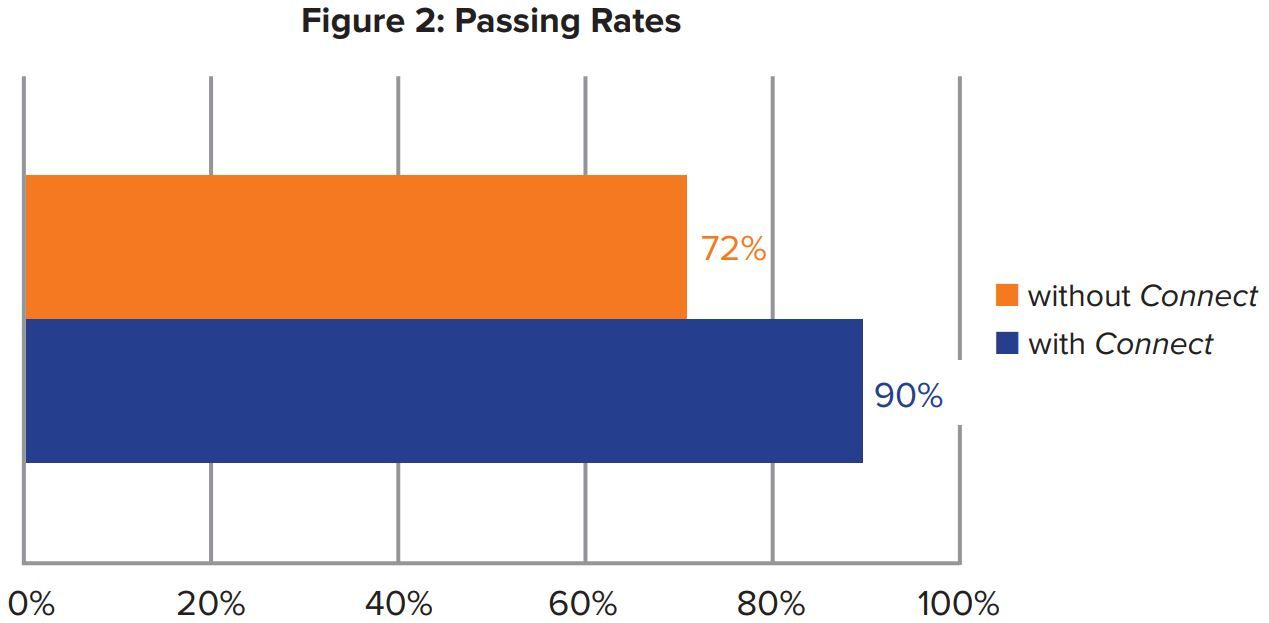 Student retention rates also improved by 3% (Figure 3). "Our retention rate is currently growing because of Inclusive Access," Wagoner says. "The first jump for the percentages was because we had the two-week courtesy access. I suspect that with Inclusive Access being added for a full year, we will see those numbers increase."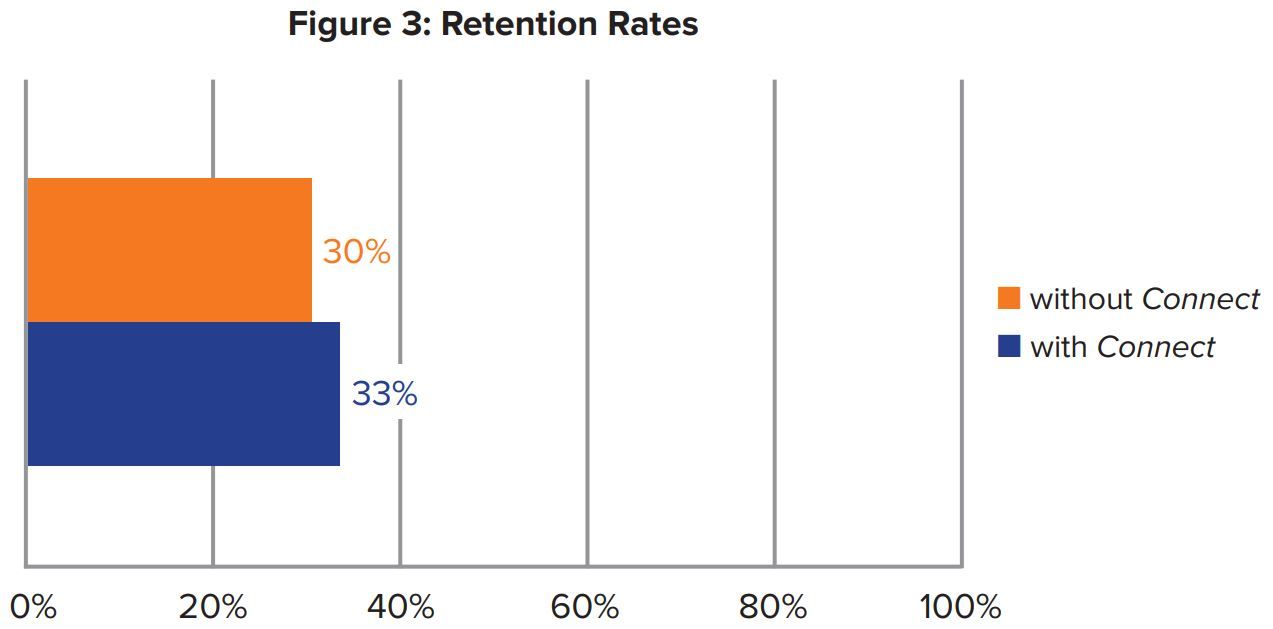 Average final exam scores increased by a total of 13% leading to more successful students in the course (Figure 4).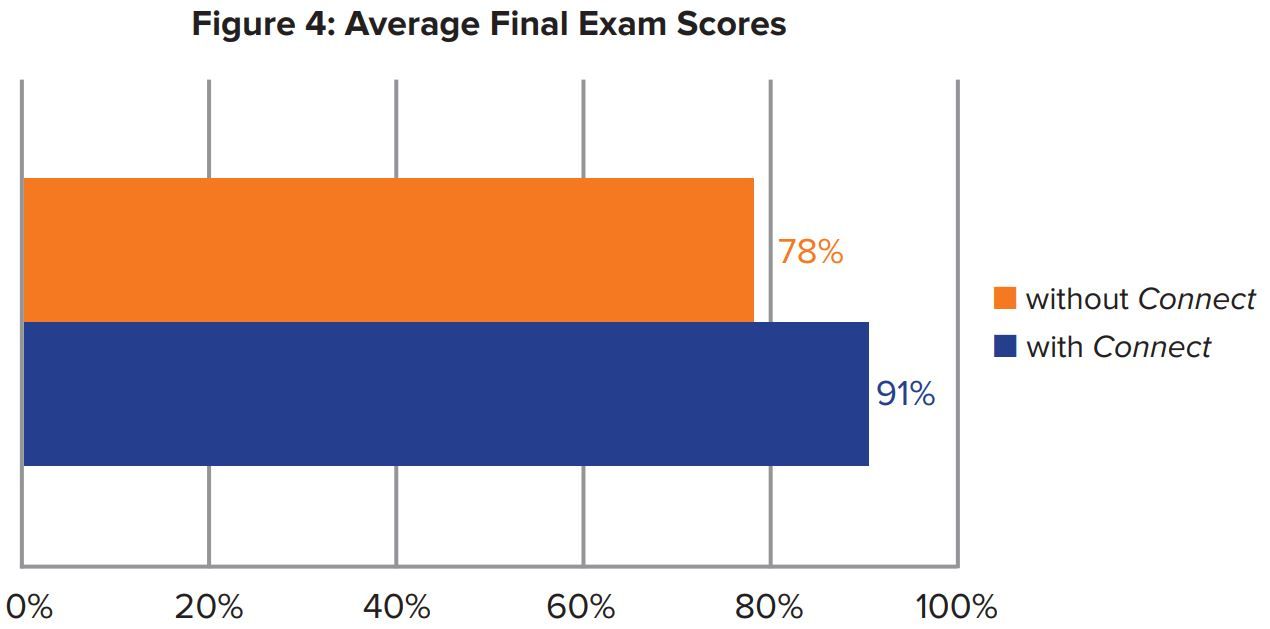 Connect provides a more efficient way to quiz students and cuts Wagoner's grading time in half. (Figure 5). He says, "Connect has reduced the amount of time I would have to grade my assignments. Now I can focus on the essential details and neglected or missed topics, and recap those particulars."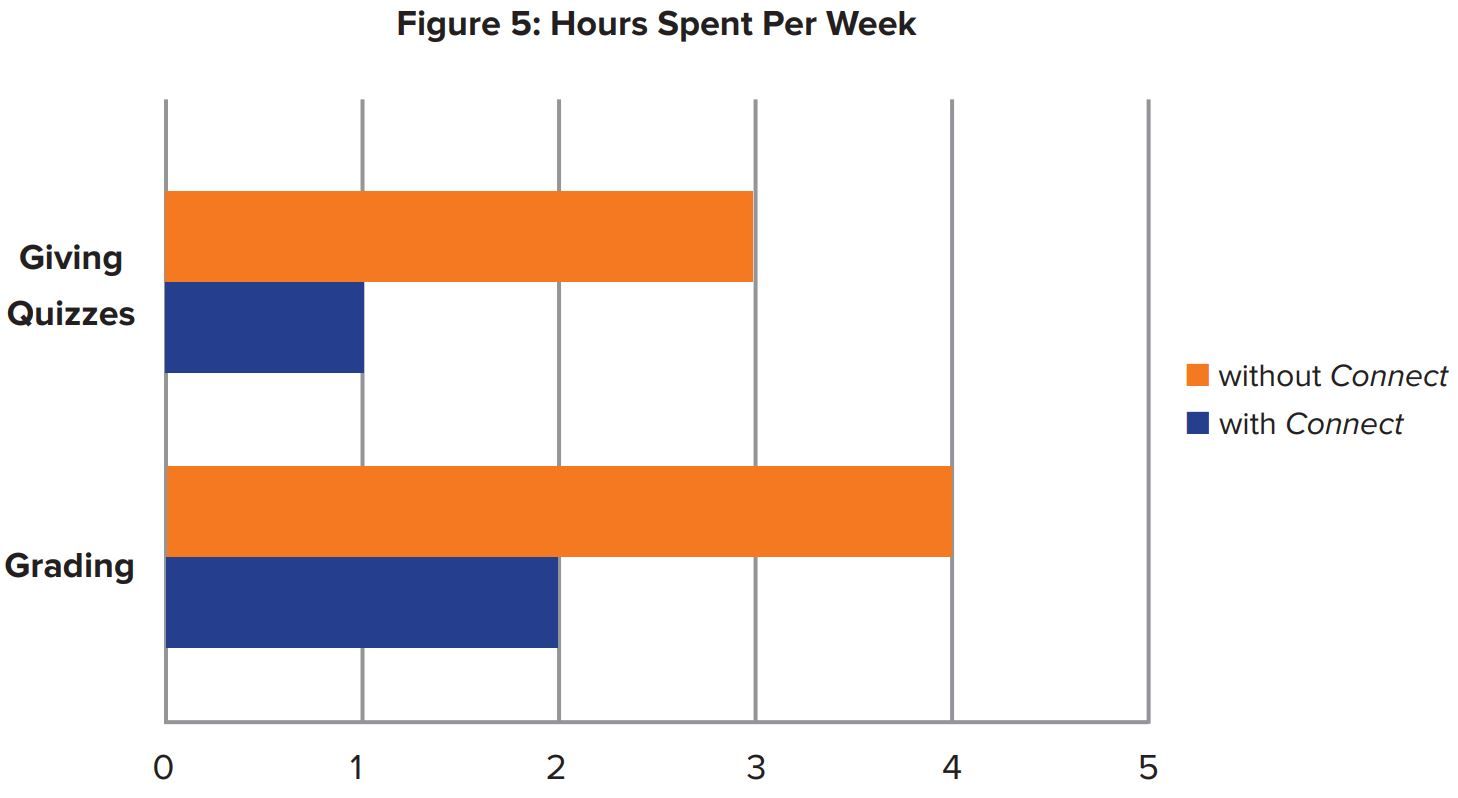 Thanks to Connect's reporting features, Wagoner spends less time preparing for lectures because he knows exactly what he needs to focus on for the students (Figure 6). Wagoner says, "Connect aids you in gauging your student's knowledge of the reading material without asking them in class when they are reluctant to provide feedback. You can pull the statistics right in front of them to let them know what their weaknesses are and you can change your lecture or class discussion at that very moment."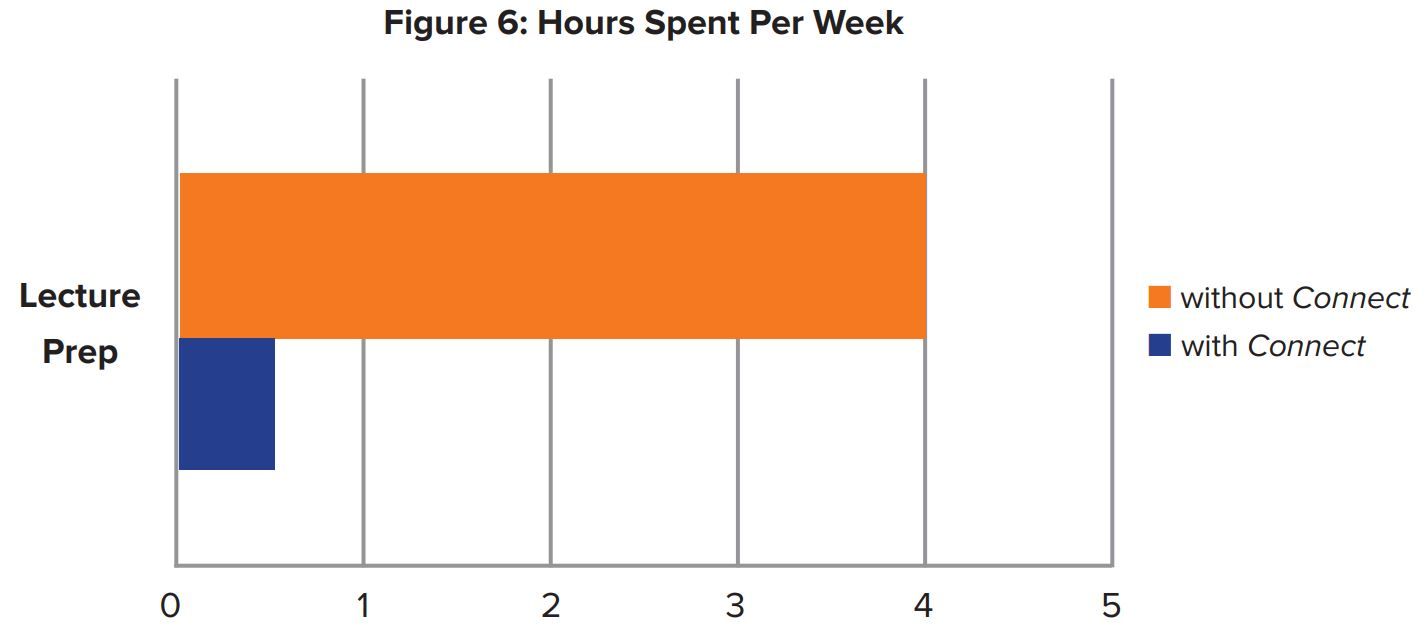 Connect also provides the opportunity to help students of all abilities in the course. "I have had students who needed the closed captioning on videos where other course materials did not have the captions. McGraw-Hill came through by supplying the captions within 24 hours on a video provided in the e-book," Wagoner says. "I also had the fortunate experience of changing the settings for an ADA student, which made it a lot easier at the beginning of the course to set the specific parameters required for their testing."
Wagoner goes on to say his colleagues are interested in exploring OER; however he is reluctant to do so. He is committed to using Connect in the future and states, "As I have evaluated other platforms out there, this one is the best. Everything is laid out for the student, especially so if you use Inclusive Access, and makes time management easier for the students and faculty."
Conclusion
Students appreciate the reduced price and accessibility of Inclusive Access; faculty appreciate the ability to gauge how students are learning course material and the opportunity to impact students' passing and retention rates. Wagoner adds, "Students are actually reading the content compared to just going to Google to look up an answer."
Our goals were improving student retention, enforcing the purchasing of the textbook (i.e,. reading materials for the course), and reducing time wasted on waiting for financial aid necessary to purchase course materials. Cue the Inclusive Access model! Inclusive Access streamlined our process for obtaining the course text, Connect enforced the reading of the text by utilizing SmartBook as a point system for reading and evaluating students' knowledge of the material for retention purposes.
---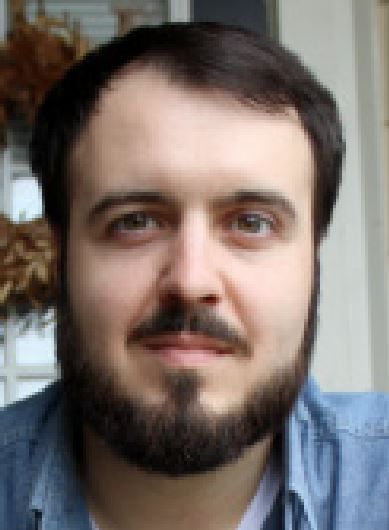 Professor John Wagoner is an Assistant Professor of Art at Bossier Parish Community College in Bossier City, LA. He received his Master of Fine Arts in Painting from Kendall College of Art and Design in Grand Rapids, MI and his Bachelor of Arts degree from Cornell College in Mt. Vernon, IA.
He has over seven years of teaching experience at the college level in foundations (2-D design, 3-D design, and color theory), art history, painting, drawing, ceramics, and sculpture. He was selected and awarded as a 40 Under 40 Honoree by the Young Professionals Initiative in 2015. He was also awarded the "Excellence Award in Teaching" from the National Institute of Staff and Organizational Development (NISOD) in 2014.
Digital Product in Use: Connect® Art and Inclusive Access
LMS: Canvas
Course Name: Art 206 Introduction to Visual Arts
Course Type: Online, Hybrid, Face-to-Face
Credit Hours: Three
Textbook in Use: Living with Art, 11th edition, by Mark Getlein
Instructor: John C. Wagoner, MFA
Enrollment: 36 students per section; 7 sections; 910 year (university total)

---
Instructor's implementation goals
Help students save money and gain access to course materials easily
Improve student retention
Enforce the purchase of course materials so students have the opportunity to read the assigned material and pass the course
Reduce time wasted as students wait for financial aid to provide the means to purchase a textbook
Minimize routine teaching tasks so instructors can focus on identifying areas where students struggle and modifying the lecture to address those topics in lecture
Issues for instructor before using Connect and Inclusive Access:
Time spent replying to emails from students who did not have the means to buy a textbook and were falling behind in class
Difficulty improving pass and retention rates
Increased lecture prep and assignment grading in order to unravel topic areas where students need more help
Encourage students to be responsible for reading and learning the material by using reports to track progress
Accommodate ADA students easily
Benefits to instructor after using Connect:
Reduced grading time allows the instructor to focus on essential details students may miss and recap those topics in lecture
Track areas where students may require reinforcement by reviewing class and student performance reports
Redirect lectures to topics where students may need more instruction
Enforce students' studying skills with SmartBook
Improve passing and retention rates
Encourage students to read assigned material instead of searching online for an answer
Ability to change settings in Connect to accommodate ADA students
Course Description:
An introduction to the principles of and visual elements in art, various art media, processes, and art history in order to provide a basis for the judgment and understanding of art.
Institution Profile:
Bossier Parish Community College is a two-year community college located in Northwest Louisiana. BPCC offers associate degree programs and has agreements with universities in Louisiana that allow students to transfer to fouryear schools. BPCC opened a state-of-the-art Center for Advanced Manufacturing and Engineering Technologies workspace that houses the oil and gas technology, engineering, construction, and manufacturing programs.