Case Study: Anatomy & Physiology - Northwest Vista College
---
Digital Product in Use:
Connect® Anatomy & Physiology
---
Course Name:
Biology 2401 Human Anatomy & Physiology I
---
Course Type:
Hybrid
---
Credit Hours:
Four
---
Textbook in Use:
Anatomy & Physiology: The Unity of Form and Function by Kenneth S. Saladin, 6th edition
---
Instructor Name:
Brian Stout
---
Enrollment:
24/term (instructor total)
1,000-1,500/year (university total)
---
Case Study Term:
Fall 2011
---
Connect is a useful supplement to teaching that helps get students engaged earlier in the semester. It seems to help students learn the basic content quickly, which hopefully allows them to focus on more complicated topics. Furthermore, Connect is easy to use. The implementation went much more smoothly than any other online tool I have used before.
Digital Course Solution Helps Student Learn Foundation Material
---
Professor Brian Stout needed a way to better prepare his students for the rigors of an anatomy and physiology course. Many of his students hadn't taken a college level biology course prior to A&P I, so the first four chapters proved to be very difficult for students to get through due to lack of prerequisite knowledge and study skills. Connect Anatomy and Physiology provided students several avenues to learn the material and engage with the material early on. As a result, with Connect, grades on his first examination—a measure of student understanding of course material in the first four chapters of the textbook—were 11 points higher than without Connect. In addition, his department was also looking for effective learning tools that would allow them to deliver half of the lab component online in order to allow for more flexibility in scheduling time in the lab. They had tried unsuccessfully in the past, but with Connect, they have been satisfied with the results and are continuing to offer hybrid lab courses.
Northwest Vista College opened in the fall of 1995 as a new addition to the Alamo Colleges in San Antonio, Texas. It offers associate's degrees and two-year certificates to an annual enrollment of 15,921 students.
Course Description:
Students study the structure and function of cells, tissues, and body systems, with emphasis on the integumentary, skeletal, muscular, and nervous systems, including the special senses.
Course Grade:
55% of the final grade based on exams
20% of the final grade based on lab quizzes
10% of the final grade based on lab participation and assignments
5% of the final grade based on Connect quizzes
5% of the final grade based on LearnSmart assignments
5% of the final grade based on APR homework
Implementation of McGraw-Hill Connect
For each chapter, Professor Stout requires his students to do a LearnSmart assignment averaging 40-50 minutes, take a short quiz of approximately 20 questions from a pool of interactive and multiple choice questions he has selected, and complete a lab homework assignment based on 15-50 Anatomy and Physiology Revealed (APR, a McGraw-Hill interactive cadaver dissection tool) questions. Overall, Connect assignments were worth 15% of the final grade. The LearnSmart assignments and quizzes were due the night before the in-class exam review. The APR homework was due the night before students met in the lab to cover the homework subject.
Based on his experience, Professor Stout recommends to other instructors that they should provide clear instructions on how to register on the first day of class, require students to log on and complete a simple assignment with the first week, make the Connect assignments count for a portion of the grade, and be consistent in assignment due dates and times. He also tells colleagues to have their students complete the LearnSmart modules prior to their other assignments and quizzes. For students, he recommends they read their notes and book before attempting LearnSmart assignments to save them time.
Prior to Connect, Professor Stout did not assign homework. With Connect, he has solved his concern about quickly getting students up to speed on the prerequisite course content and engaged in the course early on to meet the rigors of a college science course. The first exam comprises a good deal of review material that his students must cover in a short period of time outside of class. "It takes a couple of weeks for some students to realize that they have to really commit to succeed in A&P. Having to register for Connect and turn in assignments fairly early in the semester appeared to speed up this process," he observes. "By allowing the students to drill through the material on their own, Connect helps them get some foundational concepts down so that they can start learning the more difficult material."
"It really helped with the beginning of the semester information," Stout continues. "Often, there is a group of students who get extremely low grades on the first exam and find it difficult to recover."
"I've increased the amount of information I expect students to learn in the lab for A&P II and plan to increase it for A&P I in the future. The APR tool really helps students with drilling the anatomy memorization tasks so I believe they can handle more information in that area."
The biggest change in student behavior that Professor Stout noticed was how prepared they were on exam-review days. "Students asked many more specific questions on the more difficult material," he reports. "They had few questions on the basic concepts and definitions, which led me to believe that Connect was helping them grasp the basic material." He believes that student use of Connect led to improvements in exam scores, with a 4.2% average increase among all exams over the semester (Figure 1).
Professor Stout also found Connect reports to be a valuable tool for grading purposes and to monitor class progress. He depends on the reports to inform him how much time students are spending with the material and to customize student feedback. Being able to monitor time spent working on LearnSmart also helps him ensure students are meeting their required contact hours.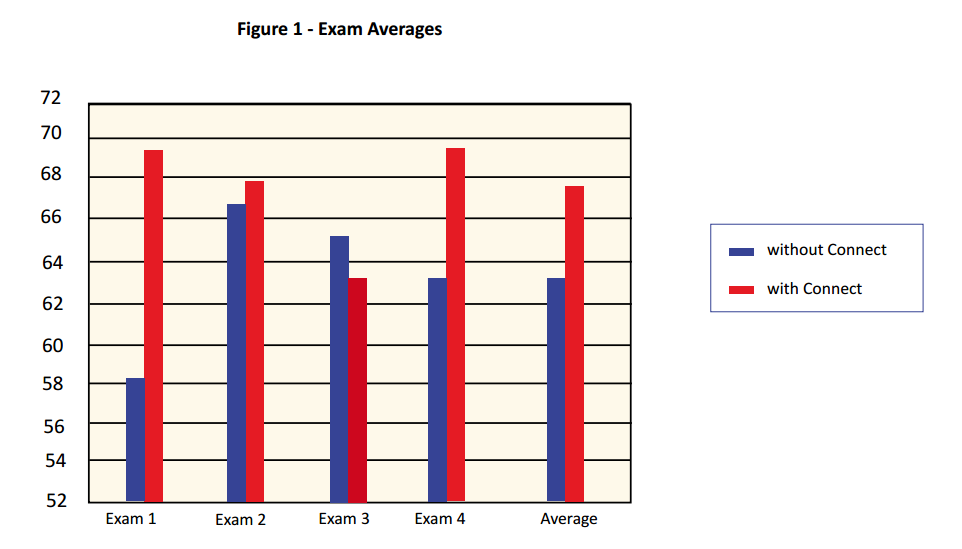 Professor Stout has found that Connect increases student learning and success. It appeared that students learned more and performed better on exams. Although the use of the hybrid lab may change depending on the data, Professor Stout plans to continue using Connect for lab time replacement because he and his department are happy with the results. He also reports that more instructors in his department are using Connect and that the department is strongly encouraging its use.