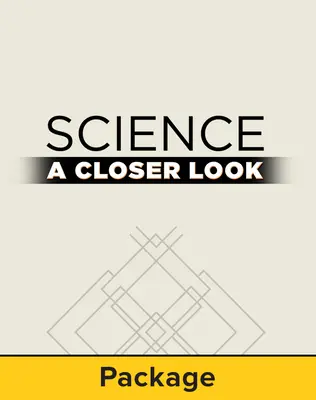 This package includes short lessons and activities that focus on technology as a tool, how different materials are used, how ideas become inventions, and the impact that inventions have on society.
Includes hands-on activities that explore technological advances
Supports student understanding of the design process
Topics include:
Lesson 1 – What is Technology?
Lesson 2 – Ideas and Inventions
Lesson 3 – Technology in Communications
Lesson 4 – Technology in Medicine
Lesson 5 – Technology in Industry
Lesson 6 – Technology, Society, and the Environment
Lesson 7 – Technology and the Future

Online Teacher Guides – This online support helps teachers prepare and implement each module—including activities, research suggestions, and questions that focus on STEM fields of study and connections to STEM careers. 
More Information:
Each package includes 6 of each title in addition to 6 copies of the Technology A Closer Look student books.
STEM Essentials are independent, thematic modules designed to engage students and enhance learning.
Exciting units provide an introduction to STEM related fields and careers
High-interest topics and problem-based investigations are designed to capture student attention
Supports the development of science skills and mathematical practices
The lessons in the Technology A Closer Look student books provide hands-on activities that cover a broad range of information on all types of technology including media, transportation, entertainment, and medical technology.
Correlated with each lesson are a variety of high-interest, nonfiction leveled readers to give interested students more information and vital exposure to a particular topic or career.
McGraw-Hill established the STEM (Science, Technology, Engineering, and Mathematics) learning solution center in 2009. This unique organization brought together our experienced editorial, marketing, project management, and business management teams to focus on STEM education. The STEM learning solution center is located in Columbus, Ohio.
STEM Mission Statement:
Our mission is to provide educational resources that enable students to become the problem solvers of the 21st century and inspire them to explore careers within Science, Technology, Engineering, and Mathematics (STEM) related fields.