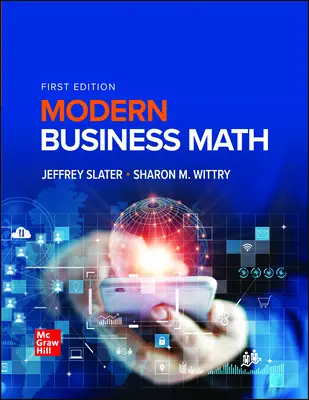 Modern Business Math ©2024
Students master everyday math concepts needed to succeed in business and life. From budgeting to taxes, students apply critical thinking skills and learn to solve real-life problems. 

Modern Business Math

breaks down fundamental math concepts and applies them to real-life personal and business decisions that students can apply immediately in their personal or entrepreneurial pursuits. Chapters feature current events from the Wall Street Journal and Kiplinger, and real-world practice problems. "My Money" exercises allow students to apply the concept they have just learned to a personal situation, such as calculating the monthly payment for a new car loan.

Modern Business Math

is a great alternative for students not pursuing a major or career requiring calculus.

•

"My Money" segment brings mathematical concepts to life

by showing students how to use what they have learned

to understand complicated topics, like payroll deductions. 

•

Critical thinking discussion questions

help students think about the bigger picture and apply math concepts learned in

the chapter in a creative, thought-provoking, and realistic setting.

•

Money Tips provide tips students can use in their everyday personal decisions

to improve their financial position.

•

Builds student knowledge and confidence with relevant,

real-world problems and blueprints that simplify complex

calculations into step-by-step instructions.

•

Excel templates

help students understand how managers use Excel to solve problems and inform business decisions.

•

Comprehensive Chapter Review

summarizes key concepts and calculation steps together for quick reference and

recall.

•

Hundreds of soft skills practice questions.•

Digital teaching guide

features presentation materials, discussion prompts, pre-made assessments, question banks,

and project-based learning resources.

See Resources Tab for additional information.