Chemistry: Matter and Change ©2013
Grade Levels: 9-12
Attract, enlighten, and engage your students with a program that helps them "bond" with chemistry. Whether you're looking for a textbook-based program, a fully digital curriculum, or something in between, Chemistry Matter and Change gives you proven, comprehensive content with real-world concepts to help you ignite curiosity in your students.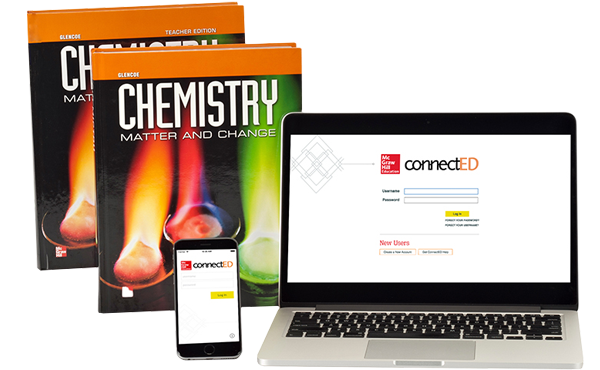 About the Program
Our program supports your differentiation needs with robust reading and math support built in. Comprehensive content, labs, and online resources are coupled with dynamic photography, diagrams, examples, and real-world connections, making this program approachable without losing the rigor you seek.
eAssessment - 2014 SIIA CODiE Finalist
Everything you need to administer tests and track data – completely online! Included as part of your McGraw-Hill program purchase, eAssessment contains a robust test generator, differentiated online administration options, complete CCSS reporting capabilities and easy access from any device.

Program Components
Glencoe iScience, Blueprints for Success: Science Classrooms that Work, Teacher Resource Book
Chemistry Matter & Change, eTeacher Edition, 1-year subscription

Chemistry: Concepts & Applications, Forensics Lab Manual TE

Chemistry: Matter & Change, ExamView® Assessment Suite CD-ROM

Chemistry: Matter & Change, Laboratory Manual, Teacher Edition

Chemistry: Matter & Change, Small Scale Laboratory Manual, Teacher Edition

Chemistry: Matter & Change, Standardized Test Practice, Teacher Edition

Chemistry: Matter & Change, Teacher Edition

Chemistry: Matter & Change, eTeacher Edition DVD

Chemistry: Matter & Change, eTeacher Edition, 6-year subscription

Glencoe Biology, LabManager CD-ROM

Glencoe Chemistry: Matter & Change, Science Notebook, Teacher Annotated Edition 
Chemistry: Matter & Change, Enrichment Supplemental Readings

Chemistry: Matter & Change, Inquiry into Chemistry

Chemistry: Matter & Change, Laboratory Manual, Student Edition

Chemistry: Matter & Change, Real World Chemistry

Chemistry: Matter & Change, Standardized Test Practice, Student Edition

Chemistry: Matter & Change, Student Edition

Chemistry: Matter & Change, Supplemental Problems

Chemistry: Matter & Change, eStudent Edition DVD

Chemistry: Matter & Change, eStudent Edition, 1-year subscription

Chemistry: Matter & Change, eStudent Edition, 6-year subscription

Glencoe Chemistry: Matter & Change, Science Notebook, Student Edition
Narrow by
Clear All Filters
Products
To learn about the specific purchase options for this program, please contact our Customer Service team at 800-338-3987
Additional Details & Resources