Language and Composition, The Art of Voice (Muller), AP* Edition
Language and Composition: The Art of Voice was created after extensive research in the AP English Language & Composition course, how it's taught, and what resources students need to learn. Part 1 includes skills for active reading, analysis, argumentation, and synthesizing. The extensive and diverse selections in Parts 2 and 3—including AP Teacher Favorite contemporary and classic essays, synthesis groupings, visual rhetoric, poetry, blogs, and more—make the book a dynamic learning resource for every AP student throughout the course and in preparing for success on the AP exam.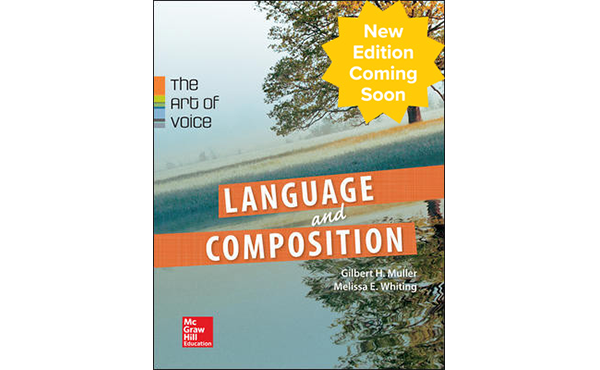 About the Program
The robust AP Teacher Manual is tightly integrated with the Student Edition and offers lesson plans and strategies for teaching close reading and writing skills. It also provides well-considered approaches for teaching individual essays, sample rhetorical analyses, answers to questions, additional thought-provoking questions, comparative essay discussion formats, and tips for prewriting and guided writing activities.
The Art of Voice is also available with the AP Advantage—a three-step digital solution for AP success that includes ONboard™ course preparation, Connect® Composition, and SCOREboard™ AP exam preparation. Together, the AP advantage suite of digital products supports students from before class starts all the way through to passing the exam!
---
AP®, Advanced Placement®, and Advanced Placement Program® are trademarks registered and/or owned by the College Board, which was not involved in the production of, and does not endorse, these products.
Program Components
Narrow by
Clear All Filters
Products
To learn about the specific purchase options for this program, please contact our Customer Service team at 800-338-3987
We have stopped printing many old products, but we might have some stock in our warehouse.
Select legacy products are available on Create® EasyOrder.
Additional Details & Resources
PART 1: CLOSE READING AND WRITING SKILLS
CHAPTER 1 Active Reading and Response in Texts
CHAPTER 2 The Writing Process
CHAPTER 3 Argumentation and Synthesis
CHAPTER 4 Writing a Research Paper
PART 2: ISSUES ACROSS THE DISCIPLINES
CHAPTER 5 Education and Society: How, What, and Why Do We Learn?
CHAPTER 6 Family Life and Gender Roles: How Do We Become Who We Are?
CHAPTER 7 History, Culture, and Civilization: Are We Citizens of the World?
CHAPTER 8 Government, Politics, & Social Justice: How Do We Decide What Is Fair?
CHAPTER 9 Media, Sports, and Pop Culture: What Is the Message?
CHAPTER 10 Literature and the Arts: Why Do They Matter?
CHAPTER 11 Nature and the Environment: How Do We Relate to the Natural World?
PART 3: AP FAVORITES
Maya Angelou, Graduation
Judy Brady, I Want a Wife
Joan Didion, Marrying Absurd
Jonathan Edwards, Sinners in the Hands of an Angry God
Queen Elizabeth, The Golden Speech
Ralph Waldo Emerson, Education
Ralph Waldo Emerson, Self-Reliance
Thomas Hobbes, Leviathan
John F. Kennedy, Inaugural Address
Martin Luther King, JR., Letter from Birmingham Jail
Abraham Lincoln, Second Inaugural Address
Nicolo Machiavelli, The Prince
Nancy Mairs, On Being a Cripple
Tim O'Brien, The Things They Carried
George Orwell, Politics and the English Language
George Orwell, Shooting an Elephant
Plato, Allegory of the Cave
David Sedaris, Me Talk Pretty One Day
Brent Staples, Black Men and Public Spaces
Jonathan Swift, A Modest Proposal
Henry David Thoreau, On the Duty of Civil Disobedience
Oscar Wilde, The Importance of Being Earnest
Virginia Woolf, A Room of One's Own