Glencoe Math Accelerated: A Pre-Algebra Program © 2014
Grade Levels: 7-7
Empower Teachers and Students in the 7th Grade Math Classroom!
Built around the Common Core Accelerated 7th Grade Pathway, Glencoe Math Accelerated supports each teacher's unique teaching style and each student's unique learning needs like never before. Get your students excited about math with this all new program that is interactive, flexible, and highly customizable.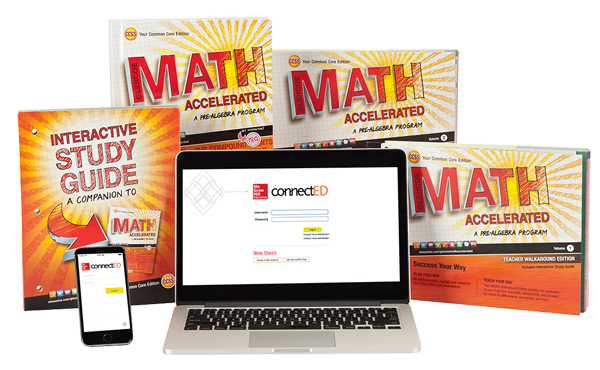 About the Program
Empower Teachers to:
Plan Your Way with preloaded lesson plans, resources, and presentations which can be customized to match unique teaching styles, or add your own resources for a personal touch
Teach Your Way with interactive whiteboard lessons, games, presentations, and point-of-use activities that engage students and help them stay on task
Assess Your Way with choices for diagnostic, formative, and summative assessment available in ready-to-use print assessment masters, or create your own tests online with McGraw-Hill's eAssessment tool

Empower Students to:
Learn Their Way by establishing strong study and organizational skills for the transition to Algebra and high school math with the Interactive Study Guide
Learn in Their World with online resources such as engaging apps, animations, games and videos

eAssessment - 2014 SIIA CODiE Finalist
Everything you need to administer tests and track data – completely online! Included as part of your McGraw Hill program purchase, eAssessment contains a robust test generator, differentiated online administration options, complete CCSS reporting capabilities and easy access from any device.

ALEKS - District Administration Top 100 Products
ALEKS is now available with secondary math programs! Begin day one with ALEKS to determine precisely what students know, do not know, and are ready to learn next. Provide every learner a personalized learning path to math success!

Program Components
Glencoe Math Accelerated, Assessment Masters

Glencoe Math Accelerated, Teacher Walkaround Edition, Volume 1

Glencoe Math Accelerated, Teacher Walkaround Edition, Volume 2

Glencoe Math Accelerated, eTeacherEdition CD-ROM

Glencoe Math Accelerated, eTeacherEdition Online, 1-Year Subscription
Glencoe Math Accelerated, Interactive Study Guide

Glencoe Math Accelerated, Student Edition

Glencoe Math Accelerated, eStudentEdition CD-ROM

Glencoe Math Accelerated, eStudentEdition Online, 1-Year Subscription
Narrow by
Clear All Filters
Products
To learn about the specific purchase options for this program, please contact our Customer Service team at 800-338-3987
Additional Details & Resources