Celebrating Student Voice and Teacher Choice in Language Arts
A look behind the scenes at our curriculum update process
As classrooms evolve, teachers adapt practices and priorities, and the body of research on what students need to learn grows, we adapt our curriculum and teacher support in response. In this ongoing series, we'll take you behind the scenes with an academic designer – the experts that partner with authors to create our curriculum – to review updates to existing programs or the creation of entirely new programs. 
Today, we explored the new © 2023 update of Wonders, our K–5 ELA program, with Daniela Perelli, VP of Academic Design in Reading.

Q: Can you explain McGraw Hill's general process for revising programs for new editions? Where do the ideas for changes come from, and how do changes get prioritized?
Daniela: We're constantly learning something new – both as researchers help us understand what works in the classroom through rigorous studies and as teachers tell us what works through their everyday experiences. We work with our authorship team and learning scientists to keep updated on the latest research, but we also communicate with educators using our programs. That powerful combination of academic research and feedback on real-world applications in classrooms is critical.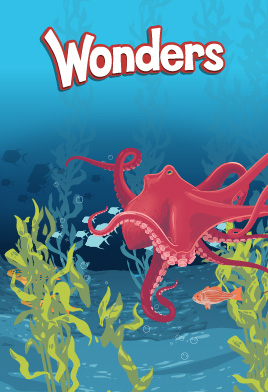 Q: What were the key sources or influences for the Wonders ©2023 updates? 

Daniela: The Wonders authorship team has always been at the forefront of educational research and is deeply committed to ensuring that the educational practices embedded throughout the program are effective practices. They continually work with us to identify best practices that have the most impact on student learning, including any nuanced understanding of the existing research or new findings. 
Of course, we've also made updates based on feedback from the educators that use Wonders. Teachers understand the urgency and high stakes of literacy instruction and subsequently place a high value on explicit and systematic foundational skill instruction, particularly those educators who are working hard to align their instruction to the Science of Reading. They also need an efficient and practical way to monitor student progress on learning outcomes and differentiate based on student data – but none of that is easy, and it requires a curriculum that can support data-driven teaching and differentiation in support of each teacher who makes the important instructional decisions to meet the needs of each student in the classroom. 
Q: What are some of the most important updates in Wonders ©2023? 
Daniela: Key areas of the updates include
Attention to building knowledge
Transfer of skills and knowledge 
Emphasis on fostering student agency 
Extensive support for English Learners
Clearer paths for differentiation that value both teacher and student voices 
Each of these elements was present in past editions of Wonders, but based on research and feedback, we've drawn them to the forefront of the curriculum.
Wonders © 2023 provides a clear focus on building knowledge and setting high expectations. Through scaffolded instruction, students tackle grade-appropriate complex texts engaging in rich discussions about the text, answering questions that progress in difficulty about the text, complete various tasks that ask students to synthesize knowledge gained from the texts they read, all culminating in students building deeper knowledge about the topic they are reading about. 
In the new edition of Wonders, characters guide students in setting expectations and goals, identifying existing knowledge, and reflecting on what they've learned. The characters also encourage a growth mindset. Image credit Wonders © 2023.

Through explicit instruction, students learn and apply important strategies and skills. They are then provided many opportunities to transfer these skills with different texts and tasks.  The key to setting students up for success with these high expectations again lies with carefully designed instructional routines. 
Instructional routines have always been central to Wonders – they reduce cognitive load, allowing students to focus on what they're learning, not how to learn.  We've incorporated a Build Knowledge routine, where students identify the information they've learned from texts, synthesize that information with new information, and learn new vocabulary along the way. The knowledge and vocabulary they learn builds their schema which students apply to texts they read and write about as they progress through the grade and across grades. All the instructional routines empower students to apply their knowledge and make connections as they learn new concepts.
Routines are also central to the © 2023 focus on student agency. To foster agency, we've created intentional routines that guide students in identifying what they are being taught, evaluating how well they understand the learning objective, and reflecting on what they've learned – all in a kid-friendly approach. The routines provide students with a way to express their learning to themselves and their teacher. Routines, coupled with clear learning goals and outcomes, foster habits of reflection and ownership beginning in kindergarten that builds throughout the grades.
To continue supporting and challenging English Learners, we've strengthened the support that is integrated and differentiated in the core lessons and we have provided more targeted support in our new English Learner Small Group Guide. These guides address all areas of core learning and enable teachers to differentiate according to varying levels of language proficiency. The lessons provide meaningful English Language support for students to access the grade-level texts, including the Shared Reads and Anchor texts. Extensive and differentiated support for the core extended writing instruction is also included. 
Finally, we've strengthened our framework of instructional paths for differentiation. We've received feedback from educators that Wonders has more resources than they can fit into their instructional time – and Wonders indeed has a great deal of content. The resources of Wonders are provided to meet the wide range of students' needs across the grades. For ©2023, we focused on providing teachers with clear suggestions and pathways for instruction that enable them to make decisions on how to adapt the instruction and how to use the resources to best meet student needs.
Q: How has the industry's collective attention to the Science of Reading influenced the latest edition of Wonders? 
Daniela: We are incredibly fortunate to have such a strong authorship team with deep knowledge and understanding of the research. With their input, Wonders instruction has always been based on research and aligned to the key pillars of the Science of Reading, including an intentional scope and sequence of skills, systematic and explicit instruction on each learning objective, many opportunities to practice critical foundational skills to develop students' automaticity with sound-symbol correspondence, blending, decoding and encoding words, and reading words in isolation and in context of short and longer decodable texts. Wonders has a wide range of supports and scaffolds for all learners in small group lesson options and foundational skills kits provided online with the Wonders © 2023 program. For this edition, we focused on highlighting and enhancing that strong foundational skills instruction. Some examples include:  
Instructional routines are clearer to both teachers and students. In the planning pages at the front of the Teacher's Edition, as well as the planning pages for each text set, we give a detailed overview of the instructional routines and the specific learning outcomes. 
Multimodal activities, found throughout the lessons, are highlighted.
We have included more practice opportunities throughout lessons.
We strengthened the cumulative review of important foundational skills, including in our In a Flash Features at the start of the Word Work lessons.
Q: How do you envision these changes will influence the student experience, teacher experience, and overall classroom dynamics?
Daniela: It's both a difficult and an exciting time to be an English Language Arts teacher. On top of the challenges the past few years have presented, literacy instruction carries a unique urgency as a foundational skill for all learning. The attention to the Science of Reading illustrates that urgency - teachers bear the weight of a great deal of pressure to make every moment count. Wonders © 2023 arms teachers with the evidence-based practices they need but without enforcing a one-size-fits-all approach – because the research shows that one size does not, in fact, fit all! With Wonders, classroom dynamics will be guided by student voice and choice, differentiation at scale, and flexibility for teachers, all in a proven framework aligned to the Science of Reading. 
For more on the latest edition of Wonders, see:
https://www.mheducation.com/prek-12/program/microsites/MKTSP-BGA10M0.html