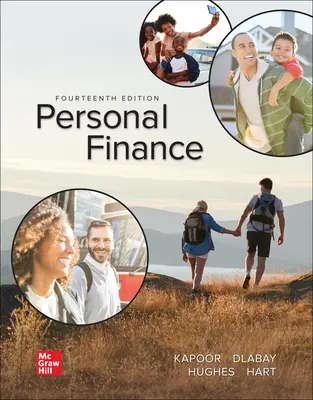 Personal Finance
14th Edition
By Jack Kapoor and Les Dlabay and Robert J. Hughes and Melissa Hart
ISBN10: 1264101597
ISBN13: 9781264101597
Copyright:
2023
Product Details

+
- Personal Finance
provides needed information to help students plan for the future and achieve financial security.
- Updated and revised topics: taxes, banking services, college loans, health care, investments, and retirement planning
providing the most current information.

- New features include Personal FinTech and Digital Financial Literacy.
Read more +
Program Details
Part 1: Planning Your Personal Finances
Chapter 1: Personal Finance Basics and the Time Value of Money 
Appendix: The Time Value of Money 
Chapter 2: Financial Aspects of Career Planning 
Appendix: Résumés, Cover Letters, and Interviews 
Chapter 3: Money Management Strategy: Financial Statements and Budgeting 
Appendix: Money Management Information Sources and Advisors 
Chapter 4: Planning Your Tax Strategy 
Part 2: Managing Your Personal Finances
Chapter 5: Financial Services: Savings Plans and Payment Methods
Chapter 6: Introduction to Consumer Credit
Chapter 7: Choosing a Source of Credit: The Costs of Credit Alternatives
Part 3: Making Your Purchasing Decisions
Chapter 8: Consumer Purchasing Strategies and Legal Protection
Appendix: Consumer Protection Agencies and Organizations
Chapter 9: The Housing Decision: Factors and Finances
Part 4: Insuring Your Resources
Chapter 10: Property and Motor Vehicle Insurance 
Chapter 11: Health, Disability, and Long-Term Care Insurance 
Chapter 12: Life Insurance 
Part 5: Investing Your Financial Resources
Chapter 13: Investing Fundamentals 
Chapter 14: Investing in Stocks 
Chapter 15: Investing in Bonds 
Chapter 16: Investing in Mutual Funds 
Chapter 17: Investing in Real Estate and Other Investment Alternatives 
Part 6: Controlling Your Financial Future
Chapter 18: Starting Early: Retirement Planning 
Chapter19: Estate Planning