Get the Most Bang for your Buck: Teaching Nutrition using Multi-Modalities in One LMS Space
Published January 7, 2021
---
As an instructor who has taught several sections of nutrition each semester with different modalities for more than two decades, I feel I finally found ways to streamline efforts by teaching every nutrition section in the same learning management system (LMS) space. Because I teach 750 students per semester, efficient and effective teaching communication is a necessity to maintain my sanity and provide a positive learning environment.
It was an "ah-ha" moment that actually stemmed from conversations with my undergraduates. Students from each different modality expressed their genuine desire regarding course materials. A student in my in-person section was complaining they didn't have access to my PPT lectures with additional voiceover and transcripts, but their friend did in the online section. Then, another in-person student shared they were sick/contagious and needed to miss class for a week. But, the sick student wanted to join class real-time, was that possible? My online students shared they wanted to hear responses on the discussion board from students in the in-person class. Plus, juggling three slightly different course calendars. The last straw was while updating announcements in one section only to move onto the next section and repeat a very similar announcement, then a third time, and by the fourth section… something had to give.
Question why you do what you do! Had I really thought about why I have the modalities separate? I sat down to reflect on how I made the above mess myself.
Why was I teaching a hybrid section, an in-person section, and an online section each with slightly different syllabi? 
Why did I feel they each needed their own LMS location?
Why did I feel the need to provide select materials (such as the PPT lectures with voiceover) to one section, but not share those same materials with students in other sections?
I realized I had created this beast thinking that tailoring each section specific to the student audience and only providing them the one set of materials was best practice. But, what data shows that is a best practice? A student challenged me and said, "why can't we all have all the materials?" I had no real answer. That's when I began to redesign all sections so every student has access to all materials with minimal confusion.
Develop a universal syllabus: Prior to the semester, I develop one syllabus and grade workbook that can be utilized by students in all sections. With the exception of extra credit opportunities and office hours, all course weekly folders and assessments are the same for every student with access to all instructional materials.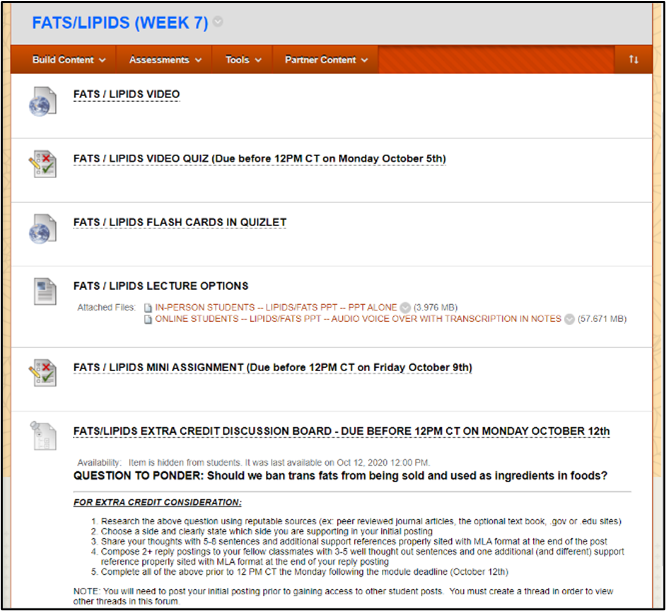 Create weekly folders with all resources clearly marked. Within each weekly folder, students can benefit from materials specifically designed for their section, but they can also refine the learning process by utilizing other resources. A student shared with me that they loved the in-person instruction as she wanted the ability to go to lecture and take notes. However, she also wanted access to materials created for the online class in case she was sick for a class period, missed something in the notes, or wanted to hear it explained again. The online students wanted the ability to earn attendance extra credit like the in-person students. So, we offered a dynamic discussion topic where they can participate.
Make the experience and communication personal: Once students are registered for the section and modality of their choosing, they are all placed in the same LMS location to allow for easy instructor updates while allowing accessibility to all materials. I also wanted a way to personalize communication with each section and student. I did this a few ways:
Code them as a group within the LMS.
Emails are still sent with reminders specific to their modality and section.
Students are invited to opt-in to personalized text reminders using Remind.
How instruction changed during COVID? I realize the benefit of offering safe and distanced in-person instruction. Some international students need to register for an in-person section for their country to financially support their schooling and other students have disabilities that make learning more effective if they are learning in a classroom with the instructor and other students, and many individuals struggling with mental health issues due to isolation could benefit with in-person instruction. At my institution, any student who wishes to attend class in-person needs a negative COVID-19 test within the week (or more recently). If a student is unable to test, has a mild fever, or tests positive for COVID-19, they are unable to enter the building and attend class. So, I chose to adapt while providing additional learning modalities! At this time, our nutrition class offers the following choices:
Synchronous in-person lecture on campus
Synchronous Zoom lecture
Asynchronous accessible online materials
That sounds exhausting! How do you manage three modalities with more than 750 students? It comes down to clear communication in conjunction with LMS course coding that is on-point while effectively using teaching assistants' (TA) time. The students who enrolled for an in-person section have access to the synchronous in-person lecture and the synchronous Zoom lecture if they have an excused absence. During lecture, the TA asks students their preferred Zoom view to ensure the setup meets most of their needs. What we found works best is to set up the TA's laptop to help the instructor:
Have the PPT open laptop with a high-quality camera/microphone plugged into the USB,
Face the camera and microphone to the instructor,
Open the lecture PPT and screenshare,
The instructor must prepare polling questions and enter them in Zoom in advance of class.
The TA can take attendance, monitor the chat, control polling, and ensure a fun and productive classroom experience for all. (Images below from
https://youtu.be/tRzcHVnwTm4
.)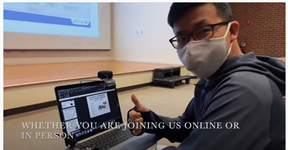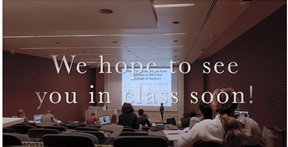 What if we don't have a TA? I understand many of you do not have the luxury of a TA. However, this can also be done by the instructor alone by setting up an additional laptop in the classroom with high-quality camera/microphone plugged into the laptop. Obviously, you will want to play around with the settings and go through a mock lecture to get the hang of things. I have lectured on occasion without a TA and it can go just as smoothly with the proper preparation.
What is the best way to produce asynchronous accessible materials? Accessibility can be complex. Unfortunately, there is no "one best way" to create new materials that are compliant with accessibility. I encourage you to speak with your disability resources advocates at your own institution to find out what (if any) additional support you can receive when making your classroom materials compliant. With respect to videos, you need to know your student audience. If you have students from China or select other countries taking your class remotely, you will need to publish your videos in a digital location where they will have access. For example, YouTube is not available in some countries. Once you publish your videos, do not rely on the voice to text option. You will note that many of the scientific terms do not translate well and will have considerable misspellings. Go back into the selected program and check word by word and sentence by sentence if the grammar and spelling are correct. Within PPT or any exams questions where there is an image, you will need to describe the image and provide any information needed to interpret the context. For example, videos and captioning, you are welcome to view https://tinyurl.com/UIUCFSHN120
Know that you are not alone. We are all going through this unique time together and creating class materials to suit a variety of learners. If you have questions or want to discuss ways to streamline your work, feel free to reach out to me, a fellow instructor.

Sincerely, Toni Marie Burkhalter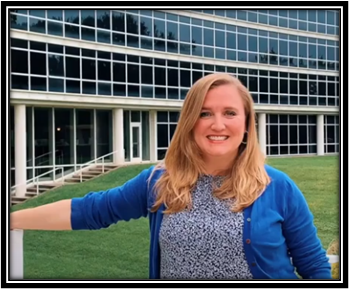 Toni Burkhalter graduated from University of Illinois at Urbana/Champaign (UIUC) in 1999 with an M.S. focusing the body's response to dietary changes. In 2001, she began teaching nutrition, anatomy and physiology at Parkland College. Her passion for how the body adapts to positive environmental challenges such as exercise and balanced nutrition encouraged her to return to school for a second advanced degree while working at Parkland. She earned an M.S. in exercise physiology from UIUC in 2010 with a focus on the effects of exercise on cognition and academic performance. She is published in peer review journal articles and has received local and national awards for curriculum design. She was a member of the Parkland Speaker's Bureau speaking in forums ranging from third-grade classrooms to the Elected Officials of Illinois in Springfield. In August 2017, she resigned as an Associate Professor of Biology and Kinesiology at Parkland College and began teaching a large 750+ student Contemporary Nutrition course as a Senior Instructor at the University of Illinois. Since her tenure at UIUC, she has developed additional courses designed to meet specific student needs such Hot Topics in Sports Nutrition, Lifelong Nutrition for Sport and Physical Activity, Nutrition Internship with NCAA Athletes and Illini Fuel, as well as creating an Undergraduate Teaching Team Leader course where former students (such as Ryan) become a member of the large lecture hall teaching team. Each year, Toni teaches up to 2,000 students and views her current position as her dream job.