Learning Resources and
Alternative Formats
In 2015, we established WCAG Level AA criteria as our standard for all products. We're committed to producing content and technology that helps all learners succeed.

eBooks
Our e-book was built with WCAG 2.0 AA criteria in mind from the start. It includes support for various assistive technologies, consistent navigation, no keyboard traps, zoom capabilities, captioning for media, timing options & accessibility for mobile devices as well.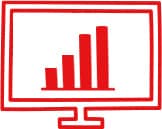 PowerPoints
Since 2016, accessible PowerPoints that comply with WCAG AA criteria are available across our portfolio. As older editions are revised, we update the accompanying presentations to comply with WCAG AA criteria.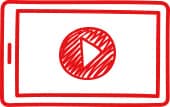 Video Content
The majority of our Higher Education videos are closed captioned and/or have transcripts available and all new videos are closed captioned and/or have transcripts available.
Alternative Formats
We make it easy to request digital files in alternative formats to accommodate students with disabilities – at no cost to you. Centers for Disability Services can Request digital files from our permissions team.
Please include the following information:
A statement that a student with a certified disability is required to purchase and use a McGraw Hill text for a specific course. If more than one student requires it, please indicate the total number of students.
Author, title and ISBN of the text
Mailing and email addresses of the Disability Services Center
MS Word is our standard format for digital files. Please indicate if PDFs are preferred.

We also encourage Centers for Disability Services to join the AccessText Network , a non-profit organization that allows them to submit requests directly to publishers.