Malcolm X College - City Colleges of Chicago
---

Connect®'s Adaptive Technology and Real Time Assessment Helps New Program Seek MAERB Accreditation, Improve Passing and Retention Rates, and Encourage Students to Own Their Education
Instructor Christine Dzoga, Director of the Medical Assisting Program, believes that Connect and its adaptive technology tool contributed to the success of their new program. "Our young program has high pass, retention, completion, and placement rates because Connect continues to meet our goals. We have a 100% passing rate that is 15% higher than the national average."
She credits Connect with student success because Connect provides easy access to assessment data, so individual student study plans can be initiated; or, if data shows the whole class is struggling with a concept, the material can be reintroduced to all of the students. Dzoga says, "We are able to assess all students' progress in real time and spend more time with students on an individual basis."
Even though we are a new program that has just graduated our third class, Connect helped us achieve our high retention, passing, and placement rates and our high scores in certification testing. Connect's ability to help us assess students' progress in real time allows us to track students throughout the courses and gives us the opportunity to spend more time with our students on an individual basis.
Christine Dzoga
Implementation
The course grade is determined by the following:
15% — SmartBook
20% — Homework
15% — Quizzes administered with Connect
25% — Midterm administered with Connect
25% — Final administered with Connect
Dzoga says the program has incorporated Connect and SmartBook into their courses 100%. "We utilize every aspect of Connect into our teaching practices. We pair it with Blackboard, our LMS, for smooth integration." She adds, "Many people ask if students struggle with the technology, but none of the students have complained. In fact, we've experienced the opposite: the technology and self study components provide students with tools they didn't necessarily have in the past."
Students usually cover one or two chapters in an average assignment, and three to four assignments a week. Each assignment includes videos and fifty questions. Dzoga says, "The content we find particularly robust are the videos related to all aspects of medical assisting and anatomy/physiology."
Using data from reports available in Connect, the instructors address content students need clarified, so lectures are more robust and students don't get bored. Dzoga says, "We utilize all the reports in order to get a well rounded sense of where the class is as well as individual students."
In Connect, Dzoga utilizes the following reports: Connect Insight Dashboard, Assignment Results, Student Performance, Assignment Statistics, Item Analysis, Category Analysis, and At-Risk report.
"The At-Risk report also allows you to determine which students need additional support from as early in the semester as the first week," Dzoga says. "Students tend to be shy asking for help, or even self identifying they need support."
Dzoga also utilizes the following reports in SmartBook: Progress Overview, Student Details, Module Details, Practice Quiz, Missed Questions, Metacognitive Skills, and Most Challenging Learning Objectives.
To successfully exit the course, students must master CAAHEP/MAERB competencies and a Clinical Competency Check Off must be passed.
Results Achieved
Dzoga believes that Connect has helped Malcolm X's new program be successful in a short period of time. "We are seeking MAERB accreditation, and we must demonstrate competency before a student can pass a course. Connect has helped us help students. We have an average of 2% of students needing to repeat courses" (Figure 1). Note: Passing is considered a "C" or above.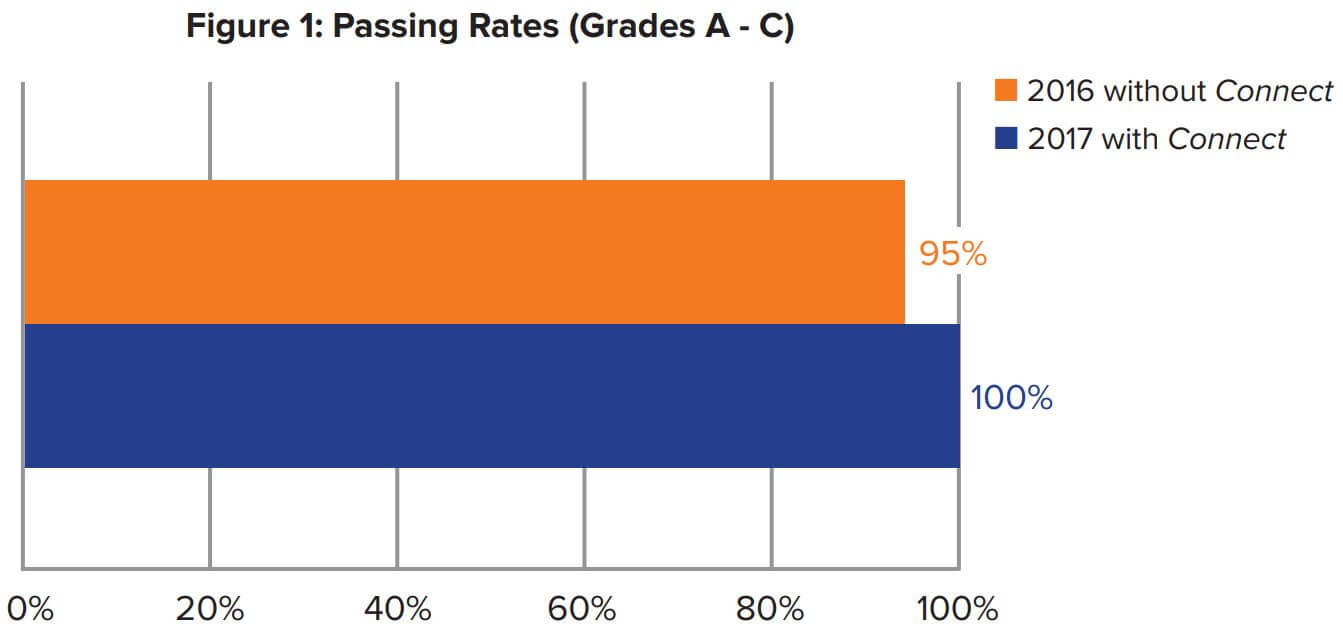 Dzoga believes that, because instructors can address students' needs effectively, the program is able to retain students. "We are able to address individual needs so quickly, we catch students before the thought of dropping occurs." Additionally, Dzoga believes students who may have dropped out due to other non-academic issues are motivated to stay in the program. "Students work through their issues and stay in the program because they feel a sense of accomplishment and are driven to complete the program" (Figure 2).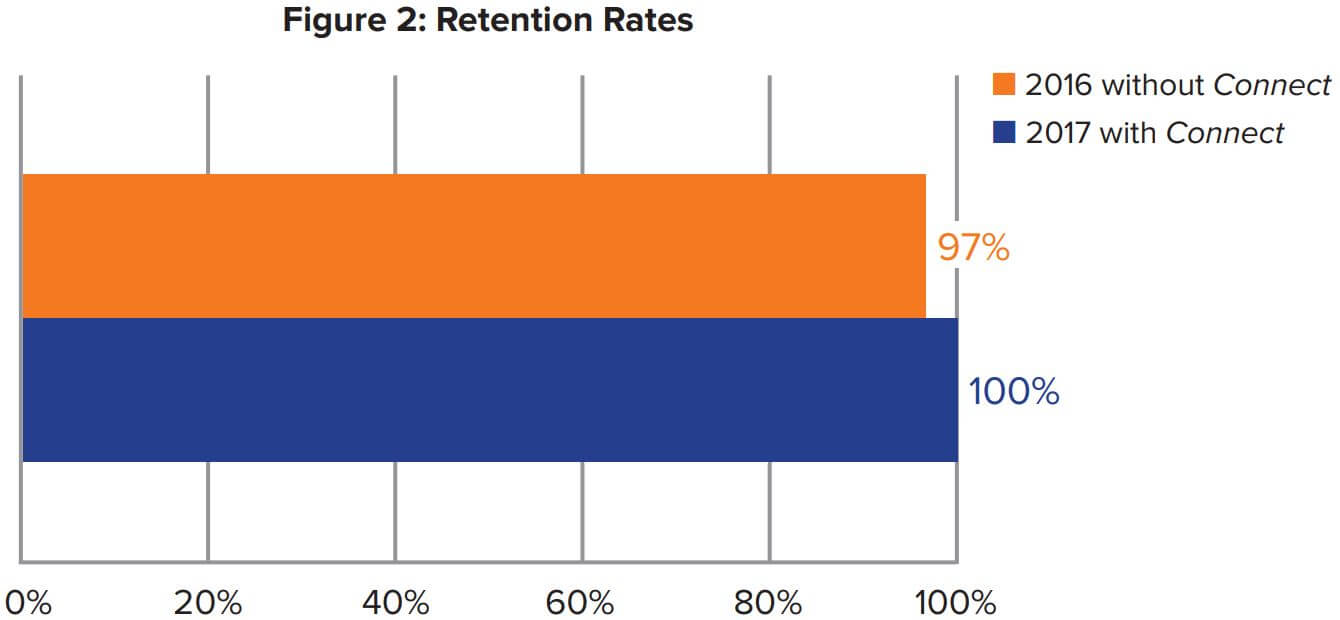 The difference between the test scores range from 6% (Test 1) to 13% (the Midterm). If all of the percentage differences between the test scores are averaged together, students scored an average of 9% higher on exams throughout the semester using Connect (Figure 3).
"We have seen that average scores are higher," Dzoga says, "But for us, the most important detail is not just higher scores because students memorized content. Instead, our students are thinking critically and gaining a deeper understanding of the content."
Another benefit to Connect is the ability to analyze why a student may or may not perform well on exams and intervene. Dzoga says, "Using Connect, we are able to identify a trend that the grades demonstrate from assignment to quiz to exam. Because of this data, we have also been able to identify people who fear formal exams. We refer these students to test taking anxiety workshops at our wellness center. In doing so, we notice these students do better on exams."

Connect reduces time instructors have to spend grading allowing that time to be used to help students individually or to develop a more interactive curriculum. Not only has Connect drastically reduced grading time, Dzoga and her colleagues are better able to plan lectures and courses based on data reviewed within Connect. "The lecture content covered is really geared toward each class individually based on data that is reviewed from the SmartBook assignment," Dzoga says (Figure 4).
Additionally, Dzoga and her colleagues have noticed reduced office hours. "Those students who still require office hours are getting more out of them because we can quickly assess exactly where they need help."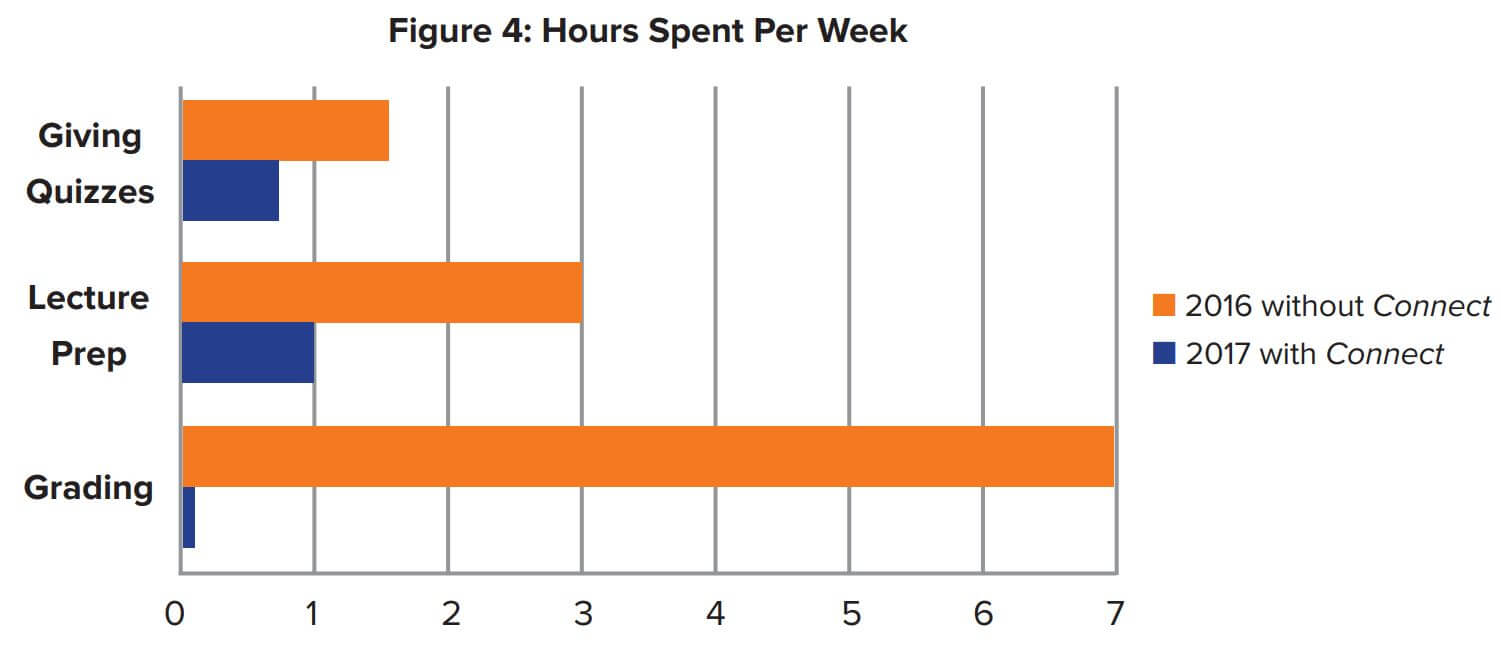 From an administrative point of view, Connect works. "Our whole program is curriculum mapped, and we have master shells for each course. Each instructor is provided a shell for their course. The instructors can focus on preparing lectures and not worry about creating assignments," Dzoga says. "When I run several sections of the same class, I know that learning outcomes are being met in each section."
Conclusion
Although the Medical Assisting program has graduated its third class only, the new program enjoys high retention, completion, passing, and certification rates. Dzoga believes Connect's adaptive technology plays a huge role in the program's success, because students have self study tools they can use to take ownership of their education. Furthermore, instructors can identify areas where students are struggling and intervene immediately.
Connect is an asset in the classroom. The adaptive technology and the real time assessment data make all the difference in the classroom. Students love the self study tools and videos that allow them to be more engaged and to own their education. Students are no longer passive; instead, they become very active participants in the classroom.
---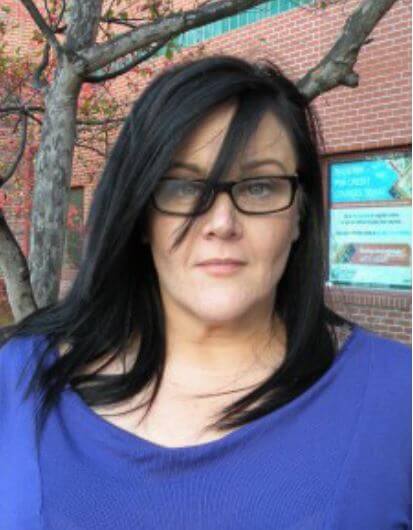 Christine Dzoga serves as Medical Assisting Program Director at City Colleges of Chicago-Malcolm X. She has been provided the unique opportunity of creating every aspect of the program. The program is being recognized as a best practice program in the area.
Digital Product in Use: Connect® Allied Health
LMS: Blackboard
Course Name: Medical Assisting Clinical Procedures II
Course Type: Face-to-Face
Credit Hours: Three
Textbook in Use: Medical Assisting: Administrative and Clinical Procedures with Anatomy and Physiology (with Connect), 5th edition, by Kathryn A. Booth, Leesa G. Whicker, and Terri D. Wyman; Law & Ethics for Health Professions by Karen Judson and Carlene Harrison; and Medical Insurance: A Revenue Cycle Process Approach, 7th edition, by Joanne Valerius and Nenna Bayes and Cynthia Newby and Amy Blochowiak
Instructor: Christine Dzoga, BS, CMA (AAMA)
Enrollment: 30 students per section; 20 sections; 180 year (university total)

---
Instructor's implementation goals
Assess and address individual student needs quickly
Provide easy access to assessment data
Create individual study plans for students
Minimize routine teaching tasks so instructors can focus on helping students
Hold students accountable for their learning
Issues for instructor before using Connect:
Teach MAERB core competencies
Improve pass, retention, and placement rates
Reduce grading time so instructors can work with students individually
Encourage students to be responsible for learning the material
Benefits to instructor after using Connect:
Automation reduces grading time drastically
More individualized time for students in need
Ability to look at class and student performance reports to identify where students may be struggling
Able to assess students' progress in real time and intervene if necessary
Technology and self study components provide students with individualized study tools
Students come to class better prepared and ready to ask questions so lectures are interactive
Higher average test scores because students are thinking critically and gaining a deeper understanding of content
Engaged students own their education
Improved passing and retention rates
Course Description:
Medical Assisting Clinical Procedures II is designed to build upon the knowledge and skills developed in Clinical I. Students will learn to perform clinical skills and assist with procedures common to the medical office. Instruction will include classroom and laboratory learning experiences. Writing assignments as, appropriate to the discipline, are part of the course.
Institution Profile:
Malcolm X College of the City Colleges of Chicago is located near the Illinois Medical District on Chicago's Near West Side. In 2016, a new state-of-the-art Malcolm X College and School of Health Sciences opened to prepare students for in-demand positions in the health care industry. Malcolm X College is one of seven colleges in the City Colleges of Chicago system; the system is the largest community college system in Illinois and one of the largest in the nation, with more than 4,500 faculty and staff serving over 80,000 students.